Ocean Free Green Island & Reef Day Tour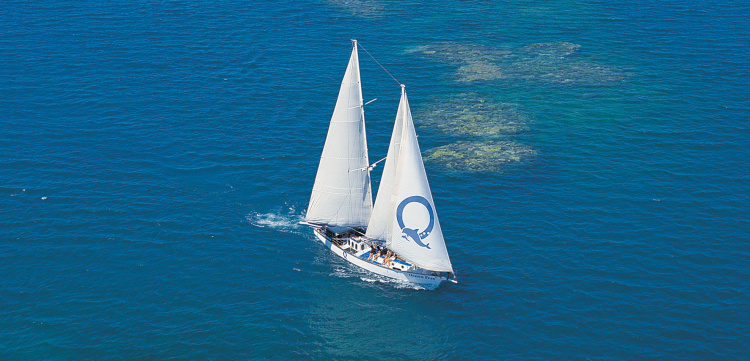 From AUD
$215.00
Extremely personal Great Barrier Reef Tour with outstanding customer service. We connect with our guests to ensure their expectations are met.

Ocean Free offers you the opportunity to experience the wonders of the Great Barrier Reef as it was intended. Ocean Free is the only operator in Cairns to offer a personal sailing reef and island tour. Sail, snorkel and scuba dive aboard personalised tours with fun and professional crew.

Explore Green Island in the Great Barrier Reef Marine Park with Ocean Free. Whether or not you have previous snorkel or dive experience, let us show you the incredible underwater world of the Great Barrier Reef and this stunning tropical island paradise. Sail Ocean Free for that personal touch.

Our Boat
Ocean Free is a 16.5 metre sailing schooner. Check in at Reef Fleet Terminal from 7.15am at Ocean Free + Ocean Freedom desk. Board from 7.30am A Finger No. 4 at the Marlin Marina, Cairns for an 8am departure – coffee, tea and Danish pastries and fresh fruit served on boarding.

Your Destinations
Pinnacle Reef and Green Island, part of the Great Barrier Reef Marine Park. Pristine destinations which offer visitors a wealth of natural experiences. Pinnacle Reef is just 1km from Green Island. It's shallow sheltered waters are the perfect place to snorkel and dive.

Your Day Will Be Amazing
Upon arrival at Pinnacle Reef, guests can enjoy a swim, snorkel, a dive (optional extra) or just relax. Ocean Free's exclusive mooring ensures that the ocean is uninterrupted by crowds. The "bommies" (coral outcrops) and coral gardens, from just 1 metre under the surface, are teaming with life and make viewing easy. The trips to Green Island are by tender. There are 4 ½ hrs for guests to spend between the reef and the island.

Delicious Lunch & Snacks Included
A large smorgasbord lunch consisting of Tasmanian smoked salmon, prawns, mixed meat platter, chicken platter, 3 fresh salads, assorted breads is served on board the boat. It's a self-serve buffet. We can cater to dietary restrictions, just let us know at the time of booking as this must be pre-booked. Tropical fruit platter, cheese, crackers, cakes and a glass of wine are served on the sail home. Water is available throughout the day.

Our Guests Love Life
Extremely low guest numbers (max 25 guests) with 4 crew ensures a personal snorkel and dive experience. All guests are assessed for their snorkelling and diving abilities and are appropriately assisted to ensure that all are able to experience and enjoy the Great Barrier Reef. Guests need to be mobile enough to get into and out of a dinghy onto the beach and into and out of a dinghy from the main vessel.

Green Island A Tropical Paradise
Guests can enjoy most of the day on the island or just an hour exploring the walking tracks and rainforest– the amount of time spent between the island and the boat is the guest's choice. The island is perfect for a swim, sunbathe, glass bottom boat, a semi sub or Marineland Melanesia (where crocs in captivity can be seen as well as many other sea-life). (Optional Island activities Glass Bottom Boat + Semi-sub can be organised on the day – please inform skipper on boarding)

Scuba Diving: Intro and Certified
Guests who have never dived and wish to try it, may do an introductory dive. Maximum 2 divers to 1 instructor for your first dive (normal ratio on other tours is 4:1). Guests who are certified divers can enjoy the wonders of the reef with a complimentary guide. All diving is done directly from the Ocean Free boat on Pinnacle Reef, which is 1km offshore from Green Island. Shallow, sheltered waters with an abundance of marine life. A gentle diving experience.

Lots of Inclusions, Value for Money
All snorkel and scuba diving equipment and tuition, including top quality snorkelling gear, buoyancy vests/wetsuits/lycra suits. High crew to guest ratio. Scuba diving demonstration. Coffee/tea + Danish pastries and fresh fruit on boarding. Complimentary coffee/ tea when moored. Fish Feed. Transfers to and from Green Island. True Sailing experience (engines do get switched off!) on way home. Complimentary glass of wine on sail home.

Optional Extras
Certified Diving, you can choose to do 1 or 2 cert dives. Introductory Diving, with no experience necessary. Book 1 or 2 intro dives. For the diving, all of the equipment, instruction and dive guides are included in the dive prices. Underwater camera hire. Glass Bottom Boat / Semi-sub (pay on Green Island) – just let skipper know on boarding boat in morning. Alcoholic and soft drinks refreshments. A range of quality merchandise.

How Much Time Do We Have
Ocean Free provides guests with 4 ½ hrs at Green Island and Pinnacle Reef, on the Great Barrier Reef. They can spend this time as they choose. All on the boat. All at the island. Or split your time between them both, for a fantastic day tour experience. There's lots of activities for you to choose from: snorkelling, scuba diving, island walks, glass bottom boat tours, relaxing the beach, grabbing a cocktail from the island bar.