Jungle Surfing Canopy Tour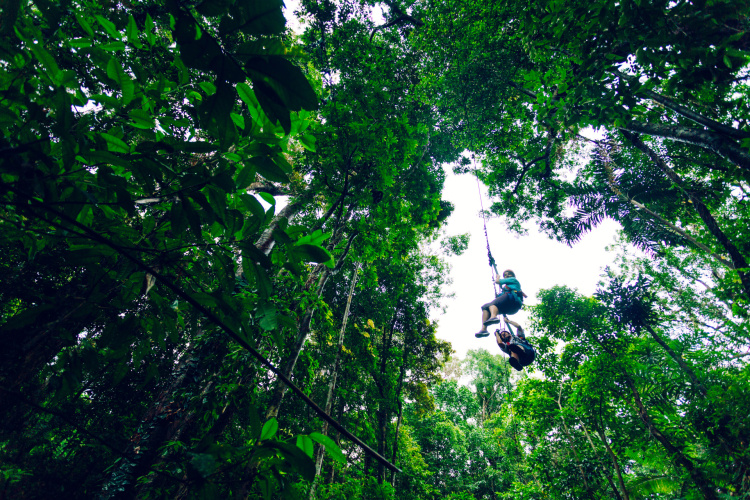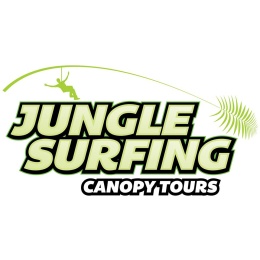 From AUD
$109.00
If you're ready to:
Embark on a voyage of discovery and adventure
Get high on pure exhilaration
Marvel at nature's amphitheater
Then join us on a guided zipline tour through the Daintree Rainforest.

THE MOST EXCITING WAY TO SEE THE DAINTREE RAINFOREST
One of Queensland's "must do" experiences, Jungle Surfing Canopy Tours are set on a private rainforest reserve in Cape Tribulation, a scenic 2 hours' drive from Port Douglas and 3 hours from Cairns. Our multi award-winning tours takes you on a unique zipline experience where your feet don't touch the ground!

The Jungle Surfing experience consists of a series of five eco-friendly platforms and six flying fox ziplines that gives you extraordinary access to the canopy of the ancient Daintree Rainforest. The platforms range from 7 to 16 metres above the ground and each one reveals different layers of the rainforest.

The tour starts with the "Human Hamster Wheel", our ingenious and interactive winch used to propel your small group of jungle surfers from the ground up to the first tree platform. Then you'll glide through the canopy with 360 degrees views over the treetops, down to cascading streams and out to the Great Barrier Reef.

The ziplines range from 37-95m and are travelled in pairs except for one solo flight across a rainforest creek – upside down if you dare! The final span to the ground features side-by-side racing ziplines with speeds over 45km/h or you can choose to take the whole thing slow and steady. Don't forget your camera as there are some incredible photo opportunities up in the trees.

Our expert guides accompany you every step of the way controlling all equipment and flight so there's no experience or tuition necessary. And throughout the tour, the guides tell the fascinating story of world's oldest rainforest.

The two-hour Jungle Surfing tour runs in all weathers with at least one hour up in the rainforest canopy. The tour is suitable for all ages from 3 to 103! Tours depart up to twelve times a day from Cape Tribulation or you can join action-packed full day tour from Cairns, Northern Beaches and Port Douglas.

Check-in for all Jungle Surfing tours is at the Jungle Adventure Centre (JAC), and we offer courtesy transfers to the JAC from accommodation around Cape Tribulation.