Tag-a-Long Tasting from Port Douglas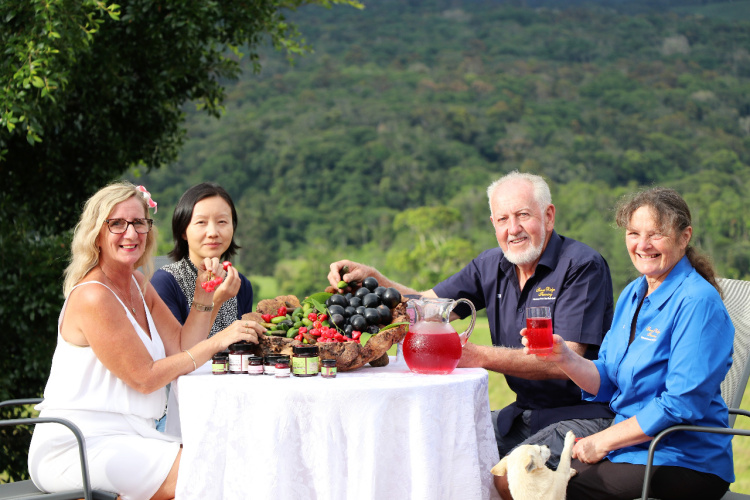 From AUD
$160.00
Save: $30.00
Brett's Outback Tasting Adventures brings a NEW option to join our fantastic and delicious Food and wine tour!! You now have an exclusive opportunity to Tag-A-Long with us for the day on the Atherton Tablelands.
We will meet you the morning of the tour where you will receive a CB radio to listen to the guides fascinating commentary and your souvenir pass to join us for the day to enjoy our exclusive 'Private Property" experiences and delicious food offerings, then we will head off on our adventure TOGETHER.
Lunch and all wine, cheese, coffee, chocolate "TASTING" included.
Gluten free or vegetarian lunch and lactose free cheese available on request.
Your Day with Tag-a-Long Tasting from Port Douglas
Stop 1 : Tjapukai
Our first stop is Tjapukai (which means 'Rainforest') Aboriginal Cultural Park where we cross a bridge over their lake to feed the native turtles as we head to our exclusive setting.

Here we enjoy a delicious breakfast with tropicaal fruits (seasonal) and well known favourites.
Stop 2 : Jaques Coffee Plantation
Next stop is to Jaques Family coffee plantation the 3rd generation; with 85,000 Arabica Coffee trees growing in the rich soils they produce a smooth and vibrant flavour unique only to the remarkable location.

Here we get an enchanting insight in to the finer details of coffee from the tree to the cup. We stroll through the gardens and finish our stop with a delicious cup of Jaques coffee made 'just as you like it'!
Stop 3 : Mount Uncle Distillery
10 minutes down the road we arrive at Mount Uncle Distillery, North Queensland's first and only distillery. Here we stop for a delicious fresh lunch of local produce then off to the distillery to taste some of their award winning liqueurs and spirits, then take a wander round this stunning property nestled in coffee and banana plantations, with beautiful gardens and some friendly animals.
Stop 4 : Gallo Dairyland
We now head towards the historic village of Atherton. Driving through this thriving hub, a patchwork of amazing farmland and rolling green hills appear before us. We are on our way to a fully operational dairy farm spread across 1000 acres of rich red volcanic soil with delicious handcrafted chocolates and a gourmet cheese factory.

Here we can buy the delicious cheeses that we have just tasted and sample irresistible Swiss style filled chocolates that are a work of art whilst gazing out over the picturesque landscape. Meet some friendly animals before heading back to Mareeba through a variety of diverse crops.
STOP 5: The Humpy
We now head through a patchwork of amazing farmland, diverse crops and rolling green hills for a tasting and shopping treat. We stop at 'The Humpy', the best place to go to for freshly harvested Atherton Tablelands produce straight from the growers. From vegetables to tropical fruits and hundreds of different varieties of nuts, dried fruits locally produced jams and sauces.

Here we get to taste some seasonal fruits and many different flavours of hot local peanuts and macadamia nuts. We leave you time to browse this amazing and quirky grocery store so you can purchase goodies for the rest of your stay.
Stop 6 : Golden Drop Winery
We now head to Golden drop winery which was the first commercial Mango Winery in Far North Queensland to produce Mango wines, Mango Port, Sparkling Mango wine and fortified Liqueur style Citrus Cellos which come in Mandarin, Lemon, Lime and Dragon Fruit. We drive through their immaculately kept Mango orchards and into the tasting room where you get to try all 11 of the range. Then before we jump back in the bus we treat you to some Daintree Ice cream companies famous Mango Sorbet to freshen the palate as we head off to the last stop of the day!!
Stop 7: Platypus Hut - QLD Wines & Beer
And if that is not enough, we head across the savannah 'Outback', past giant termite mounds & classic red dirt to a unique 160 acre Private Property. Here you can soak up the stunning rainforest and pristine environment which is a sanctuary for bird & animal species. Watch out for a passing Kangaroo and head down to 'The Platypus Hut' where you can sit in a tranquil setting as the sun goes down, watch for dive bombing Kingfishers & the elusive Platypus (or dip your toes into the most beautiful mountain stream) whilst tasting some Queensland wines & beer, Macadamia nut butter and local bread.