About 7 Day Adelaide to Alice Springs Explorer
7 Day Adelaide to Alice Springs Explorer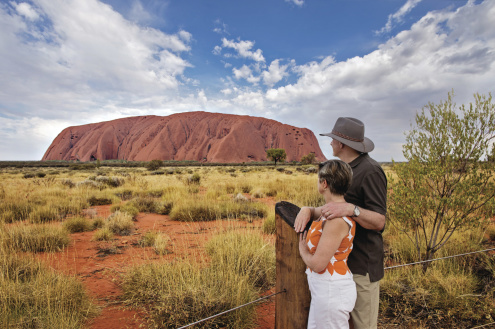 Embark on an Overland odyssey from Adelaide to Alice Springs on this week-long journey through the Outback. Watch the landscapes change as you leave Adelaide, passing through one of their finest wine regions and then on to the stunning Flinders Ranges.
Take the road less travelled along the Oodnadatta Track, passing by the epic Lake Eyre salt lake along the way. Try your luck at finding some opals in the strange underground town of Coober Pedy. Then immerse yourself in the natural and cultural wonders of the Red Centre by hiking through the domes of Kata Tjuta, watching the colours change over Uluru and hiking around the magical Kings Canyon, before finishing in Alice Springs.
Inclusions:
Experienced guide, national park entrance fees, meals as indicated, accommodation transfers, Aboriginal cultural interpretive walk (min 2 passengers required) and one night dorm accommodation with shared facilities, five nights standard camping.
Departure times & locations:
From: Select Adelaide accommodation
Finishes: Select Alice Springs accommodation
Itinerary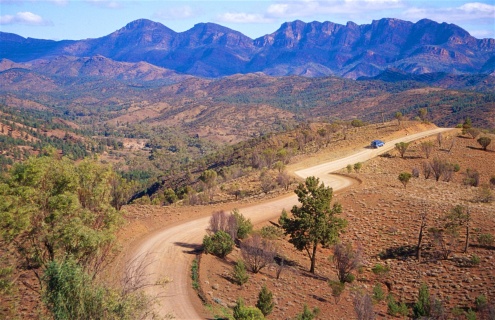 Day 1: Alice Springs to Kata Tjuta and Uluru
Kick off your adventure on the back of a camel! Our first stop is an authentic outback camel farm where you can choose to ride this form of desert transport. Then it's off to Uluru (Ayers Rock) for lunch. Explore the 36 domes of Kata Tjuta as you get up close to this ancient geological formation. Fall in love with the desert sun as it sets over Uluru. Tonight you can sleep in a permanent tent or curl up in a swag (Aussie bedroll) and enjoy a night under the stars. (L,D)
Day 2: Uluru to Kings Canyon
An early start is rewarded with the sunrise over Uluru – enjoy an unguided walk around the base of Uluru. You will then deepen your understanding of the land and the Mala people as you embark on a cultural interpretive walk with an Aboriginal guide. It is a unique opportunity to share experiences, connect with and learn about the oldest culture on earth. Afterwards, you will have the opportunity to see more Aboriginal arts and crafts at the Cultural Centre before we travel to our exclusive campsite within the Watarrka National Park (Kings Canyon). (B,L,D)
Day 3: Kings Canyon to Erldunda
Get your hiking shoes on today as we head out to explore the formations and towering rock faces of Kings Canyon. You will be left breathless by the sheer size and beauty of the canyon, as we trek through the Amphitheatre and discover the Lost City, the lush and ancient Garden of Eden, and the North and South Walls. We stop for lunch before we make our way back to our campsite for the night, Erldunda. (B,L,D)
Day 4: Erldunda to Coober Pedy
We depart early this morning to make our way to Coober Pedy, crossing the Northern Territory/South Australian border. We take a break at the outback town of Marla and stretch our legs. The next stop is Coober Pedy, the "Opal Capital of the World". Upon arrival your guide will give you a tour of this unique town, before visiting an underground mine and museum for a guided tour. You will also have a chance to purchase some of the opal jewellery produced from the mine. Tonight we stay overnight in a unique underground bunkhouse in Coober Pedy. (B,L)
Day 5: William Creek
Today after breakfast we will travel into areas seldom seen by most tourists as we leave the sealed roads of the Stuart Hwy behind us and travel on unsealed roads to one of the remotest towns in the world, William Creek. On the way we will travel through the largest Cattle Station in the world, Anna Creek. As we drive gaze out at the endless horizons as we pass by the lake with the longest name in the world, Lake Cadibarrawirracanna. Arriving into town we will set up camp and have dinner. After dinner lay down in your swag and fall asleep as you count the shooting stars.
Day 6: Oodnadatta Track to Quorn
Today will be a long day of driving as we travel the famous Oodnadatta track to Quorn. Along the way we will visit Australia's Largest lake, Lake Eyre. Visit the outback towns of Marree, Lyndhurst and Hawker. Stay tonight in private accommodation at the Mill Lodge, where you'll also have dinner. (B,L,D)
Day 7: Flinders Ranges to Adelaide
In the morning, eat a big breakfast and hike up one of the many peaks in the Flinders Ranges. Make your way back to Adelaide through the rolling hills and vineyards of the Clare Valley, arriving in the early evening. As your journey comes to an end here, we will drop you at your Adelaide city accommodation. (B,L)
Things To Bring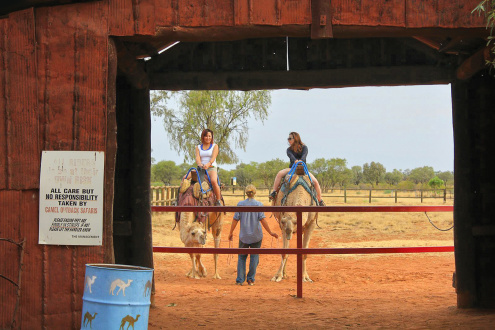 Sturdy walking shoes, hat and sunscreen, towel and toiletries, warm clothing in winter, water bottle, torch, insect repellent, camera, travel pillow, and sleeping bag (can be purchased for $45).
Booking Info:
If you require hotel transfers please have your hotel name ready when booking so we can send you a pick-up time with your confirmation.
Instant Booking & Mobile Friendly Tickets
Check availability & book here to secure you spot on 7 Day Adelaide to Alice Springs Explorer. Pre-booking is essential. Please do not turn up on the day without a booking.
About Outback Tour Services
At Outback Tour Services, we are proud to offer you a variety of adventurous tour products and services throughout the great Australian Outback. Our own touring products cover a wide range and include budget to luxury tours, specialised and award-winning Disability Camping Tours, and self-drive Adventure Rentals. Our guides are extensively trained and fully accredited. They will share their passion for and their knowledge of the outback for an experience you will never forget.
---
7 Day Adelaide to Alice Springs Explorer Reviews
---
7 Day Adelaide to Alice Springs Explorer
From: Select Adelaide accommodation Finishes: Select Alice Springs accommodation
---