About Kuranda - Village in the Rainforest
Kuranda Village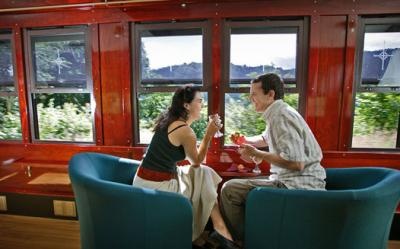 Kuranda has come a long way from its initial origins as a centre for those choosing an alternative lifestyle in the late 60's. Historic Buildings from the villages past now house a variety of upmarket restaurants, cafes and bars. It is still laid back, but with a style and sophistication that sets it apart from other Cairns Highlands Venues and Attractions.
Kuranda's shops and markets with their exotically handcrafted goods, Aboriginal artifacts, restaurants and coffee shops make Kuranda a well known day destination, but to truly enjoy the ambience this village has to offer you really have to stay a few nights. Whether you are looking for a cosy bed and breakfast, a well maintained multi-choice accommodation and camping park, a hotel that when you step inside you feel like you are back in the 1920's, a gorgeous resort or a backpackers hostel, you'll find it in Kuranda.
Take the time to visit some of Kuranda's many first class nature based tourist attractions, which include koalas, butterflies, native and exotic birds, kangaroos and reptiles. Don't miss the famous Barron Falls, which are breathtaking. Hire a car and explore Kuranda at your leisure! You can also see traditional Aboriginal dancers perform, travel on a riverboat on the mighty Barron River or join an Army Duck ride through the rainforest.
Sights & Activities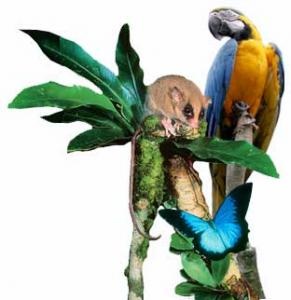 Walking Tracks
Kuranda is surrounded by World Heritage listed wet tropics rainforest. It includes around twelve hundred species of flowering plants, eight hundred of which are rainforest trees. There are also orchids, ginger plants, strangler figs, palms and an immense variety of climbing plants. At any time of the year you will wonder at the richness and diversity of the lush foliage.
With an air of adventure, explore our newly constructed walking tracks. Easy trails take you on a gentle walk to the river, discovering some rare flora and fauna on the way. For those who enjoy a more strenuous bushwalk, the Barron Falls walk takes a little longer, but the view is spectacular.
Wildlife in KurandaCome meet the locals!
A wealth of Australia's native animals, birds and butterflies can be closely observed in the magnificent habitats in and around the Village. For nature in the wild you may take time to enjoy a jungle walk, a peaceful stroll along the river Esplanade or a boat trip on the river. The tropical forest environment is home to many unusual birds: binoculars and keen hearing will bring this world to life. If the gods are smiling, a glimpse of a friendly harmless fresh water crocodile, a playful platypus and a green tree snake will surely reward the observant visitor.
Take time to wonder at the magnificence of the superb fig trees lining the main street of the Village. Gaudy parrots, argumentative yellow fig birds, and the luminescent blue Ulysses butterfly are easy to spot among the ferns and orchids crowding the canopy of these big trees. Watch for "thick-knees", long legged and chattering looking for nesting sites in the council car park. Some lovely gardens and small parks in and around the Village reward the walkers with colour and bird song. Look for lizards warming up in patches of sunshine. Time for a coffee of course...there's always time in Kuranda.
Nature Tours
There is something magical about catching a glimpse of beauty in the wild; Kuranda offers a number of excursions around and about the village.
Try sampling wild fruits and learn the aboriginal history of their use. Experience an army duck trip, moving through the forest and plunging into the water; there is much of interest to be seen. Putter gently down the Barron River, close to amazing vines and massed ferns high in the ancient trees. Fresh water crocodiles, turtles and an abundance of fish and bird life may be seen.
For the adventurous, a Hummer forest exploration is hard to beat. Many local animals are active at night and Kuranda offers a number of spotlighting adventures. The rainforests of the world were here 140 million years ago, now they are threatened with destruction. Look around you and enjoy what the Kuranda rainforest has to offer; many of the animals and plants you can see and touch live nowhere else on the planet.
Nature tour guides are special people, friendly and approachable. They want you to ask questions and they know where the unique plants and animals are to be found.
Markets
Tropical Kuranda lends itself to covered markets; shopping outside in the daily downpours of the Wet season from December through to April could be an unnerving experience. Stall areas in the main street of the village offer a wide range of Aboriginal artefacts, handmade leather goods, wood and jewellery. Stall holders are happy to explain their craft and overseas posting is not a problem. Entertainment from itinerant musicians and tribal dancers may be enjoyed.
Adjacent to the Park a further gathering of stalls caters to the art lover. Opals, the finest in the world, and what a selection is here. Browsing at the bookstall while munching on fresh Queensland macadamia nuts does no-one any harm. A variety of delicious food staves off the hunger pangs. Surely your fortune reading will be favourable! Unusual souvenirs, made in Kuranda, are in abundance for young and old. Music is in the air, ask for your favourites, and watch the deft hand of the portrait maker working his magic. A taste of honey, tropical fruit juices and ice-cream are a great way to round off a pleasant market experience.
Shopping
Kuranda is home to an extraordinary number of artists and craft workers and this is reflected in the large number of shops and market stalls selling their beautiful products. Locally designed and produced fashion items can be found, and to compliment your outfit a search for hand made jewellery will be rewarding. You can purchase hand crafted cards, souvenirs, and that something special for great grandmother.
Shopping in the Village is a leisurely and happy experience enhanced by the ancient sounds of the didgeridoo. Our local shopkeepers will go out of their way to look after your needs.
Arts & Culture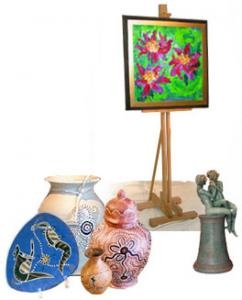 Art Galleries
There are many talented people living in and around Kuranda who have escaped the frenetic demands of city life in order to follow their muse. Perhaps it is something in the air, the lush beauty of the countryside and the encircling mountains have a strong pull. Whatever it is, Kuranda is home to an extraordinary number of potters, painters, photographers, glass and craft workers, masters in wood, jewellery and fabrics. Their work is on display in many of the shops, galleries and markets in the village, and it is possible to see work in progress.
Aboriginal culture has survived in Australia for over 40,000 years. The Djabugay tribe who live here have strong ties to this land and there was fear and trepidation when a steady stream of European settlers from the South moved up to Kuranda in the 1970s. Art and music became a unifying force and mutual respect and understanding grew over the years.
The pace of life is slower in Kuranda and there is the time and the will to learn and grow in a chosen artistic endeavour. Garden design and unusual houses suited to a tropical, leisurely lifestyle contribute to the amazing outpouring of art, poetry, music and goodwill. Take the time to soak up the ambience during your visit.
Amphietheatre
The Amphitheatre is a multi-purpose community arts venue, voluntarily managed by the people of Kuranda since its inception in the late 1970's. It is situated adjacent to World Heritage areas of Barron Falls National Park and Jum Rum Heritage Walking Trail, and comprises 1.62 hectares of leased land. The area is fully fenced and can accommodate up to 3500 patrons. A series of curved, grassed terraces gently slope to a raised, covered stage.
Close to the entrance the Top Pavilion houses kitchen and bar facilities, a small undercover stage suitable for smaller performances and its very own grassy terrace.
The Amphitheatre has a successful pre-booking procedure and transport links, in conjunction with Cairns Ticketlink, local outlets and Tropic Wings.
The Understage has been developed as a smaller venue, catering for events attracting up to 200 patrons. This space is used for theatrical performances and workshops, a base for Focus Theatre, live music, national seminars, meetings, school discos and also dressing rooms for main stage performances.
In its 25 years, the Amphitheatre has enjoyed a great variety of events from rock concerts, classical music, opera, theatre, dance and Xtreme Sports to school events, fundraisers, annual Kuranda Spring and Kuranda Reggae festivals and community gatherings.
Many locals see the Kuranda Amphitheatre as the beating heart of their community. It is a beautiful place in the forest whose essence is peace and tranquility.
Indigenous Community
"Dja-bu-guy" is the name of the tribe of Aboriginal people who lived in the Kuranda region. The present Kuranda village was "Ngunbay", or place of platypus. An important camping area, with good fishing and hunting for locals, this all changed with the opening up of the hinterland for gold and tin mining. The access was along tracks of the "Bama"(rainforest) people, and through their country. "Gadja" (ghost spirit), or white man, had an immediate impact on the Djabugay people. In May 1886 construction of the Cairns to Herberton railway began over one such walking track, which crossed the ranges and went down to the coast. This was not popular with the Djabugay, who stood up to the white invasion by spearing bullocks and the occasional white man. They took worker's food, as their traditional food gathering and hunting grounds were now either taken over by new settlers, or over hunted by the 1500 workmen living and working on the railway line. An infamous massacre, known as the Speewah massacre, occurred in the mid 1890s. Early settler, John Atherton, sent native troopers to revenge the death of a bullock. Other unconfirmed reports of similar atrocities occurred locally. Before white man, the population of the Bama people in the Cairns area was estimated at between 4000 and 5000, but by the turn of the century their numbers had rapidly declined, overtaken by the Gadja settlers. Coffee, the regions first cash crop, began in 1896. The Bama people were soon utilized as farm labourers on the rapidly expanding plantations around Kuranda, until well into the twentieth century. Many Bama became fringe dwellers on the edge of white settlements, unable to hunt and fish, or move around as they had for thousands of years.
The land around Kuranda has been home to the Djabugay Aboriginal people for more than 10,000 years and this vibrant indigenous culture continues to thrive today, showcased in traditional artefacts, fine visual arts, tribal dance (corroboree) and more. Some of the attractions featuring indigenous culture in Kuranda include:
Djurri Dadagal
Doongal
Tropical Pulse
History
In this part of the tropical North the rainforest is home to the Djabugay aboriginal people who have lived here for over 10,000 years. Exploration by Europeans in the early 1800s opened the way for gold prospectors and the timber industry and settlement by the pioneers. Kuranda was first surveyed in 1888 by Thomas Behan, and the building of the railway and the road from the new seaport of Cairns paved the way for trade and the movement of people over the mountains.
At a suitable elevation of 380 metres above sea level coffee was the crop of choice until severe frosts in the early 1900s wiped out the harvest. Kuranda became a destination for locals on holiday and honeymooners and word soon spread telling of the magnificent Barron Falls and the lushness of the rainforest. During the 1940s there was a big military presence in the area; training and rest and recreation for troops and Air Force personnel took precedence over tourism.
In the late 1960s Kuranda was the place to be, spectacular scenery, a wonderful climate, cheap living, grow your own food, do your own thing. So called "hippy" communes flourished for a few years. In the 1970s new settlers arrived; musicians and people with artistic talents and imagination pursuing an alternative lifestyle. Their unusual hand-built houses of bricks and timber were inspired by this unique place. Open-air market stalls sold locally grown produce and an abundance of hand made wares. Buskers and fortune-tellers entertained the crowds. The community prospered. The population grew fast with the improved road allowing commuters to work in Cairns and live in the clean atmosphere of Kuranda.
The Kuranda experience today is an amalgam of all that has gone before, a cosmopolitan and happy village community. The people who live here have a deep appreciation of the beauty around them, and a cheerful welcome for the visitor.
Dining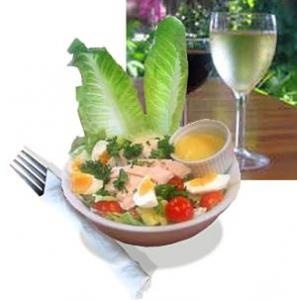 Restaurants
Outdoor dining is one of the joys of warm climate living and Kuranda has a number of excellent restaurants. Leisurely meals in comfortable surroundings with charming views add to the pleasures of good food and superb Australian wines and beers.
The cuisine is varied; good classical Australian fare and a variety of European and Asian treats are part of the extensive menus.
Cafes
Delicious home-made cakes and scones accompanied by locally grown coffee is hard to beat. A rest for the feet indoors or out, and internet facilities are available. Time to plan a rainforest walk, watch the passing parade and enjoy chatting to the locals.
Café life throughout the world is the centre of a community and Kuranda is no different. You may be lucky enough to enjoy some live music and street entertainment. Sample some Queensland grown tea at that Café further down the street.
Bar & Grill
Indoors, outdoors, barbeque cook-up, a picnic on the river bank, a sidewalk cafe experience, a Queensland beer, a tropical fruit icecream. The Village offers an abundance of local, European and Asian delights, and high quality vegetarian offerings. Historic buildings furbished for fine dining add their touch of charm to relaxing and informal meals. When staying those extra days explore further afield for gourmet delights.
Time for that outback special "the damper" and the classic pie? Yes indeed, there is time to relax in the Village. Eat and drink your fill your fill and soak up the atmosphere of this special place.
Take Aways
For visitors with limited time, relaxing in the park or on the riverside while eating something delicious is a special part of a trip to Kuranda. There are a number of takeaway eateries spread throughout the village, offering an assortment of savoury and sweet delights. The markets offer many treats, and home-made ice cream for that snack between snacks is irresistible.
Accommodation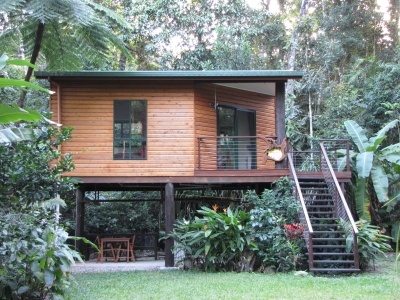 Units, cottages, cabins, dormitories, luxury rooms, all with modern conveniences, or just sleep in a tent. Breakfast in bed, cook your own, or eat out. The choices for overnight comfort are varied, with tropical forest settings and access to water in pools and creeks adding to the experience.
After a busy day take the opportunity to relax at your accommodation and listen for Australia's many night roaming creatures: wallabies, pademelons, bandicoots, flying foxes, owls and curlews, and the "murdered woman"- the scrub hen. The wet season from December through April is a time for frog music - the real sound of the tropical rainforest. All this is possible from your Kuranda hide-away.
---
News By Kuranda - Village in the Rainforest
Kuranda Festival program
By Kuranda - Village in the Rainforest
18 Oct 2016
8.00 - 9.30am Kuranda Poets Breakfast, Frogs Restaurant - Heritage Markets
9.30 - 10.45am Bash of the Barron River Raft Race, Banks of the Barron River - team registrations from 9.30am
10.00 - 3.00pm - Mad Hatters Tea Party, Original Rainforest Markets
10.00 - 3.00pm Kuranda Envirocare - Plant Display, Centenary Park
10.00 - 3.00pm Kuranda Conservation - Cassowary awareness display celebrating Kuranda Cassowary Day, Centenary Park
10.00 - 1.00pm Hot FM Outside Broadcast with Illy & Shad, Centenary Park
10.00 - 3.00pm Face Painters, Centenary Park & Heritage Markets (Face Painting Competition - prizes & judging at 1.30pm Heritage Markets)
10.00 - 3.00pm Kuranda Arts Co-op Art Displays "Weaving the community together", Kuranda Arts Co-op 20 Coondoo Street
10.00 - 3.00pm Horse & Carriage Rides around the village, depart Therwine Street in front of Kuranda Visitor Information Centre
10.00 - 4.00pm 3 x Jumping Castles, Centenary Park
10.15 - 10.45 Danny Simony Kids Magic Show, Centenary Park
10.30 - 11.00am Diamond Duo - Amazing kids' street performance, Coondoo Street - St Saviour's Church
10.45 - 11.15am Cycas Circus aerial performance, Centenary Park
11.00pm - 2pm - Hayley Gillespie Kids art and craft program, make a Mad Hatters hat, Centenary Park
11.30 - 12pm Dream State Circus Performance, Coondoo Street, Centenary Park
11.15 - 11.45am Kuranda Candy Making Demonstrations, 21 Coondoo Street
12.00 - 12.30pm German Tucker Sausage Eating Competition, Centenary Park
12.00 - 1.00pm Cycas Aerial Circus Workshops, Centenary Park
12.00 - 12.30pm Honey and Spice Ukulele Group performing outside the Kuranda Arts Co-op
12.30 - 1.00pm Kuranda Ice-cream Eating Competition, Original Rainforest Markets
1.00 - 1.30pm Diamond Duo - Amazing kids' street performance, Coondoo Street - St Saviour's Church
1.15 - 1.45pm Kuranda Candy Making Demonstrations, 21 Coondoo Street
1.15 - 1.45pm Heritage Markets Face Painting Competition
1.30 - 2.30 Dream State Circus Performance, Centenary Park
2.30 - 3.45pm Dream State Circus and Cycas Circus Interactive Circus Workshops, Centenary Park
Circus comes to town
By Kuranda - Village in the Rainforest
18 Oct 2016
Aerial antics, magic, juggling and humorous performers will be entertaining the crowds in Centenary Park and you can be a part of the circus action too with workshops throughout the day. Dream State Circus duo Sophie and Jacob McGrath will be sharing their skills with diabolos, juggling balls, hula hoops and stilts, while Cycas Circus will do aerial workshops for the public.
Sophie said circus workshops were becoming very popular in the local community for children and even adults were joining in for fitness. "Doing a circus circuit is a really fun way to exercise, especially for people who don't like to exercise," she says.
The Diamond duo, Calin and Arwen Diamond who have been performing since they were two, will delight young and old with their funny and clever circus antics. Aged 13 and 10, the brother and sister are in Kuranda undertaking creative development with Dream State Circus in preparation for the Adelaide Fringe Festival.
"These children are living their dream of being performers and will inspire many children with an interest in learning circus skills," Sophie says. "Jacob always says that if you can see something with your own eyes, it opens the space in your mind to believe that you can do it too."
---
Kuranda - Village in the Rainforest
---