About Hartley's Crocodile Adventures
All Inclusive Admission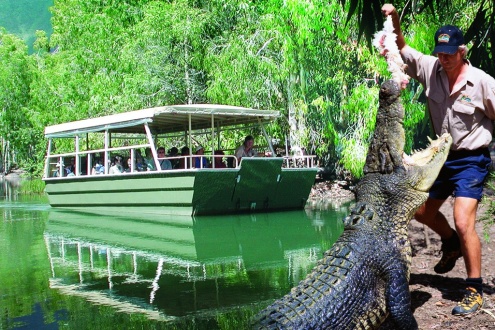 Included in the one admission price! Either stay a few hours or the whole day.

Self drive admission pass is valid for 3 consecutive days allowing you to return visit.
High quality wildlife presentations are a major part of a day at Hartley's. Research has shown that visitors have a more satisfying experience if all their senses are engaged - sight, hearing, touch and, sometimes, smell! Effective communication means that information, understanding and enjoyment are, or should be, indivisible.
Our staff have a strong commitment to environmental sustainability and habitat conservation and are very good at getting that message across. They will ensure that your time here is not just "a good day out" but a thought provoking, challenging and memorable experience.
Daily Presentations
9:30am Cassowary Feeding and Wetland Wildlife
10:00am Crocodile Farm Tour
11:00am Crocodile Feeding
1:30pm Crocodile Farm Tour
2:00pm Snake Show
3:00pm Crocodile Attack Show
4:15pm Cassowary Feeding
4:30pm Koala Feeding
Lagoon Cruises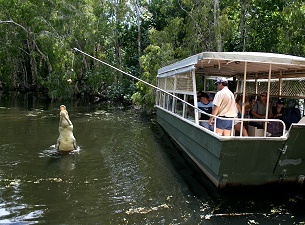 Boats depart at 9.00am, 10.30am, 11.45 am, 1.00 pm, 2.30 pm and 4.00 pm. Upon arrival, visitors are issued with a pass indicating their time of departure. During busy periods extra cruises are scheduled. The length of each cruise is approximately 25 minutes and complements all the other daily presentations.
A cruise around Hartley's Lagoon in one of our custom built boats is a highlight of the day and should not be missed! There is nothing anywhere in Australia quite like it. Our two boats were built right here in Cairns to our specifications. They are powered by twin 9.9 hp four stroke outboard motors. Each boat holds 35 passengers and features spectacular viewing through strengthened safety glass.
Every seat's a winner! Seating is stepped so that passengers on the inside rows can see over the top of those by the window. During the cruise commentary is provided by the drivers, highlighting not only the behaviour of the crocodiles but all the other plants and animals that share their home. Every cruise is different. You might see a majestic Sea Eagle or a jewel-like Azure Kingfisher, a bright eyed Tree Snake or an impossibly delicate wild orchid. One thing remains constant. The crocs are always there - waiting!
Wildlife Discovery Trail

Crocodiles have always been the main attraction at Hartley's but they cannot exist alone. They depend on extensive coastal wetlands for food and shelter. So do many other creatures.
A casual, self-guided stroll along the Wildlife Discovery Trail boardwalks will introduce you to our two species of crocodile, the Estuarine (saltie) and the Freshwater, and to all sorts of other animals and plants that share the crocodile's world.
Marvel at the size and power of our big mature male crocs. There are brilliant birds, flashing fish, lazy lizards and timid turtles - all of which are found locally in the wild alongside the crocs. Some are brightly coloured while some others will take all your powers of observation to penetrate their camouflage.
The wildlife amphitheatre is the heart of the park. Don't miss our daily highlights - the Snake Show at 2.00pm and the Crocodile Attack Show at 3.00pm.
Gondwana Gateway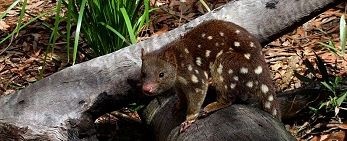 Have you ever wondered why Australia's animals are so different to those living elsewhere? The answer lies in our continent's lengthy isolation from other land masses and the adaptations our flora and fauna made to survive changes in climate and habitat.
Take a journey through the evolution of some of Australia's most intriguing animals. Stimulating interpretive signage alongside each exhibit helps put each animal into its evolutionary context. Their stories are sure to surprise you.
Cassowary Walk

Which came first, the Cassowary or the rainforest? The answer, of course, is never that black and white. Over millions of years Cassowaries and their forest home have evolved a complex and mutually beneficial relationship - a relationship that is also critical for many other plants and animals.
This zone features not only these amazing birds but also has information on their origins and their close relatives. Take an easy, relaxing self-guided walk through the Cassowary Garden.
Crocodile Farm

Hartley's has operated a commercial crocodile farm since 1989. Estuarine Crocodiles bred on the premises are raised for their skins and meat.
Visitors have the opportunity to visit parts of the farm, learn how it all works, and appreciate how the sustainable commercial use of wildlife contributes to wildlife and habitat conservation.
Due to operational and safety considerations all farm tours are guided by Hartley's staff.
Restaurant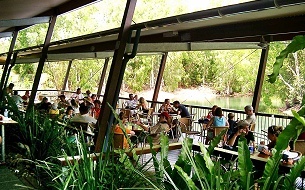 Restaurant
"A crocodile burger please… and make it snappy!" Watching the crocs getting fed is not only thrilling but can make you feel hungry yourself. Leave the chicken and fish heads to the crocs and head over to Lilies Restaurant on the deck overlooking the lagoon - our award winning waterhole and feed station.
Whether you are craving a coffee, fancying a foccacia or savouring a salad, our food and drinks are generous in size, healthy and delicious. Even up the score and try some crocodile! Vegetarian? No problem. Browse to your heart's content on the freshest veggies and salads. Group and special occasion meals are catered for by advance booking and special menus are available on request.
Our new Gondwana Grill is also available for private lunches and evening events.
Hot meals and the full menu are available from 10.30am to 2.30pm and herds of feeding visitors are a common sight any time within these hours. Some can be approached quite closely; others are very territorial about their food and can be dangerous. Breakfast runs from 8.30am to 9.45am.
Coffee and snacks are available from 8.30am to 5.00pm and a licenced bar operates from 10.00am to 5.00pm (subject to Liquor Act restrictions).
---
News By Hartley's Crocodile Adventures
Save the Koala Month
By Hartley's Crocodile Adventures
27 Sep 2017
Did someone say cake? Yes that's right, we'll be selling of yummy cake slices made for us by Bonnie at 'The Plaza Cake Shop' as our Save the Koala Month fundraiser today. See our team to purchase a ticket.
---
Hartley's Crocodile Adventures Reviews
---
How to get to Hartley's Crocodile Adventures
---