About Kuranda Koala Gardens
Our Wildlife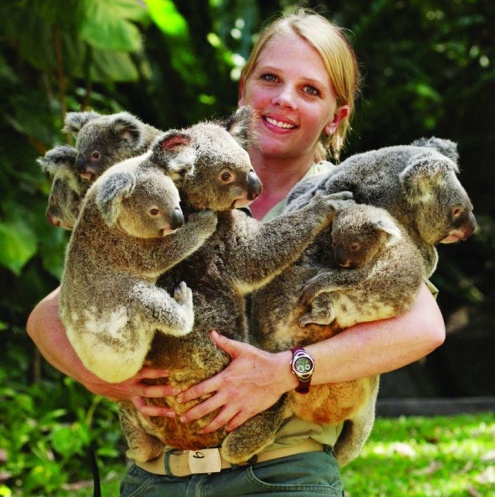 Koalas: Lots of opportunity to observe our koalas doing what they do best - eating, sleeping and looking adorable. Fossil evidence shows that koalas originally lived in rainforest environments. As Australia became drier, they adapted to eat Eucalypt leaves, which replaced much of the country's rainforests.
Koala Photos: Take the opportunity to 'Cuddle a Koala' and receive a great souvenir digital photo (extra cost). Kuranda Koala Gardens is one of only a handful of places in the world where you can actually cuddle a koala. Our adherence to a strict "Government Code Of Practice" ensures the health and wellbeing of our furry friends.
Freshwater Crocodiles: Another Australian native - perhaps not as endearing as the Koala but a fascinating part of the eco system, is the Freshwater Crocodile. This is one of the two Australian saurians - the other being the Saltwater Crocodile. The Saltie does not function well in the cooler climes of the mountain regions but is on display at Cairns Tropical Zoo and Hartley's Crocodile Adventures.
Kangaroos & Wallabies: Australia has a large variety of these macropods and you will see swamp wallabies, parma wallabies, eastern grey kangaroos and red legged pademelons amongst others.
Snakes: Australia is home to many snakes, both deadly and harmless. Enjoy a unique 'up close' experience with pythons when you enter their domain in Australia's first 'Walk Through Snake House'.
Wombats: This quaint marsupial is an Australian favourite. They are often playful and quick to learn. However, as they sleep quite a lot, their intelligence is often underestimated! They lay claim to being the world's largest burrowing animal and can dig up to two metres of burrow in one night.
Lizards, Monitors and other Reptiles: Australia is home to an amazing selection of reptiles and there are lots on display. See Dragons and Monitors with their long forked tongues, and much more. Many of these creatures have great camouflage techniques - see what you can spot in their enclosure!
Kuranda Koala Gardens is part of the Freeman Family owned and operated Wildlife Tropical North Queensland Group. Other wildlife experiences under this banner include Cairns Night Zoo, Hartley's Crocodile Adventures and Cairns Tropical Zoo.
Kuranda Wildlife Experience Pass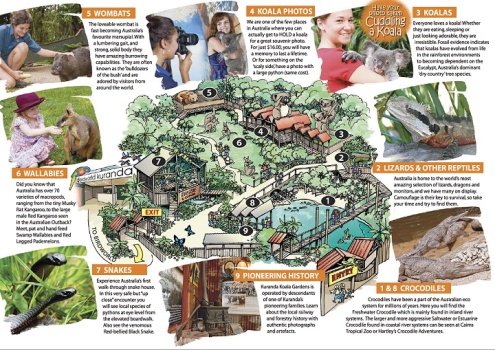 This pass combines 3 outstanding attractions:-
Kuranda Koala Gardens
Get your photo taken cuddling a koala (extra charge)! See freshwater crocodiles, meet some monitors, wombats and a variety of wallabies. Experience Australia's first walk-through snake house - it's amazing! Browse through a pioneering family's view of Kuranda's history. Open 9:00am - 4:00pm.
Australian Butterfly Sanctuary
Experience the magic and enchantment of Australia's largest live butterfly display..at Kuranda's world renowned Butterfly Sanctuary. Here, in a vast, lushly landscaped enclosure, literally hundreds of brilliantly coloured butterflies will surround you, including the flashing, dancing electric-blue Ulysses, regarded by many as the unofficial emblem of Tropical North Queensland. Wear something bright (either red or white) and entice the butterflies to land on you! Your camera is a must! Open 10:00am - 4:00pm.
Bird World
Make some feathered friends...It's the largest collection of free-flying birds in Australia! See the spectacular birds at Birdworld, at home in their huge flight aviary, superbly landscaped with lakes, ponds and waterfalls. There are more than 45 species of native birds, including Regent Bowerbirds, parrots and the increasingly rare Cassowary. There are international species too, from the earth's vanishing rainforests, including the dazzling and outrageously plumaged macaw from South America. Hand feeding opportunities are available. Again, your camera is a must! Open 9:00am - 4:00pm.
Price
$46.00 Adult and $23.00 Child. Great savings for everyone! By purchasing the Kuranda Wildlife Experience Pass, you save $7.00 per adult and $3.50 per child on the normal admission price for all three attractions!
What a great way to spend your stay in Kuranda!
---
News By Kuranda Koala Gardens
Meet a wombat
By Kuranda Koala Gardens
23 Apr 2019
Did you know that wombat poo is square? Discover more about these quirky marsupials each day at 2.30pm when they are fed at Kuranda Koala Gardens. Wildlife keeper Shai Ager gives mother and daughter Common Wombats Poppy and Boo a scratch.
Koala tracking
By Kuranda Koala Gardens
13 Sep 2017
The koalas at Kuranda Koala Gardens are playing a role in helping scientists track koala populations in North Queensland through their poo.
Wildlife manager Meg Markle was contacted by OWAD Environment which uses detection dogs to track koalas and assist in the conservation of the species.
"We were contacted by one of the company owners, Olivia Woosnam, to ask if we could provide koala scat to assist scent-train the detection dogs to help them locate any populations up here in North Queensland," she says.
"They specifically wanted faeces from North Queensland koalas in case there was any difference to the smell compared with the animals they typically work with which, until now, had only been in New South Wales and as far north in Queensland as Mackay.So, I sent away poo in the mail!"
These school holidays you should get a glimpse of Prue's young joey who is popping his head out of her pouch.
---
Direct Contact Info
Hours: 9:00am - 4:00pm 7 days a week.
Address:

Rob Veivers Dr
Kuranda
Queensland 4881
Australia
---