About Kuranda Wildlife Parks
Kuranda Koala Gardens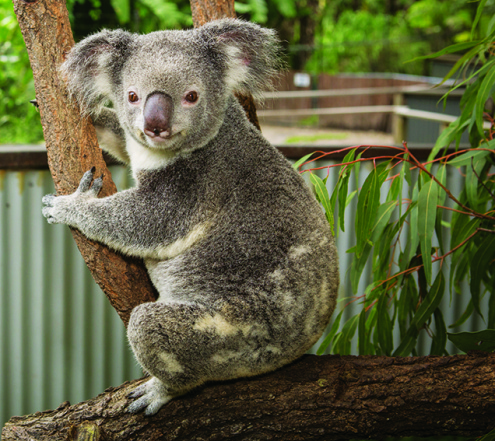 This award winning boutique style wildlife experience, Kuranda Koala Gardens, is in Kuranda Village right at the Heritage Markets. This is the only place in Kuranda village where you can enjoy the 'Cuddle a Koala' opportunity. A small fee applies and this includes a digital souvenir photo.
Also visit Australia's first walk-through 'Reptile House' and see pythons and other reptiles roaming free. Meet tame wallabies, see wombats, freshwater crocodiles, lizards and more. Visit the 'Pioneer Shed' that depicts some of the early history of European settlement in the Kuranda region.
A free shuttle bus operates from Skyrail and Kuranda Scenic Train Stations.
It's a great attraction for those with limited time in the region, (if you have plenty of time, they also recommend visits to Cairns Tropical Zoo and Hartley's Crocodile Adventures). Kuranda Koala Gardens is also part of the 'Kuranda Wildlife Experience'. This combines Kuranda Koala Gardens, Birdworld and the Australian Butterfly Sanctuary.
These are ideal for independent travellers and small groups.
Birdworld Kuranda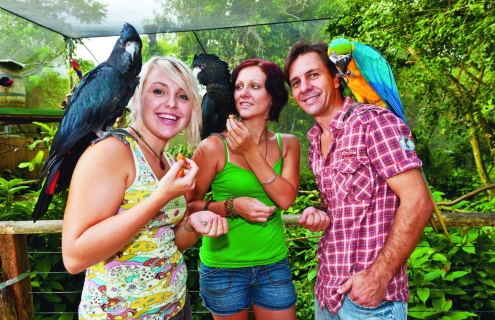 Home to the largest single collection of free flying birds in Australia (some 500 of them!), Birdworld Kuranda displays no less than 60 species of the most spectacular birds from all corners of the planet – as well as from the earth's fast diminishing rainforests. Visitors are free to wander through the lush, tropically landscaped aviary to observe the birds in their own specific – yet natural – habitats. Two lakes connected by a tumbling waterfall for example are home to waterbirds such as stilts, herons and Australia's own unique Black Swan.
In the rainforest canopy overhead, blue, gold and scarlet Macaws dazzle with colourful brilliance as they soar above the treetops. One outstanding Birdworld denizen not to be missed is that rare avian giant, the Cassowary – now officially enlisted as endangered. Designed to 'create a centre where birds would be showcased in their natural environment without the barriers of cages coming between them and their admiring public', Birdworld is a photographers paradise. (And without those barriers, visitors often find a feathered friend nestling on their shoulder – a golden photo opportunity!)
Birdworld can provide guided tours for all group bookings.
Australian Butterfly Sanctuary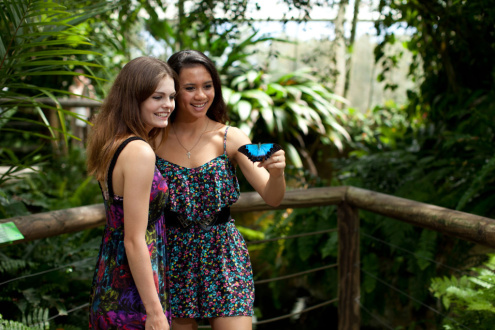 Australian Butterfly Sanctuary is the largest butterfly flight aviary and exhibit in Australia – an all-weather experience in the heart of Kuranda. Home to over 2,000 magnificent tropical butterflies, you will be enchanted by the aerial dynamics of these elusive wonders of nature as you wander through the aviary's rainforest gardens.
All butterflies are local rainforest species, including the electric blue Ulysses and the majestic green and yellow Cairns Birdwing butterflies.
Guided aviary tours detailing a butterfly's life cycle and behaviour are available at no extra cost throughout the day. Be sure to wear something bright (we recommend red, white or hot pink) and let these beautiful and colourful creatures flutter all over you as you wander through!
After walking through the aviary, your guide will take you to the breeding laboratory, which houses up to 4,000 caterpillars. This interesting and educational experience provides an opportunity to view at first hand the breeding laboratory through special viewing windows, where you will see the caterpillars in their varying stages of development.
HOW TO GET THERE: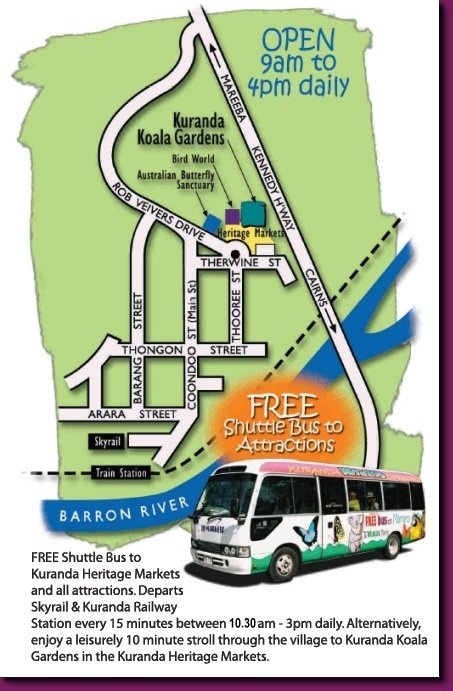 In Kuranda: Free Shuttle Bus to Kuranda Heritage Markets and all attractions. Departs Skyrail and Kuranda Railway Station in Kuranda every 15 minutes every 10am - 3pm daily. Alternatively enjoy a leisurely 10 minute stroll through the village of Kuranda.

Self drive: Kuranda is only 40 minutes north west of Cairns via the Captain Cook Highway and Kennedy Highway.
---
Kuranda Wildlife Parks Reviews
---