Rainforestation Nature Park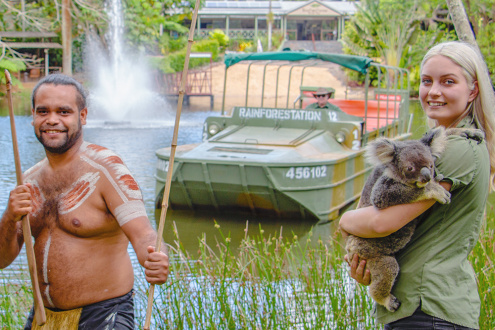 Rainforestation Nature park is an award-winning Kuranda park with three incredible rainforest attractions; Rainforest Army Duck Tour, Pamagirri Aboriginal Experience and Koala & Wildlife Park.
Board an authentic World War 2 Army Duck to explore the rainforest on land and in water. Your Army Duck driver will point out various rainforest flora and fauna before splashing into the lake to continue your adventure!
Experience authentic Indigenous culture with the Pamagirri Aboriginal experience, which won a 2019 Queensland Tourism Award in gold for Aboriginal & Torres Strait Islander Tourism.
Join a local Indigenous guide for a Dreamtime Walk. Watch didgeridoo and spear throwing presentations and learn how to throw a boomerang.
Enjoy a traditional Indigenous dance performance depicting aspects of Indigenous culture including animals, food gathering and hunting.
Meet an abundance of animals in the Koala & Wildlife Park, including dingoes, Tasmanian Devils, Koalas and snakes. See our giant Estaurine Crocodile, Jack the Ripper and see the endagered Cassowary and Lumholtz's Tree Kangaroo. Hand-feed wallabies and kangaroos and cuddle a Koala (additional cost).
Book online on our website rainforest.com.au
Cairns ZOOM & Wildlife Dome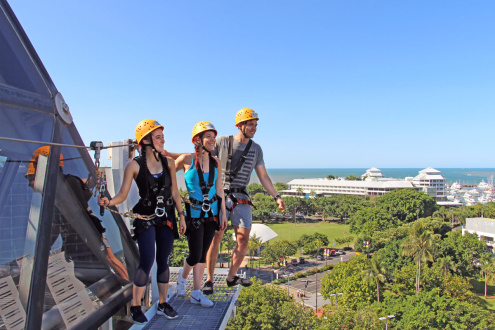 Cairns ZOOM & Wildlife Dome, the world's first Challenge Ropes Course in a wildlife exhibit, is an all-weather experience in the Cairns CBD.
Experience adventure on the Mid-ZOOM or Hi-ZOOM courses, consisting of 65 elements including crossings, tunnels, a climbing wall, cargo nets, and three ziplines at various heights and lengths, including one directly over Goliath, our 4.5 metre saltwater crocodile.
Get your heart racing with the PowerJump – a free-fall adventure with a 13 metre drop – or try our Pirate Climb and Commando Rope Climb challenges.
Internal elevated walkways offer you a unique birds-eye view of the layout of the Dome, then step outside the glass walls (and your comfort zone!) to try the external Dome-Climb. Offering spectacular views of the city, the Coral Sea, and the surrounding landscapes, it's an experience not to be missed.
Enjoy a leisurely walk through the wildlife exhibit including our small bird aviary and reptile enclosures as tropical birds fly above your head through the Dome. Wildlife presentations, including crocodiles, snakes, birds, koalas and other mammals, are held regularly throughout the day and offer an educational insight into some of Australia's most well-known animals.
Book online on our website cairnszoom.com.au
Australian Butterfly Sanctuary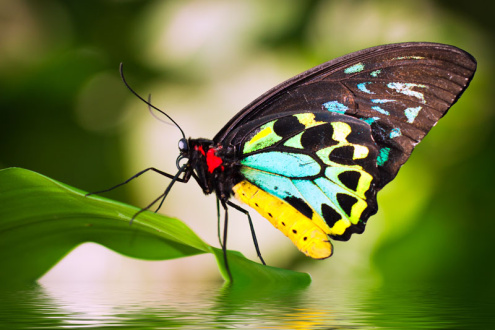 Australian Butterfly Sanctuary is the largest butterfly flight aviary and exhibit in Australia. Home to over 1,500 magnificent tropical butterflies including the majestic green Cairns Birdwing, the sanctuary is an all-weather experience in the heart of Kuranda.
You'll be enchanted by these elusive wonders of nature as you wander through the aviary's boardwalks and gardens with a picturesque rainforest backdrop.
Our knowledgeable guides offer free 30-minute tours of the aviary throughout the day. Learn to identify each of the butterfly species, as our guides explain a butterfly's life cycle and its behaviour. Be sure to wear something bright (we recommend red, white or hot pink) and let these beautiful creatures flutter all over you!
You can also enjoy a 30-minute tour of the breeding laboratory, housing up to 4,000 caterpillars. This world-class educational experience provides an opportunity to see the caterpillars in their varying stages of development.
Learn about caterpillar food host plants and how they are used in our laboratory on our new 20-minute food plant walk.
Our butterflies are reared on the premises. Our laboratory staff collect eggs daily and "hand-raise" the caterpillars right through to the chrysalis stage, until they are released as butterflies into the Sanctuary.
Book online on our website: australianbutterflies.com
Wildlife Habitat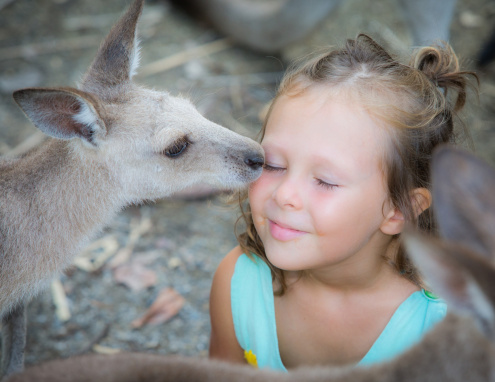 The award-winning Wildlife Habitat Port Douglas is an advanced eco accredited wildlife park with the ethos: observation, appreciation, conservation.
Meet over 100 Australian species, including the endangered and elusive Southern Cassowary and Lumholtz's Tree Kangaroo. Hand feed wallabies and kangaroos, walk the Predator Plank over giant Estuarine Crocodiles and meet Emus and Koalas.
Explore five unique, spacious recreated ecosystems- woodlands, wetlands, rainforest, nocturnal and savannah- and interact with the iconic Australian species that call these areas home. The unique locations allow for an open and immersive experience providing guests and wildlife freedom and space to interact.
Join a passionate keeper for guided wildlife tours- included in your admission- to learn more about our iconic Australian species and how you can assist in their conservation. Photo opportunities are available throughout the day.
Enjoy a delicious meal in an immersive wildlife environment by upgrading to Breakfast With The Birds or Lunch With The Lorikeets. Or join a 2 hour guided nocturnal tour to see the park come alive after dark.
Upgrade to a Your Wildlife Habitat Tour and visit the non-profit Tropical Animal Rehabilitation Centre (TARC), which cares for native sick, injured or orphaned wildlife.
5 day re-entry pass included in admission.
Book online on our website wildlifehabitat.com.au
---
Direct Contact Info
Hours: 9am - 4pm
Address:
278 Hartley Street
Cairns
QLD 4870
Australia
---