About Cairns & Far North Environment Centre
ABOUT US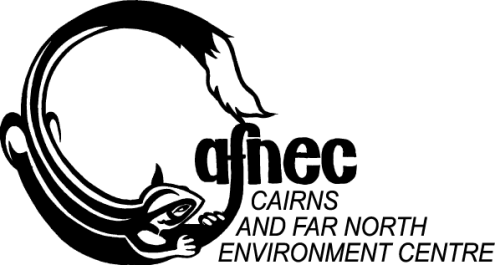 The Cairns and Far North Environment Centre (CAFNEC) is a not-for-profit incorporated association which acts as conservation council for the region from Cardwell north to Torres Strait and from the east coast to the Gulf of Carpentaria. The Great Barrier Reef and Wet Tropics World Heritage Areas are included. Collaboration with other conservation organisations on environmental issues of state and national importance has become increasingly important.
CAFNEC also plays an important role within the broader environmental movement, collaborating with other organisations focusing on environmental issues of state and national importance.
CAFNEC relies heavily on the work and dedication of volunteers and supporters. A voluntary management committee is elected by association members, both individuals and conservation groups. Membership is open to anyone who values the natural environment and accepts the objectives and rules of the association.
Most of our funding comes from donations, fundraising and small government grants. Special purpose grants from foundations and government agencies, each separately acquitted, have covered such varied projects as a sustainability conference, rehabilitation in the Cairns Central Swamp, a campaign for a Coral Sea marine park, Cape York World Heritage assessment, and promotion of domestic solar panels.
VISION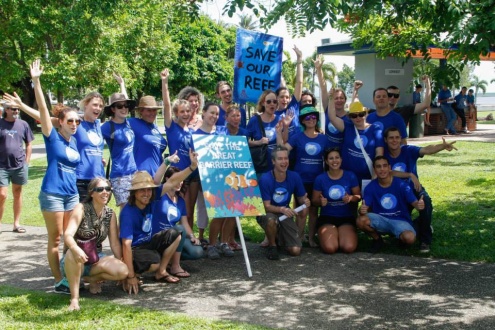 Far North Queensland is a community that protects, respects and connects with our unique natural tropical environment.
MISSION
CAFNEC is the peak environmental body advocating for the protection of the unique tropical natural environment of Far North Queensland in partnership with the community and other environmental organizations.
VALUES
We understand that our natural environment has intrinsic value in addition to the social, cultural and economic values derived from human endeavour. Consequently, we have a duty to pass on our inherited natural environment in the best possible condition for the benefit of future generations, both human and non-human.
We acknowledge the cultural values of Traditional Owners of Far North Queensland and will work with Aboriginal and Torres Strait Islander communities, recognising and respecting their vital role in conservation.
We seek to achieve high ethical values in both conduct and image by being professional, honest, inclusive and mutually respectful in our words, actions and relationships while remaining strategic and focussed on our mission.
GOALS
GOAL 1: To provide opportunities for the community to take action to promote ecological sustainability of the FNQ environment.
GOAL 2: To undertake campaigns which influence decision making to promote environmental protection of the FNQ region in accordance with the principles of Ecologically Sustainable Development.
GOAL 3: To demonstrate leadership and actively engage with all other environment groups and networks in the region, providing support as appropriate.
GOAL 4: To ensure long-term financial and organisational health.
---
News By Cairns & Far North Environment Centre
Donate this EOFY to help power a new wave of environmental advocacy in FNQ
By Cairns & Far North Environment Centre
24 Jul 2017
Do you remember when…
All we wanted to do was protect the places we love because they were simply amazing?
We just had to show everyone how amazing they were.
In doing so, we secured World Heritage Areas and National Parks, essential habitat mapping, the Directory of Important Wetlands, threatened species listings, marine parks, environmental impact assessment processes, anti-litter legislation and the list could go on. These weren't ideas that governments just came up with – they came about because everyday Australians, especially up here in the Far North, stood up, spoke up and called for change.
The 80's were full of such calls for change. Over the last few decades, we saw those changes come to life through policy and implementation and so the calls died down. But as the challenges facing the environment continue to grow despite the policies and programs we now have, we are going to need to use our minds, our voices and our hearts to call for change. If you believe environmental advocacy is needed now more than ever, you can help by making a tax-deductible donation before the end of the financial year (EOFY).
Donate to keep environmental advocacy strong in FNQ: http://cafnec.org.au/memberships-donations/donations/
---
Cairns & Far North Environment Centre
---