About Hemingway's Brewery Cairns Wharf
HEMINGWAY'S BREWERY CAIRNS WHARF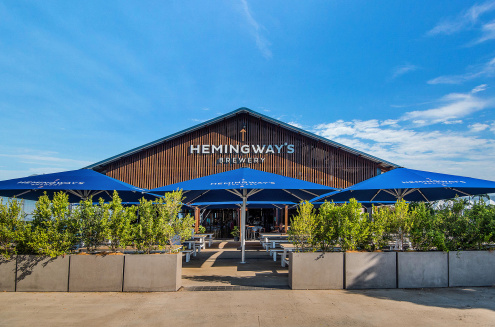 Hemingway's Brewery Cairns Wharf is a heritage listed venue located at the Cruise Liner Terminal in Cairns with views across Trinity Inlet. Guests can enjoy a unique space in air-conditioned comfort and it is in walking distance to Cairns Convention Centre and CBD hotels. Hemingway's Brewery Cairns Wharf boasts a 19 metre long bar and 20 taps that offer at least 10 Hemingway's brewed beers, guest beers, and ciders as well.
The venue offers various seating options both indoors, with views to the brewery, and outdoors, with waterside views. There are multiple options for functions. Just rock up, find yourself a seat, relax, enjoy a beer, and soak up the atmosphere.
CAIRNS WHARF FUNCTIONS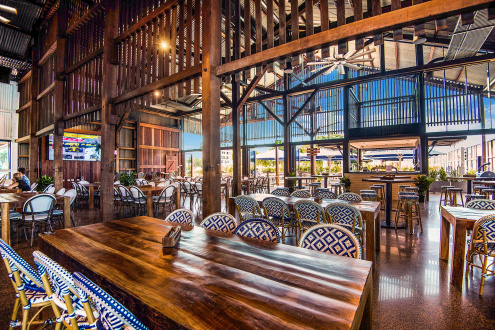 THE BOND STORE
THE ROOM
Indoor air conditioned with an acoustic drape separating the room from the Brewpub and glass bi-folds to the Courtyard.
Bar facilities
THE NUMBERS
Cocktail up to 200 guests with space for a 2m x 6m stage
Seated up to 150 guests with space for a 2m x 6m stage
BOND STORE & COURTYARD COMBINED
THE ROOM
Indoor and outdoor spaces are linked by glass bi-fold doors.
Private bar facilities
THE NUMBERS
Cocktail up to 300 guests
CAIRNS WHARF BUYOUT
THE ROOM
The Courtyard, Bond Store and Long Room gives you exclusive use of the entire Brewery. We can extend our footprint outside the Courtyard to accommodate additional space for Food Trucks.
Two bar facilities
THE NUMBERS
Cocktail up to 1,200 guests
CAIRNS WHARF BREWERY TOURS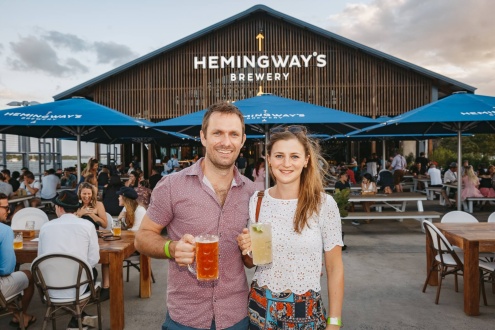 Explore the process of crafting a local independent beer and the story of how Hemingway's Brewery came to be. One of our passionate Brew Crew members will take you through a Craft Beer 101 and tour of the brewery, followed by a guided tasting of a selection of our Hemingway's brewed beers and discussion on what you can expect from each beer style.

**Please note, you must wear closed toe shoes for a brewery tour
TOUR TIMES
Brewery tours will run at Cairns Wharf from 27 September. Tours are held every Saturday at 12pm and 4pm. Book a minimum of 4 and maximum of 10 people per tour. For groups smaller than 4, please call us at 07 4099 6663 to find out about available tour times. Walk-ins may be available.
---
Hemingway's Brewery Cairns Wharf
4 Wharf St Cairns QLD 4870
---