Spirit of Cairns Dinner Cruise - Waterside Dining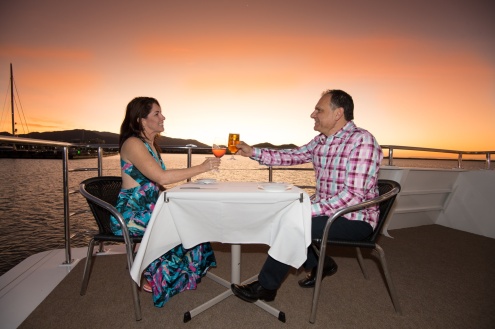 A Cairns Dinner Cruise is the perfect way, to end a perfect day in paradise. Boarding our sailing catamaran at the Marlin Marina, you'll enjoy an evening of calm water cruising on Trinity Inlet, taking in the sights and sounds of this tropical port city and its surrounding mangroves, as they transition from day to night.
Every journey begins with bubbles, as all good dinner cruises should. With your glasses charged, stroll the interior or exterior decks and admire the view as the sky transforms from blue to red to orange and finally a silky black, filled with thousands of sparkling stars.
Your journey takes you deep into the heart of Trinity Inlet and across the waterfront precinct of Cairns, from the Cruise Liner Terminal to the Esplanade. The water is calm, the weather mild and the night is yours to enjoy, with entertainment and a delicious 3 course buffet featuring some of the region's best produce, including seafood. This is the ultimate in waterside dining.
Dinner Cruises depart Wednesdays, Thursdays, Fridays and Saturdays. 6:30pm departure 9pm return.
Local's Rates: $80 Adults $40 Children (Local I.D required)
Retail Rates: $95 Adults $50 Children
Highlights & Inclusions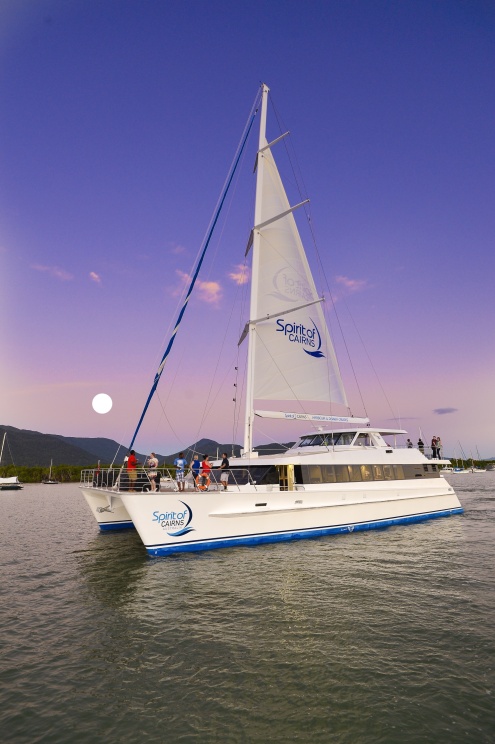 A 2.5 hour calm water sunset / evening cruise
Luxurious air-conditioned vessel
Large outdoor decks
Complimentary glass of sparkling wine, beer or soft drink on arrival
Delicious hot and cold buffet, featuring fresh seafood and local produce
Live Entertainment
Sunday Spirit of Cairns Lunch Cruises - NOW EVERY SUNDAY!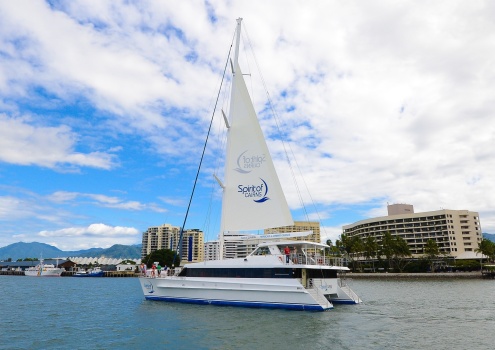 Wander the exterior decks to enjoy the fresh sea breezes and panoramic views of this coastal port city. Taking you from the marina, the Spirit of Cairns lunch cruise heads deep into the heart of Trinity Inlet with its winding tributaries and Admiralty Island. This is a side of Cairns not often seen.
Then enjoy the cool, comfortable air-conditioned interiors, with plenty of windows to ensure you don't miss the passing scenery of this tropical port city with its Cruise Liner Terminal, marina and Esplanade precinct.
Our Cairns lunch cruise menu changes regularly, to take advantage of the freshest, local produce. It caters to vegetarians and has a range of gluten free items as well.   The buffet includes a great variety of fresh salads and vegetables, sumptuous hot dishes and seafood, along with a great selection of desserts and cheeses.
Local's Rates:  $55 Adults $35 Children (Local I.D required upon boarding)
Retail Rates: $69 Adults $45 Children
---
The Last Hurrah! Final Sunday Sunset Cruise 30th September
By Spirit Of Cairns
20 Sep 2018
Join us onboard Spirit of Cairns for our final Sunday Sunset Cruise. As we will be increasing our Dinner Cruises to a 7 day operation, this will sadly be our last scheduled Sunset Cruise.... Don't miss it!
Departing Cairns' Marlin Marina on Sunday 30th September, the sunset cruise is over 1.5 hours and takes you past the sights and sounds of the Cairns harbour, cruise liner terminal and inlet. Our floating bar will open and we welcome guests onboard from 4:30pm, cruise departs at 5pm and returns at 6:30pm, bar remains open dockside.
Your cruise includes a welcome drink upon boarding and a selection of nibble platters. Chill out while you take in the sights of the Cairns Harbour and Sunset and laid back Sunday tunes.
$35 Adults and $15 Children.
https://www.cairnstoday.com.au/cairns/tours.95/spirit-of-cairns.1571/?show=deal-3294
Change of the Guard
By Spirit Of Cairns
04 Apr 2018
With our Spirit of Cairns Chef Extraordinaire Zee taking off on maternity leave soon, we wish to introduce our new Chef Jeff to the team!
"With over Twenty-five years of culinary experience, sixteen years of these in leadership roles, I am an ambitious and creative chef who has a genuine passion for food.
I am methodical and organized with a solid understanding of safety procedures and HAACP. My leadership is collaborative and inspiring and I have a passion for team and self-development.
From 2008- to present, I have been the primary care giver for my two children, hence I focused on consulting and catering via my business Jetfood as this enabled a balanced approach to my two key passions – Food and Family. Now that my children (Cooper 10 and Grace 8) are older, I am excited to be back in full swing. I believe the opportunities are endless with the Tusa group and Spirit Of Cairns, I believe this will continue my career journey, and hope to be part of the catering team with the other boats.
Am I funny, the funniest guy you will meet… No not really, I can't tell jokes, so I'm not starting off as a good pirate?!!
My Career is endless and I feel it isn't over just yet, Ben O'Donoghue, Jamie Oliver, Curtis Stone Pete Evans and Manu, just some of the chefs I've been around. I did Ready Steady Cook on ch10 for 12 episodes. Did 120 cooking demonisations for LG around the country, have been the private chef for Adam Scott (professional golfer) for 4 summers. Cook for the 20 world leaders at G20 summit in Brisbane, private access to the best president America have had in 3/4 decades Barack Obama.
I love the beach, surfing, endless powder runs on my snowboard, the snow, riding bikes with my family. Love dining out when we get the chance and my favourite food ramen and pork!!"
---
Spirit Of Cairns
Spirit Of Cairns - Dinner & Lunch Cruises Esplanade, Cairns, Queensland, Australia 4870
---
Direct Contact Info
Hours: The dinner cruise operates every Wednesday, Thursday, Friday and Saturday evening.
Address:
Cairns Marlin Marina
Cairns
QLD 4870
Australia
---