About Divers Den - Cairns
Welcome to Cairns, home of the Great Barrier Reef!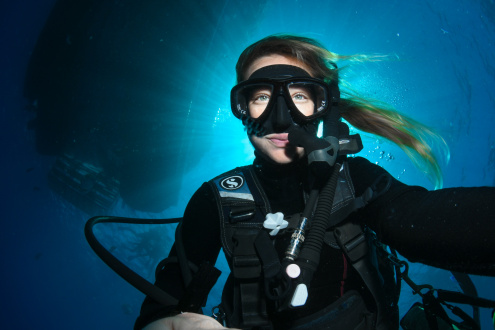 Experience a magical day or night on the Great Barrier Reef with Divers Den. Whether you're a snorkeller, first time diver or certified diver, discover the marine wonderland of the outer Great Barrier Reef, just a 90-minute boat trip from Cairns.
Our day trip departs from Cairns on our newest vessel, AquaQuest and includes five hours at the reef and visits two stunning dive sites. These are expertly chosen from our exclusive moorings on the Norman, Saxon and Hastings reefs to bring you the best quality conditions and diverse marine life, from colourful corals to inquisitive Nemos, turtles, stingrays and giant Maori Wrasse.
If just one day at the reef isn't enough to curb your appetite for the ocean, an overnight trip from Cairns on our Liveaboard vessel, OceanQuest gives you all the time you need. Visit our colourful dive and snorkel sites during the day, and at night everything from our 'Sharks in the Dark' activity to night diving, air conditioned cabins with en suites, lounge and bar, are designed for your comfort and enjoyment. We offer daily transfers from Cairns to OceanQuest.
Our vessels are purpose built for diving and snorkelling. Spacious dive decks and a sunken platform offering easy access to the water, plus state of the art equipment. Enjoy our large sun decks, air conditioned indoor spaces and hot fresh water showers. Meals are fully catered for offering a pre-packed lunch on AquaQuest and onboard chef on our liveaboard vessel.
Want to learn how to dive?
Our state-of-the-art Dive School, located in Cairns offers open water courses for anyone who has never dived before and would like to experience more of the magical underwater world! You'll get all the top class tuition offered over two days of pool training, as well as two memorable day trips to the outer Great Barrier Reef.
Our newest programme 'Scuba Kids' is a half-day program where children will learn the basics of scuba diving and try it for themselves. After a quick training session on land, they'll be fitted with kid-size scuba equipment, hop into our heated dive pool and try breathing underwater for the first time. Scuba Kids is suitable for any kid who's aged 8-11 years and comfortable in the water.
During their dive experience, kids will:
Learn how scuba diving equipment works and how to use it safely
Try scuba diving in the shallow end of our pool, supervised by our professional PADI instructors
Snorkel, swim and try our underwater scooters
Learn about the Great Barrier Reef and the wildlife you can see there
Play underwater games and have lots of fun!
Head over to www.diversden.com.au to book your ocean adventure!
---
Divers Den - Cairns Reviews
---
Direct Contact Info
Hours: 07:AM - 06:00PM
Address:
319 Draper St,
Cairns
QLD 4870
Australia
---