About Frankland Islands Reef Cruise
Frankland Islands Day Trip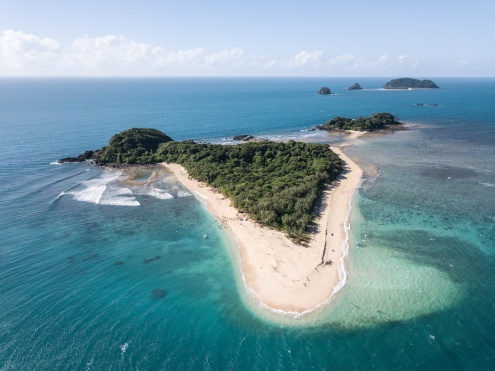 Experience the Great Barrier Reef with Frankland Islands. you can self-drive to the departure point or book hotel transfers from Cairns. Your day starts with a rainforest river cruise, followed by an open water crossing to Normandy Island on the Great Barrier Reef.
What makes it Great?
Maximum of 100 people
Tropical Island Experience
Buffet Lunch
Tour includes a 30 Minute river cruise
Snorkeling off the beach
About Frankland Islands National Park
The Great Barrier Reef's Frankland Islands are a pristine archipelago located 10km offshore, about 45km south-east of Cairns. The group consists of five continental islands, Normanby, High, Russell, Round and Mabel, and are a part of the World Heritage listed Great Barrier Reef Marine Park.
All the islands are uninhabited and surrounded by healthy fringing reefs, full of hard and soft corals, giant clams, schools of fish, turtles, octopus and more. Dugongs, Manta Rays and Whales have been sighted here.
The islands' vegetation varies from rocky outcrops, to sandy beaches lined with coastal grasses, pandanus and coconuts, to mangroves and dense rainforest. As such, they are home to an abundance of birdlife and are an important nesting site for many types of birds.
Included in your Day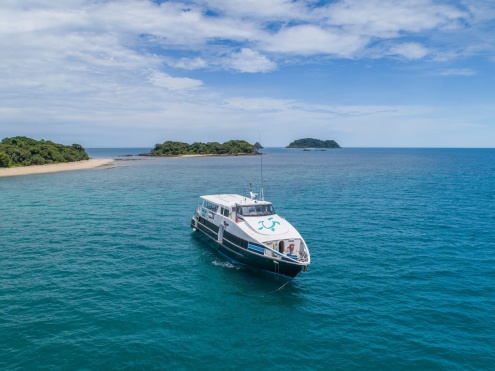 30-Minute River Cruise
Morning and Afternoon Tea
Guided Snorkel Tour
Protection suits (seasonal)
Flotation Devices
Tropical buffet lunch including Prawns
Up to 4.5 hours reef time
All snorkelling equipment
Your day at a glance:
Board the Frankland Island Cruises Vessel at Deeral Jetty at 8:15am. Will take you on a 30-minute leisurely cruise down the Mulgrave River.
​A short open water crossing will take you to your tropical island destination for the day - Frankland Islands National Park.
You'll have 4.5 hours to relax and explore this secluded part of the Great Barrier Reef that sees no more than 100 visitors each day.
Snorkel straight from the pristine white sandy beach, where an expert marine naturalist will guide you over colourful corals and tropical fish, explaining this unique and wonderful ecosystem. This guided tour is included for all travellers.
Enjoy coffee, tea and cake on board our air-conditioned vessel before transferring to our coach or your car to arrive back in Cairns around 5:00 PM.
Departure Times & Locations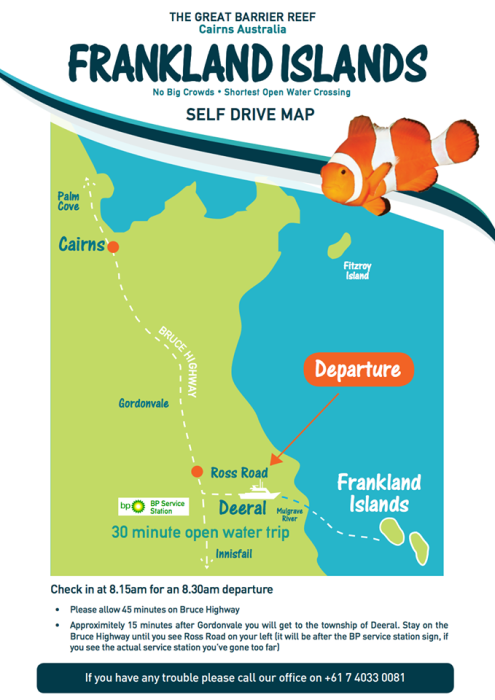 Self Drive Meeting point
169 Ross Rd, Deeral
Self Drivers can meet us at the departure point on the Russel River just 45 minutes' drive south of Cairns.
Drive South past Gordonvale on the Bruce Highway. Approximately 15 minutes' after Gordonvale you will get to the township of Deeral. Stay on the Bruce Highway until you see Ross Road on your left. Drive to the Deeral Jetty.
Our boat the Turtle Islander will depart at 8.30am. We request self-drivers check in at 8:15am. There is plenty of free parking at the departure location in Deeral. Tour returns to Deeral between 3.30pm and 4pm.
Hotel Transfers from Cairns
We can pick up from all Cairns, Northern Beaches and Palm Cove hotels, ports or major attractions. There's also transfers available from Mission Beach.
Select your pickup location when booking. We will return you to Cairns at 5:00pm.
Activities on Normandy Island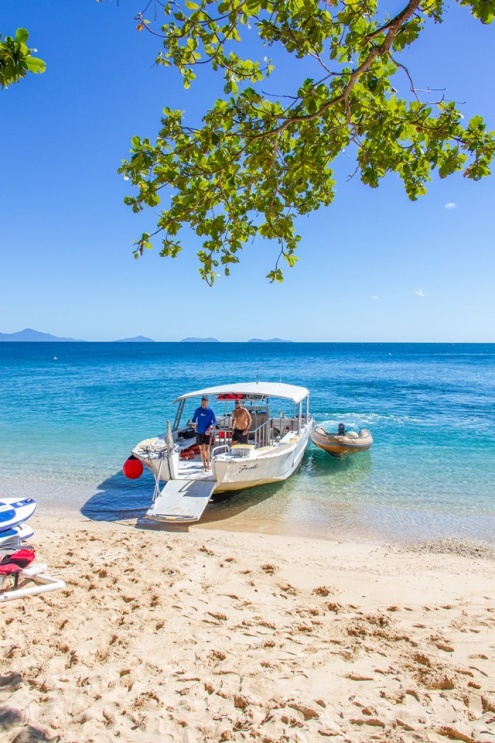 Guided Snorkel Safari
Be adventourous and jump off the boat and snorkel along the Western reef, guided by our marine biologist. These small group tours will enable you to learn more about the Great Barrier Reef. You'll see a vast array of hard and soft coral gardens, complete with giant clams and an abundance of colourful reef fish! You might even get to see a turtle.
Guided Island Walk
The pristine Frankland Islands are a place of exceptional natural beauty. From their fringing reefs and rock pools, to their white sandy beaches, lined with pandanus and other native species, and shaded green interior. Join our Marine biologist for an informative and fascinating exploration of the island.
Semi-Submarine Experience
This tour takes you from the beach, out over the amazing fringing coral reefs, where you'll see an abundance of hard and soft corals, without getting wet. Spacious and comfortable seating provides each guest with a front row view of the Great Barrier Reef. The tour includes an informative commentary on the Great Barrier Reef and the different corals and animals that reside around Frankland islands. You'll also see schools of colourful, tropical reef fish and sheer reef drop offs.
Clear Kayaks
We're the only Cairns operator to have these amazing Clear kayaks, available for hire during the day. If you want to put yourself in this picture, then don't miss the chance to hire them. They have a two-person capacity and provide amazing views over the corals, fish and marine life below. 30 minutes hire time.
Paddle Boards
Want to SUP the Great Barrier Reef? Well with Frankland Islands Reef Cruises you can! Our Kona boards are easy to use and the waters surrounding the Frankland Islands are relatively calm, making them the perfect location to try paddle boarding. Whether you're a novice or an experienced boarder, this is the perfect place to go Stand up paddle boarding on the Great Barrier Reef. 30 minute hire time.
Traveling with children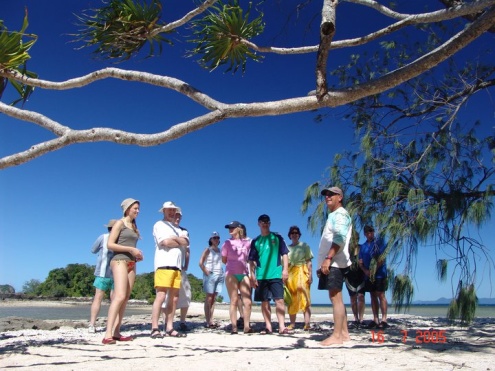 Children of all ages are welcome aboard our boats and we take many children along on our cruises. As we spend the day on the island young children can easily swim / snorkel from the beach, enjoy the Semi-submersible or Glass bottom boat and the Guided island walk is also great for children. Guests are welcome to bring portable prams, bearing in mind that we do not have any paved walkways so they need to carry/push them on the sand. The shaded picnic area is a lovely spot for a nap for the little ones. Children must be accompanied by an adult.
Family Friendly
We offer special rates for families. Please check the booking for form for up to date family pricing.
Booking Frankland Islands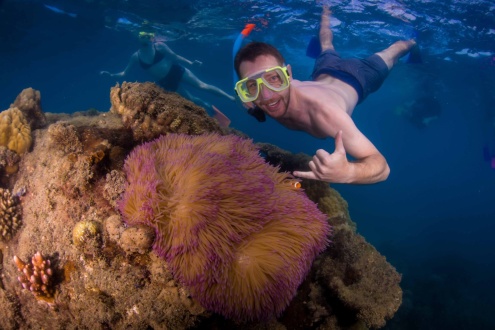 Instant Booking & Mobile Friendly Tickets
Check availability & book here to secure you spot on Frankland Islands Day Trip. Pre-booking is essential. Please do not turn up on the day without a booking.
What to bring
Towel, hat, sunnies, shoes / sandles, sunscrean, bathers and anything else for a day out on a tropical island. Refillable water bottle.
Exploring Normandy Island
If you would like to explore the island please bring some shoes that can get wet and sandy. Some parts of Normandy Island can be rocky so good shoes are recommended
---
Frankland Islands Reef Cruise Reviews
---
Frankland Islands Reef Cruise
Tour departs at 169 Ross Rd, Deeral QLD 4871, Australia (Please allow 45 minutes on Bruce Highway. Approximitely 15 minutes after Gordonvale you will get to the township of Deeral. Stay on the Bruce Highway until you see Ross Road on your left). We request self drivers check in at 8:15am.
---