About Original Kuranda Rainforest Market
Stalls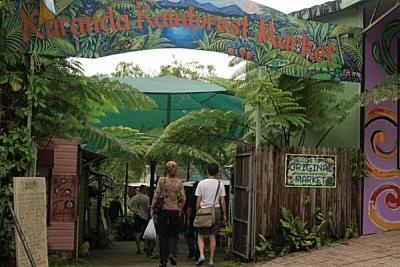 ABRACADABRA
The finest in exotic indian imports, textiles, home wares, jewellery, decorator items, incense and oils. With an extensive knowledge of hindu culture, customs and products.
Ph: (07) 40938954
AUSSIE SOLES
Comfortable and colorful, these light and bright thongs have great ventilation, perfect to keep you cool in the tropical heat.
Relax ya feet!

BEAR'S CAVE
Custom Knifemaker
Edged Tool Sharpener
Metal Artistry
Ph: 0419788997
bearsblades@yahoo.com.au
BILL'S NUT SHACK
Delicious natural Australian Macadamias, macadamia products, healthy snacks, delectable nibbles, and more! Bill has been involved in local markets for over 15 years.
Ph: 0421799131

BIZARRE
Colorful clothing, exotic imports, interesting, unusual, wearable, fashions.
*$1 from every sale at Bizarre goes to Nepali run charity BRIGHT FUTURE NEPA- to provide education to children in remote areas of Nepal.

BOONGAR ART GALLERY
Locally made indigenous art by world renowned artist Jimmy Boongar Edwards. Original paintings, Didgeridoos and boomerangs.
CHEZ LOUISE GIFT AND HOMEWARES
Gifts for you and those you love - body products, candles, stationery, jewellery, baby gifts, cards, books and that's just the beginning.
Shop 3 Market mall - near the red and white icecream van.

CLIVE'S ANTIQUES
Knowledgeable Antique dealer and collector, Clive has an enormous collection of Antiques, Demi-Antiques, Collectables, Curios, Vintage and designer wear, Quality second hand, Home decor, Sculptural pieces, and crockery.

DANGLES AND DIDGES
Lucky Dangles: An elegant reminder of your visit to Kuranda. Handmade on the premises. Crafted from local bush nuts, wood, shells, selected beads and semi-precious stones.
Didgeridoos: Hand crafted from local wood. Hollowed out by termites and professionally tuned.
Also gifts and jewellery made from tagua nut; friendship bands
DRAGONFIRE OPAL, PEARLS AND GEMSTONES
A long established family business, Specializing in Australian made opal, pearl and gemstone jewellery.
Shop 5 Market Mall
(07) 40937650

EMU RIDGE
Local gem specialists, with an enormous range of precious and semi-precious gemstones, beads, jewellery, specimens, walk through gem cave, and full size replica Tyranasaurus skelton, sure to thrill the young and young at heart!
Ph: 0408728711

EZYRYDER
Harley Davidson Motorcycle gear, licensed branded shirts, jackets and vests, clothing and accessories, Planet Earth clothing, humorous shirts, novelty items.
Ph: (07) 40939695

HONEY HOUSE
Specialist honeys and honey products. With over 20 varieties from the local area including Rainforest, Avocado, Eucalypt, Bloodwood. View the inner working of a beehive, these glass sided colonies are fascinating and educational. Sample the unique and amazing flavours of this 100% organic natural honey.
Ph: (07) 40937261
www.honeyhousekuranda.com
honeyhouse@bigpond.com
ICY COLD PURE FRUIT DELIGHTS
Delicious and healthy Icy Cold Pure Fruit Delights. Made from the ripest most delicious organic frozen tropical fruits, these healthy treats contain no sugar, dairy, or fat. Flavours include Mango, Pineapple, Watermelon and more. Try them solo or in combination. The perfect healthy treat for the kids on a warm summers day.
Ph: 0421799131
JAPANESE TEA HOUSE
Authentic traditional Japanese tea. Variety of flavours, healthy uplifting and delicious, a must see for tea lovers.
JIMMY'S KEBABS
Delicious Kebabs, Finest ingredients including, Roast leg of lamb, Chicken, Lettuce, Tomato, Garlic yoghurt, Hommus, Mayo, BBQ,
Cheese, and delicious soft toasted lebanese wraps. Icy cold drinks and friendly service.
KURANDA TROPICAL HOMEMADE ICECREAM
All natural home-made icecream. A local institution, this family business has operated in this location for over 25 years! Tropical fruit and traditional flavours.
Ph: 0419644933
Ph: 0419140801
www.kuranda-icecream.com.au
LAN'S VITNAMESE CUISINE
Taste the flavours of Thailand and Vietnam right here in Kuranda! Healthy Asian dishes - delicious and aromatic - made using fresh herbs and the finest local ingredients
Ph: (07) 40937399
LEAH KELLY BY DESIGN
EARTH CONNECTIONS KURANDA
Leah is a world renowned designer of organic wearable art, specialising in exquisite handmade gowns and clothing made from certified organic hemp and blends of hemp/silk and hemp/bamboo. Each piece is hand embroidered or beads with shells, crystals, seeds or precious stone. Also available are hemp bi-products, cosmetics, oil, twine, bags and paper.
Ph: 0429662036
www.leahkellybydesign.com.au
www.kuranda-made.com.au
LEATHER WORKS
Family business with beautiful handcrafted leather products, wallets, belts, purses, glass wear, ornamentation and more.
Ph: 0419582219
MASSAGE
Relaxing massage in the markets, deep tissue remedial massage. Natural cosmetic and skin products.
MINI GOLF
Set amidst lush tropical gardens, this mountain top mini golf course is a fun family activity.

MYSTIC MOUNTAIN
Fashionable and feminine clothing, huge variation of styles and sizes guaranteed to flatter all ages, shapes and sizes. Complimentary jewellery.
Ph: 0411742276

PETIT CAFE
This friendly cafe is sure to please, with a special blend of delicious locally grown and roasted espresso coffee, crepes served with quality gourmet ingredients, french pasteries and sweets will delight.
Ph: 0421799131
QUEEN BEE CAFE
Former owners of "Monkey's restaurant" this canopy level cafe specialises in gourmet regional fare, club sandwiches, Hot open grills, Salads, Tropical fruit juices and smoothies, Beer and wine, with an extensive vegetarian menu also available. Fully licensed, with spectacular rainforest canopy views and breezes.
RADIANT READINGS
Take the time for a Radiant Reading by Anne-Maree at stall 12 10am - 3pm. With 25 years experience in her craft, Anne-Maree uses her spiritual skills with the tools of the Tarot, Tea leaf readings and and Psychometry. This provides an insightful and reflective reading for the seeker.
Ph: 0409894012 for an appointment
RAINFOREST REJUVENATION
Handmade locally, these beautiful skin products are made from the finest and most natural ingredients.With no chemicals or preservatives, come and enjoy a free hand scrub. The quality essential oils will excite the senses, while organic exfoliating agents leave your skin at it's natural best!
RUMAH-LIMA
Eye catching jewellery featuring mother of pearl and more! Realistic frangipani hair-clips, Batik fans, Resort wear, Colorful, Comfortable, Tropical, Beachwear.

SERENDIVA
Serendiva is proud to sell original Barbara Samsoni and Barefoot designed products. Hand-dyed hand loomed silk and organic cotton textiles produced by women in rural Sri-Lanka, these fair trade products are made from some of the best fabrics in the world, and provide sustainable employment for women in dis-advantaged areas. Come and browse an enormous range of bright and colourful toys, home decor, and clothing, you will be delighted!
www.serendiva.com

THE LOCAL JOINT
Drop into the local joint for handmade clothing from a host of local artists. Loooking for a gift? We stock locally made felt items, jewellery, music and artwork along with a range of books, clothes and toys for the kids. We also offer quick and affordable repairs, alterations and commissioned orders. If nothing else be sure to drop by and say hello to Binki, the famous Kuranda Pug!
Ph: 0411699237
THREE CROWS
Local trio of artists, have a huge and impressive array of stock. Unique and unusual. With a variety of their own astounding arts and crafts this artists co-op features unique and individual handmade jewellery pieces, Wild and wonderful wearable, exotic and imported accesories and embelishments. Homewares and more.
Ph: 0408464884
TROPICAL FASHIONS
Sarongs, kaftans, dresses bags and accessories
christianemas@yahoo.com.au
Ph: 0439077287

WOOD TURNING AND OPAL
Locally sourced timbers turned out into beautifully crafted bowls and platters, enhanced with the wood burning designs of local artist Gabrielle. Also available, crocodile leather products, Opal, jewellery, beads and more.
---
News By Original Kuranda Rainforest Market
New market stalls
By Original Kuranda Rainforest Market
13 Sep 2017
Wind your way through the funky lanes of the Original Kuranda Rainforest Market and you will discover many new stalls with unique handcrafted products have opened in the past couple of months.
Among the more unusual items are handmade buffalo horn combs made locally by Ed Lane. Ed sells his combs alongside exotic candles and soaps made by his partner Sayaka which can be seen at Il Mare Candles (shops 47, 48, 49).
Both spend a lot of time hand crafting the items in their stalls with Sayaka taking two days to craft her colourful beach candles, while Ed takes seven months to perfect his combs. "I use water buffalo horn from the Northern Territory and dry land buffalo from the Kimberley. Buffalo horn helps the keratin in your hair by closing the cuticle as you comb instead of creating static electricity like plastic combs do. This helps hair grow stronger, shinier and healthier," he says.
"My grandmother gave me a horn comb that is 137 years old now and still in mint condition. They originated in Vietnam where they have been in use for 1200 years. I brought some back to Australia and worked out how to make them. It is a seven-month process to flatten the horn and make it into a comb."
The Lighthouse (Stall C) is another newcomer to the Original Markets with bric-a-brac, jewellery and antiques, while Now & Zen (42) is an eclectic stall promising inspiration for life, wellbeing and awakening.
If you are hungry there are plenty of new choices such as Falafellicious (14-15) which is serving amazing falafels with the likes of lemon and herb cabbage and Israeli chopped salad. They are so good that Bondi Vet Dr Chris Brown went three times during the week he was filming at the Kuranda Amphitheatre.
Those with a sweet tooth can get a chocolate fix at Heavenly Cacao (9) which makes wholefood candy using only fresh fruits, natural ingredients and cacao or cool down at Frozen Nature (13) which sells locally made ice cream and frozen fruit delights.
Explore the Original Kuranda Rainforest Market with the new map on their website.
Flight of fancy
By Original Kuranda Rainforest Market
21 Jun 2017
If you fancy yourself in a set of wings, explore the Original Kuranda Rainforest Markets to find the perfect pair for your next selfie. Kuranda wildlife artist Rebecca Koller has discovered seven wings in the markets and another at Just Gorgeous in Coondoo St.
"The idea is to give visitors a free activity to do and have a memory from their trip to Kuranda. If they can find them all then they will have explored each area within the markets and seen many of the fantastic businesses there. One set of wings can only be seen after hours as they are on a roller door to a shop," she says.
---
Original Kuranda Rainforest Market
---