Getting to Kuranda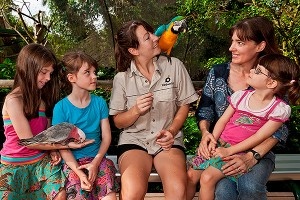 Kuranda truly is the Village in the Rainforest, situated 380m above sea-level on top of the McAlister Range, in the heart of the Wet Tropics World Heritage Rainforests. Lush tree ferns line the roadside on the way into the village and numerous walking tracks and trails take you into the green surrounds, offering running streams, wide rivers and views over waterfalls and gorges.
Boasting spectacular scenery and natural beauty, just getting here is an experience in itself.
We look forward to seeing you at Kuranda The Village in the Rainforest.
Things To do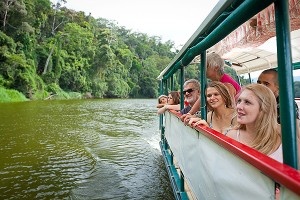 Whether it's a day or a weekend, there are a number of great ways to see Kuranda. Everybody likes to experience different things, so in addition to the comprehensive itineraries available, we have endeavoured to provide the approximate times required to partake in the many different activities that you can find in Kuranda.
Use the following list as a guide when planning your day; for more information regarding tour packages and time allocation for various activities contact the Kuranda Visitor information Centre on phone
(07) 4093 9311, mobile
0407 758 645 or info@kuranda.org
Kuranda Markets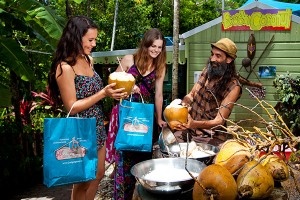 Come and enjoy the Markets in the Rainforest
Kuranda is world famous for its markets. The Village in the Rainforest has two market locations, the Original Markets and the Heritage Markets, both of which are open every day of the year. Stalls offer a wide range of Aboriginal artefacts, handmade leather goods, wood and jewellery. Stall holders are happy to explain their craft and overseas posting is not a problem. Entertainment from wandering buskers may also be enjoyed.
Kuranda Accommodation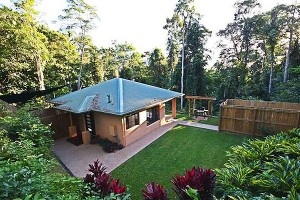 Choose from units, cottages, an artist's studio, cabins, dormitories, luxury rooms all with modern conveniences, or just sleep in a tent. Breakfast in bed, cook your own, or eat out. The choices for overnight comfort are varied, with tropical forest settings and access to water in pools and creeks adding to the experience.
After a busy day take the opportunity to relax at your accommodation and listen for Kuranda's many night roaming creatures: wallabies, pademelons, bandicoots, flying foxes, owls and curlews and the "murdered woman"- the scrub hen. The wet season from December through to April is a time for frog music – the real sound of the tropical rainforest. All this is possible from your Kuranda accommodation hide-away.
---
Minibeasts Wildlife, International cuisine & discover rainforest milestones
By Kuranda Village
05 Mar 2020
Peppermint insects hatch – A second generation of peppermint stick insects has hatched alongside strong stick insects and crown stick insects at the Kuranda Visitor Information Centre's display on loan from Minibeast Wildlife. Each week owner Alan Henderson, who has just finished working on a David Attenborough series on insects, spends an hour at the VIC feeding a giant water spider and a wolf spider as well as answering answers questions from visitors.
A taste of Israel – Falafellicious has moved to Therwine Street where cheeky owner Or is tempting passers-by with a taste of his authentic Israeli-style falafels. Served with a lemon and herb cabbage salad, tahini and Amba sauce, which is similar to mango chutney, but flavoured with fenugreek, the falafel comes in an amazing soft pitta pocket or in a lettuce bowl if you prefer gluten-free. Finish it off with Or's homemade organic lemonade. Visit Falafellicious on trip advisor.
The Wet Tropics is the oldest rainforest in the world and some of its plants and animals are almost as ancient. The Rainforest Discovery Zone at Skyrail Rainforest Cableway's Red Peak Station explains these extraordinary milestones. Cycads appeared 252 million years ago, the kauri pine you see as soon as you arrive at Red Peak has ancestors 210 million years old and cassowaries have been around for 45 million years. Visit Skyrail Rainforest Cableway website for more information.
Barron Falls
By Kuranda Village
05 Mar 2020
The Barron Falls put on a magnificent show at the end of January after a week of monsoon rain bringing onlookers to vantage points including Kurandas Barron Falls Boardwalk or The Edge Lookout at Skyrail Rainforest Cableway. We can't wait for the heavens to open up again to see the Falls at their best! Watch Barron Falls January 2020 video here.
It's great to see some of our favourite Kuranda stalls reopening after the Christmas break and surprising us with new things to do, shop, eat and see in the village. Kuranda is a melting pot of international flavours and cultures when it comes to food with choices including Israeli falafels, Vietnamese cuisine, German sausages, Latin American tacos, Japanese noodles and French crepes. Stop by for lunch in Kuranda and you won't be disappointed.
---