About Reef Restoration Foundation
Our Story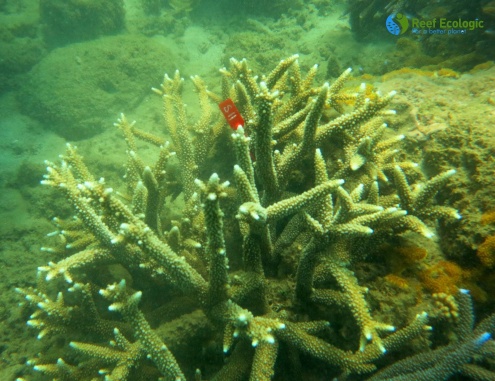 The Great Barrier Reef is under threat and there is a perception worldwide that the reef is either dead or dying. Our purpose is to create hope and optimism through undertaking practical, tangible and breakthrough solutions that will make positive improvements to the health of the Great Barrier Reef.
What We Do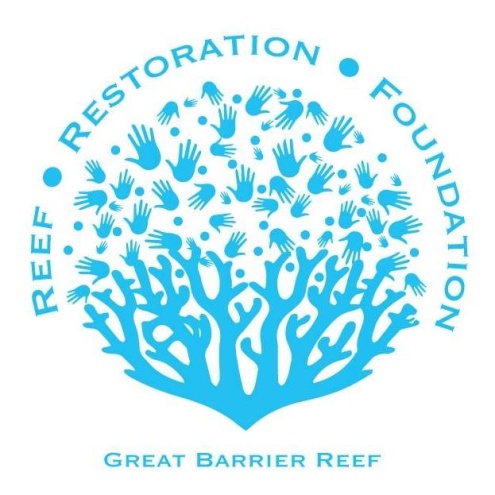 Reef Restoration Foundation is a not for profit social enterprise that is establishing a series of offshore coral nurseries throughout the Great Barrier Reef to accelerate the recovery of damaged high value reefs and strengthen resilience to future bleaching events.
This solution has been proven overseas and adapted to the Great Barrier Reef. This process mimics nature and allows damaged reefs to re-open faster, increases resilience to future bleaching events and can increase repeat visitation and create new products, markets and customer segments for the tourism sector.
How We Do It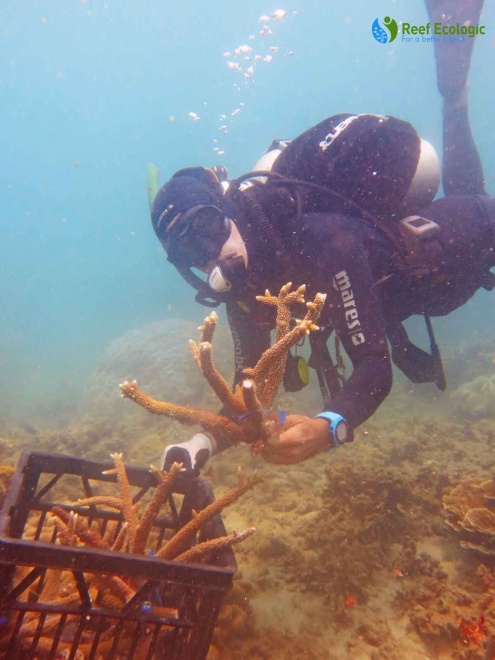 We collect small amounts of healthy corals that have survived the last two years of high temperatures. These corals should be naturally more resilient to higher water temperatures and coral bleaching. The corals are collected and grown in off-shore coral nurseries, which are located adjacent to the damaged reefs. The corals grow significantly faster in the nurseries than on the reef. After 6-12 months, cuttings are taken from each of the growing corals.
The cuttings are then cemented to the Reef to grow and regenerate damaged sections of the reef and strengthen resilience. The original corals remain in the nurseries to re-grow and the process becomes a continuous cycle. From the initial cutting of coral, thousands of new corals can be created. This is a similar approach to taking cuttings from healthy plants to grow new plants.
Where we do it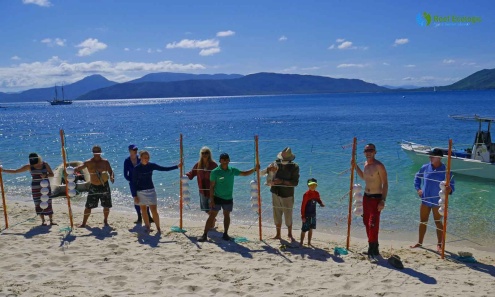 We obtained the first permit to undertake coral gardening and restoration in the Great Barrier Reef. In December 2017, we established the first coral nursery adjacent to Fitzroy Island near Cairns to prove the concept before expanding to other locations in 2018.
Fitzroy Island is located is 29km south-east of Cairns, Queensland, Australia. It is a large tropical island, with a rainforest covering and its own fringe coral reef system and is a 45-minute ferry ride from Cairns. The Island is surrounded by a reef system that forms part of the Great Barrier Reef Marine Park. The Island formerly had a giant clam farm located at Welcome Bay and there is now a tourist resort, camping area and turtle rehabilitation centre located on the island.
The Fitzroy Island Resort, Cairns Turtle Rehabilitation Centre and Cairns Dive Centre have, for many years, been leaders in protection of the Reef and encouragement of restoration measures and are keen supporters of the Reef Restoration Foundation on this project.
The pilot project commenced in December 2017 with six coral growing frames and we anticipate expanding this to twenty frames in 2018. The project will operate for a minimum of three years under the permits that have been provided to operate the project.
Our Strategies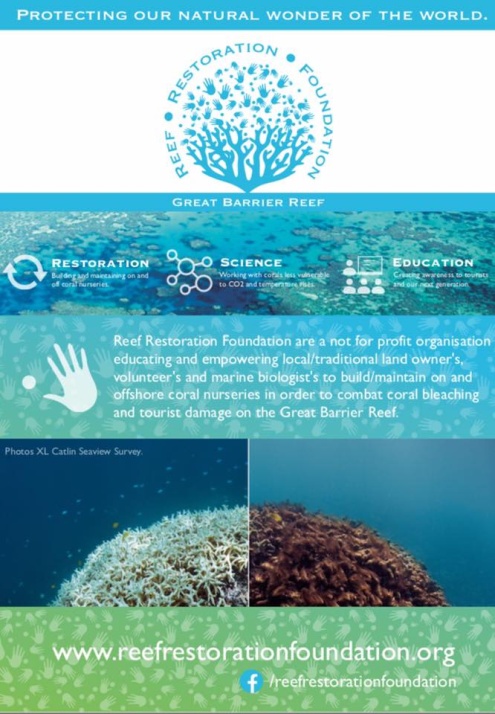 Partner with credible research organisations to refine and validate approach.
Educate our next generation about the importance of our coral reefs.
Create more awareness with the local community and tourists about what can be done to improve the health of the Great Barrier Reef and other reefs.
Establish coral nurseries
Maintain and monitor corals in nurseries.
Every 6-12 months taking cuttings and plant out corals to damaged reefs.
---
News By Reef Restoration Foundation
Coral successfully planted on Great Barrier Reef
By Reef Restoration Foundation
21 Sep 2018
Australia's first corals to be grown in an ocean-based nursery have been successfully planted on the Great Barrier Reef in a bid to help high-value coral reefs within the World Heritage area recover from recent bleaching events.
Reef Restoration Foundation Chief Executive Officer Stewart Christie said 100 corals were planted on a reef at Fitzroy Island over the weekend after the not-for-profit organisation was given Australia's first permit to take coral cuttings and grow them in an ocean-based nursery for transplanting on degraded reefs.
Mr Christie said growth rates at the Fitzroy Island nursery had exceeded expectations allowing the full cycle of collecting, growing and planting the coral to be completed in eight months.

"This 'reeforestation' process mimics nature and accelerates growth to enable reefs to recover from bleaching and cyclone damage faster," he said.
"Last December Reef Restoration's volunteer divers collected 24 corals which had survived two years of high water temperatures from a reef near Fitzroy Island and cut them into 246 pieces of coral.

"These were attached to coral tree frames in the underwater nursery and monitored weekly with many of the corals growing two and a half times their original size in just six months.
"Over the weekend Nursery Operations Director Gary McKenna and a team of divers harvested the first batch of 100 corals from the nursery to begin regenerating damaged areas of fringing reef around Fitzroy Island." Mr McKenna said six areas, each 16 square metres in size, were marked out to give three transplant areas and three control areas with two pieces of coral attached per square metre.

"A baseline survey of the existing coral and a fish survey of the area were carried out so we can compare coral cover in the transplant and control areas," he said.
"Three species of coral, Acropora digitifera, Acropora nobilis and Acropora muricata, were attached to degraded coral using underwater glue and we will monitor both the effectiveness of this method and the placement of the coral.
"We are working to expand the program at other high-value reef sites and are looking at options for the public, community groups and businesses to be involved in helping this amazing environmental, economic and cultural asset.
"Reef Restoration Foundation's goal is to grow 25,000 new corals on the Great Barrier Reef by 2021 as part of our vision to accelerate the recovery of damaged high-value reefs and strengthen the Reef's resilience."
The Reef Restoration Foundation pilot ocean-based nursery is monitored by James Cook University's TropWATER and Reef Ecologic with the support of the Australian Government's National Environmental Science Program.
Reef Restoration
By Reef Restoration Foundation
21 Sep 2018
The Reef Restoration Foundation's Coral Crusaders have been growing corals on coral tree frames in Australia's first ocean-based nursery. This restoration method has been proven to help regenerate degraded reefs overseas and is being piloted for the Great Barrier Reef at Fitzroy Island, near Cairns.

This next generation of coral starts as a cutting, about the size of your finger, which is snipped from healthy corals adjacent to the reef that is to be regenerated.
The corals are then attached to the coral tree frames in an ocean-based nursery. The frames accelerate the growth of the corals, which are checked regularly, cleaned and measured to ensure there are no signs of disease.
As a Coral Crusader your adopted coral will be selected from corals that have withstood the previous two bleaching events and should give the damaged reef the best opportunity to regenerate.
The coral growth has exceeded expectations allowing the first new coral colonies to be planted on a damaged reef just eight months after they were harvested for the Great Barrier Reef nursery.
---
Reef Restoration Foundation
---