About 1 Day Chillagoe Caves & Outback Eco Tour
Welcome! Join us on a journey back in time to Chillagoe Caves & Outback with Billy Tea Safaris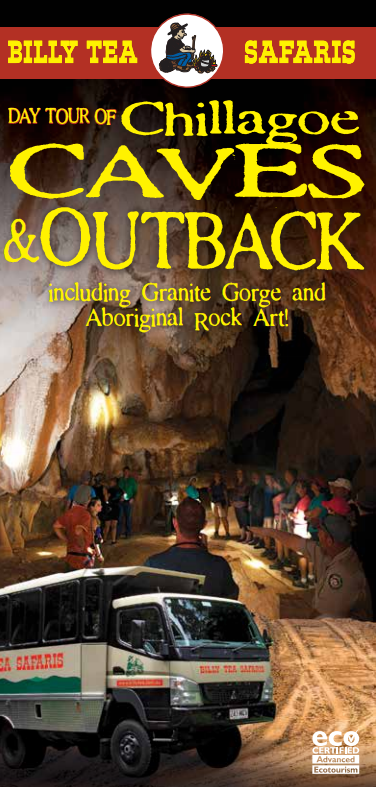 Includes Chillagoe, Mareeba, Aboriginal Rock Art & Australian Outback
Pickup from Cairns, Northern Beaches & Port Douglas
Departing Mondays, Wednesdays & Fridays (or by request on other days requiring minimum numbers). Tour does not operate Good Friday, 17th July or Christmas Day.
TOUR OVERVIEW
Billy Tea Safaris is a small locally owned tour operator, which operates small personalised tours with custom built 4WD vehicles, and your naturalist guides have extensive knowledge of flora, fauna, history of the area and aboriginal culture, which will ensure your day will be a memory of a lifetime.
Your day begins when your accredited guide meets you at your accommodation Cairns CBD around 6.45am, Holloway's Beach and Yorkey's Knob will be approximately 7.00am, and after introductions all round We'll ascend the McAllister Ranges and head to our first stop at Dimbulah, looking for many different species of bush birds, including Emus, Wedge Tail Eagles, Squatter Pigeons and Kangaroos, Frilled Neck Lizards, before reaching our first stop.
Please note: If you're thinking of driving to Chillagoe in your hire car you need to check with your company that you can take your car on a dirt road. The road to Chillagoe is not sealed all the way. If you can't drive... come on our tour!
Highlights of your day in the Outback
Travel off the beaten track down exclusive 4WD backroads
Morning tea (coffee/tea/cakes/sausage rolls) in Dimbulah
Spot kangaroos, emus, wallabies, wedge-tail eagles (wildlife galore!) all day in the Outback
Drive past diverse dry tropical farmlands
Pass through historic mining ghost towns and small outback communities
Visit the local Aboriginal Rock Art and Balancing Rock
Local Chillagoe Gift Shop is a must see!
Find fossils in ancient limestone casts at Chillagoe
Explore the famous Chillagoe Caves
View the once booming Chillagoe smelter ruins
Outback Aussie lunch in 100-year-old pub
Feed the wallabies at Granite Gorge and see local wildlife
Small-group tour in a luxury 4WD
PRICES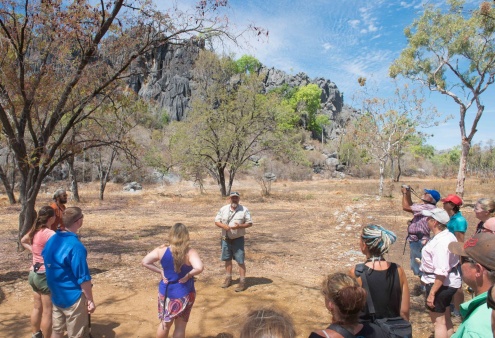 Family (2 adults + 2 children 0-14 years)
Additional Child (0-14 years): $140.00 $695.00
Adult $205.00
Child (0-14 years) $175.00
Infant $175.00
Billy Tea Safaris will provide Baby Seats or Booster Seat please advise upon booking, all children up to the age of 7 years.
Please be aware there is a 24-hour cancellation policy of 100% cancellation fee. No exceptions.
If you fail to load there is also a 100% cancellation fee applies. No exceptions.
Please check our Terms and Conditions for Cancellation Fees.
PRIVATE CHARTER RATES ARE AVAILABLE ON REQUEST.
4WD THROUGH THE OUTBACK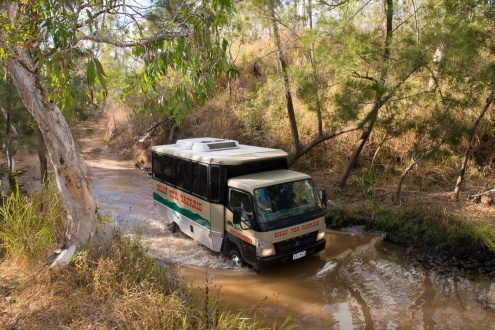 Board the custom built 4WD vehicle and travel through the back blocks of this wetland area viewing Wallabies, Emus and other wildlife and then along the agricultural paddocks of this fertile area, where you will have a chance to see, Paw Paw, Lychee, Longen, Mangoes, just to name a few eventually crossing over the Great Divide and into the Western watershed, we are now in the Australian Outback. Take a step back in time as we travel through historical towns stopping at Dimbulah for morning tea. Rolling hills rich in mineral eventually giving way to towering limestone karsts scattered around Chillagoe Township.
CHILLAGOE SMELTERS & FAMOUS CHILLAGOE CAVES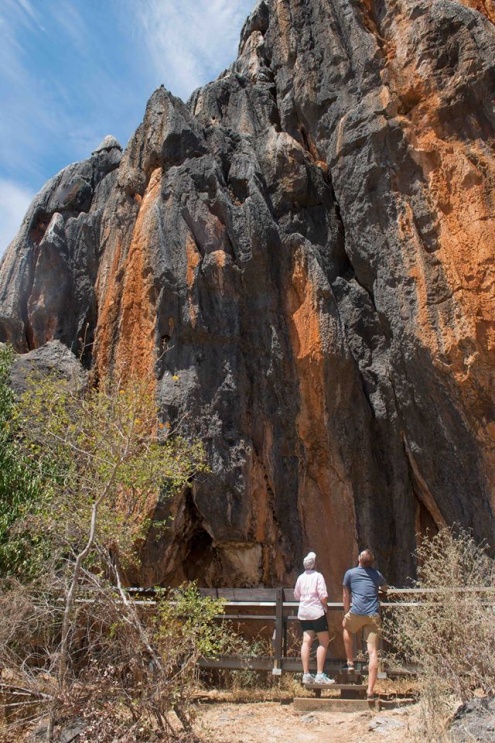 Here we delve into the history of the Chillagoe copper smelters, whose old chimneys dominate the western horizon.
We visit the remains of the once mighty smelters to ponder what it was like working there…. Now it's time for a wonderful lunch at a true Australian Outback Pub built back at the turn of the century, before setting off to have a look at this historical town on route to our National Parks guided Chillagoe Cave tour where you will take a step back in time and be inspired by the knowledge of your guide as he explains about the fossilized remains of the ancient coral reefs some 400 - 420 million years old, with hidden limestone labyrinths give a portal to a lost world just like our own Great Barrier Reef. This was once the inland sea.
Millions of years in the making, the limestone formations and Chillagoe Caves are nothing short of spectacular.
Visit the Aboriginal Rock Art and the Balancing Rock.
If time permits visit the unique gift shop which specialises in gifts of Chillagoe marble and local Arboriginal Art.
After the cave tour, we head back towards the east coast, stopping at Dimbulah for comfort stop and a tropical fruit tasting platter.
Visit Granite gorge and feed the wallabies.
The tour then returns back down the range arriving back in Cairns at approximately 6.30pm.
Please ensure that you wear closed in footwear for the cave tour, please. No Thongs or High Heels on this tour.
---
News By 1 Day Chillagoe Caves & Outback Eco Tour
Chillagoe Caves are beautiful and the perfect time to visit them while it's raining
By 1 Day Chillagoe Caves & Outback Eco Tour
14 Mar 2018
Check it out on our day trip to Chillagoe - just stunning to see!
#billyteasafaris #chillagoecaves #amustsee
Chillagoe Caves and Outback
By 1 Day Chillagoe Caves & Outback Eco Tour
14 Nov 2012
At present the Outback is showing its true rich red colours in the landscapes and with clear skies the amazing limestone Karsts are picturesque. The Emus at present are rearing chicks and everything is getting ready for the first of the summer rains. The caves are magnificent and cool.
---
1 Day Chillagoe Caves & Outback Eco Tour Reviews
---
1 Day Chillagoe Caves & Outback Eco Tour
Chillagoe is approx 210 klms west of Cairns
---
Direct Contact Info
Hours: 6.00am - 9.00pm
Address:
287 Draper Street
Cairns
QLD 4870
Australia
---