AUSTRALIA'S ONLY BUNGY JUMP

Push your limits 50-metres above the World's oldest rainforest! 20 minutes from Cairns' CBD, AJ Hackett Cairns is a Cairns must-do for adrenaline junkies!
Laugh in the face of fear on the Giant Jungle Swing, defy gravity with a 50-metre Bungy Jump or climb up Cairns' highest Lookout Tower for FREE!
BUNGY JUMPING AT AJ HACKETT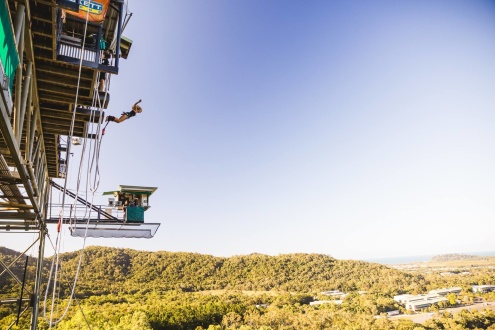 ALL WEATHER ACTIVITY - WE ARE JUMPING RAIN OR SHINE
Get ready to push your limits and DEFY GRAVITY! Located 20 minutes north of Cairns in lush rainforest is the ONLY Bungy Tower in Australia. It's a Must-Do when in Cairns!!
With a world first Jump Menu offering 16 different jump styles, there's a Jump for everyone. Whether you're a first time jumper or a seasoned thrill seeker, we guarantee we've got a jump to take you out of your comfort zone and a bit further! There's nothing like a little adrenalin hit to remind you you're still alive!
Our site is designed for ultimate spectating with tailor-made viewing platforms, decks, licensed bar, music, free transport, live bands on Sundays and sun chairs.
From the top of the 50-metre tower you can see out over the Northern Beaches and out to the incredible Great Barrier Reef. So when you're on the edge, ready to jump, suck in the views as it all looks quite different on the rebound!
GIANT JUNGLE SWING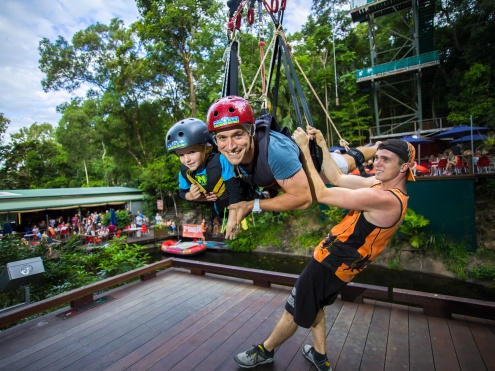 ALL WEATHER ACTIVITY - WE ARE OPEN RAIN OR SHINE!!
In keeping with the AJ Hackett spirit of stretching the limits of gravity, the Giant Jungle Swing was created to allow 1, 2 or 3 people to experience extreme speed and acceleration together.
The only multi-person Jungle Swing in Australia swoops through the rainforest from 45 metres down to 1 metre in 3.5 seconds, reaching speeds up to 120km/h. But don't think it's up to the Swing Master to set you going – you have the control… all you have to do it pull the self release…
FREE* Venue Hire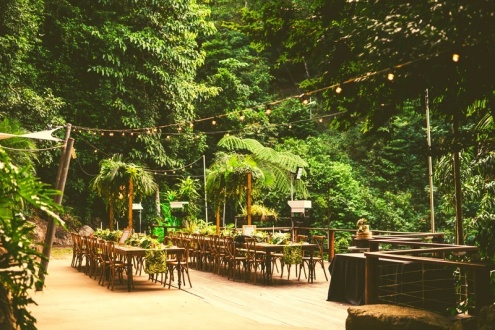 Nestled in World Heritage listed rainforest, the AJ Hackett Bungy site provides a unique venue for special events, parties and functions of any kind boasting FREE* Venue Hire!
THE AREAS
The Gravity Bar
Enjoy all the spectacular scenes and magnificent atmosphere of The Venue in a more intimate and enclosable space. The unique room flows onto two waterside decks nestled beside the sparkling pond and facing the waterfall.
Seated: 70-80
Cocktail: 100-150
The Terrace
The beautiful, glittering light of the stars are almost yours alone with The Venue. Be awe-inspired as you celebrate your event with the shimmering pond and waterfall reflections adding just a touch of magic.
Seated: 120-150
Cocktail: 150-200
The Rainforest
The Rainforest is the idyllic area for events that must cater for large numbers. Using our diverse location, we can transform The Venue into a bespoke setting.
Seated: 260*
Cocktail: 1,000*
---
AJ HACKETT CAIRNS 29th Birthday Bash | Saturday, August 24, 2019
By AJ Hackett Bungy
13 Aug 2019
CELEBRATE 29 YEARS OF AJ HACKETT CAIRNS AT OUR BIGGEST BIRTHDAY BASH YET! WIN $1,000 with 'Pluck a Duck', 20% off Membership, Night Bungy, Bungy & Swing Dicounts, Food Trucks, Live bands, and more!
10,585 DAYS AGO THE MAN, THE LEGEND; AJ HACKETT HIMSELF, SET HIS HEART ON CAIRNS BECOMING THE BUNGY CAPITAL OF AUSTRALIA ...



IN TRUE AJ STYLE WE WILL BE PARTYING ALL DAY (AND INTO THE NIGHT!) TO HONOUR OUR UNIQUE HISTORY - EXPECT CRAZY! EXPECT EPIC!!



* EVERYONE WINS A PRIZE WITH 'PLUCK A DUCK' WITH $1,000 TOP PRIZE UP FOR GRABS!



* THE ONE NIGHT OF THE YEAR WE INVITE YOU TO BUNGY JUMP INTO THE DARKNESS!



A PARTY YOU WILL NEVER FORGET | Saturday, August 24, 2019 at 12 PM – 10 PM



- You could WIN $1,000 with 'Pluck a Duck'

- Everyone wins a 'Pluck a Duck' prize; Reef Trips, Hotel stays, Vouchers, Bar Tabs & more!

- 20% off Membership renewals & new sign ups

- Night Bungy

- Live bands

- Discounts at the Gravity Bar

- Food Trucks

- Awesome people

- Cab for Tab - show your receipt on arrival to get up to $30 back for Gravity Bar

- We are open from 10am - Live bands start at 12pm



- Pre-registrations strongly advised - secure your spot so you don't miss out!



MEMBERSHIP DETAILS;

- Signing up to AJHC Membership allows Members to do 1 x Activity every day of the week - we are only closed on Christmas Day!



- Weekly cost is usually $10 per week - if you sign up/ renew at the Birthday Bash you will get a 20% discount @ $8 per week



- Each week Members will receive a (weekly) $10 credit. Use it for Gravity Bar, Merchandise, Photos & Videos or Activity Upgrades!



The more you visit the better value you get!
Wedding & Venue Showcase - AJ Hackett Cairns
By AJ Hackett Bungy
09 May 2019
We are delighted to invite you to enjoy bubbles on arrival, check out our unique rainforest venue and meet our Functions Manager, Claire Watkins.



Thursday 16th May 5:30pm - 8:30pm

RSVP to Claire Watkins by Monday 13th May

0439 445 724 | cairns.functions@ajhackett.com
---
AJ Hackett Bungy
End of McGregor Road Cairns, Queensland, Australia
---
Direct Contact Info
Hours: 8:30am - 5:00pm
Address:
End of McGregor Road
Smithfield
QLD 4870
aust
---