About AquaQuest | Port Douglas Reef Day Tour
Experience the Reef from Port Douglas
AquaQuest is a new custom built luxury dive and snorkel vessel. She is fully equipped with the most modern and state of the art facilities. We visit some of the best dive and snorkel locations on the Outer Great Barrier Reef at Agincourt, Opal and St Crispin's Reefs.
Key Features
New Vessel
Visit two exclusive dive locations
Tropical buffet lunch
AquaQuest Family Pricing
We offer special rates for families. Please check the booking form for up to date family pricing for your group.
Infants (3 Years & Under) travel free
Children (4 - 14 years) Half Price
Family (2 Adults & 2 Children) 1 Child travels free
Instant Booking & Mobile Friendly Tickets
Check availability & book here to secure your place on AquaQuest.
Pre-booking is essential. Please do not turn up on the day without a booking.
Inclusions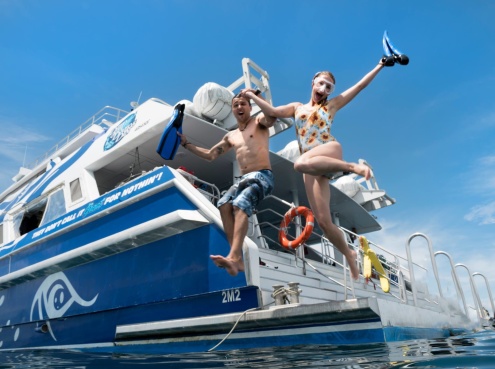 4 hours on the outer reef
Visit two exclusive dive locations
Morning tea including pastries with choice of tea or coffee
Hot and cold tropical buffet lunch
Hot fresh water showers
Snorkel Equipment
Check In Procedure
Check-in to the AquaQuest Desk at the Port Douglas Crystalbrook Marina at 8:00am.
Here you will exchange your booking vouchers for boarding passes then crew members will direct you to AquaQuest
Your day with AquaQuest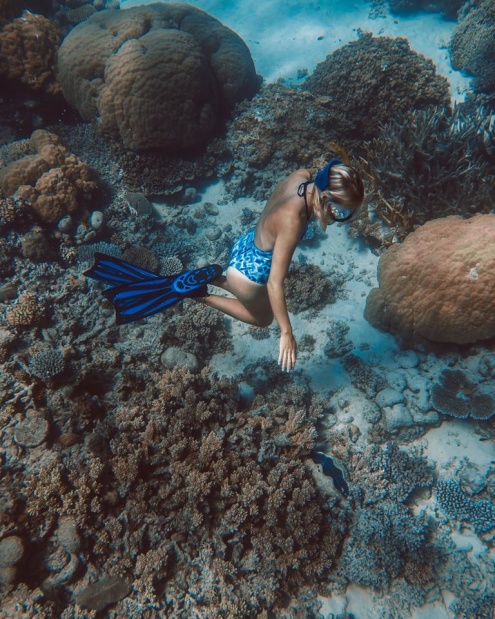 Check-in at the AquaQuest desk located at the Port Douglas Crystalbrook Marina, here you will exchange your booking vouchers for boarding passes.
Crew members will direct you to AquaQuest where your boarding pass will be exchanged for a fabulous day on the Great Barrier Reef
AquaQuest will depart at 8:30 am. The trip to the reef will take approximately one hour and twenty minutes. During this time the crew will present you with a safety briefing and those that are either introductory diving or certified diving will be briefed on their activities of the day.
Once arrived at the reef the certified divers and introductory divers will hit the water at one of our fabulous dive sites. All passengers who are enjoying the snorkeling experience for the day will be taken to the top deck and shown from this great vantage point where the best snorkeling spots are and what they can expect to find.
A thorough explanation on how to use the snorkeling equipment will be provided and our friendly crew will jump in the water with you to show you the abundant marine life.
By 11:30 we will have moved to our second location for the day. Those partaking in diving activities will hit the water again, For those that are snorkeling you can have some lunch first or jump in to find Nemo, Dory and all of their friends.
All the divers will be out of the water by about 12:30 ready to have their lunch.
At around 1:00pm there will be a reef interpretation talk held on the top deck by one of our very knowledgeable crew to discuss what you have found so far and give you more information on the Great Barrier Reef.
In water activities commence again 2:00pm
Around 3:00 pm AquaQuest will be heading back to Port Douglas for a 4:30 pm arrival time. Coach services back to your accommodation will be provided
Snorkeling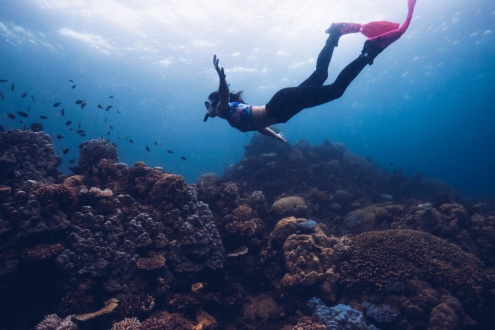 The reef being just a few meters away from the waters surface, you will be able to explore all these wonders just by floating at the surface. Relax, breathe in your snorkel and be ready to discover a multitude of fishes, corals and other wildlife populating the reef.

Our Brand new luxury vessel AquaQuest is fantastic value for money with unlimited snorkeling on two different reef locations.
​
Snorkeling is the easiest way to discover the Great Barrier Reef, it is as simple as breathing. If you have never snorkeled before, don't worry, a briefing is held on board, explaining how to put and use the snorkeling gear. All of the snorkeling equipment you will require is supplied as part of your trip, including a wetsuit or stinger suit. Prescription masks are also available upon request.
Intro Diving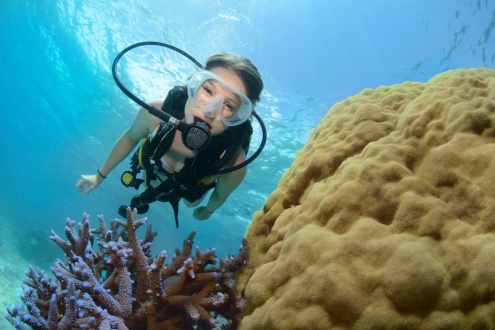 Introductory diving requires no previous diving experience. If you are able to swim, you can usually dive. The only requirement is that you are 12 years old or more and you will be asked to fill out some paperwork, including a medical statement.

Whilst you are on your way to the Great Barrier reef you will be given a briefing outlining what is involved (usually about 45 minutes). This briefing will outline the procedures that will make your experience a safe and unforgettable one (the diving skills, the communication under water, some explanation about the marine wildlife).

The supervision by our highly qualified dive instructors is very close at all times, there will be a maximum of 4 divers with 1 instructor. You will go to a maximum depth of 12 m (40ft) and these dives generally last around 1/2 hour. During the dive you can expect to see the Great Barrier Reef in all its glory - You will discover excitement and adventure - freedom and serenity. Nothing compares to the "weightless" exhilaration of breathing underwater.
SCUBA Diving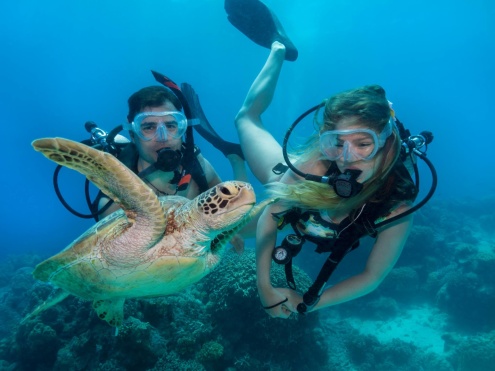 The warm waters of Agincourt, Opal and St Crispins Reefs offer excellent conditions to enjoy your diving experience. With more than 1,000 different species of fish, you will be amazed by all the diversity the Great Barrier Reef has to offer. You will probably spot some 'Nemos', some parrot fishes, shy sharks, the friendly Maori Wrasse called Wally, some turtles and many more creatures.
If you would like to make the most of your experience or if you haven't been diving for a certain time and don't feel really confident going with a buddy, ask one of our friendly crew members for a shared guided dive at no extra cost. It is the best way to see the reef as they know where to take you to see the best spots and wildlife.
During your day trip, you will be able to dive in two different locations on the reef, chosen according to the weather conditions, the visibility. The reefs are all different to each others; you could be diving in a coral garden once and then diving between coral towers, or along reef walls. Be ready to be amazed at all time!
One last important thing, make sure to bring your certification card and your logbook with you, as you will need to show them to our crew.
Our Great Barrier Reef Sites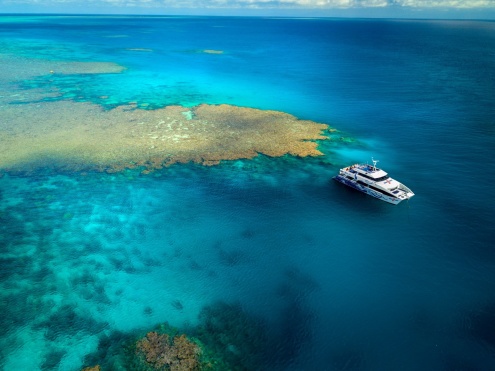 We have 9 exclusive mooring sites we can visit on the Great Barrier Reef at Agincourt, St Crispins and Opal reefs. We use a wide variety of these to ensure a minimal environmental impact to the pristine coral formations we visit.
Our dive sites are frequented by myriads of tropical and Palegic Fish, Rays, Turtles, (friendly) Sharks and the ever popular diver friendly Maori Wrasse. There are swim throughs, wall and drift dives that will appeal to every level of diver experience.
The dive sites are chosen on a daily basis by the vessel Captains for the best variety and visibility according to the weather conditions.appeal to every level of diver experience. The dive sites are chosen on a daily basis by the vessel Captains for the best variety and visibility according to the weather conditions.
---
AquaQuest | Port Douglas Reef Day Tour Reviews
---
AquaQuest | Port Douglas Reef Day Tour
Check-in to the AquaQuest Desk at the Port Douglas Crystalbrook Marina at 8:00am. Here you will exchange your booking vouchers for boarding passes then crew members will direct you to AquaQuest
---