About AquaQuest Port Douglas
AQUAQUEST NEW 2017 - SCUBA and Snorkel Tours To The Great Barrier Reef from Port Douglas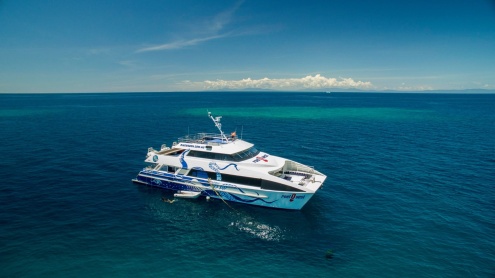 Divers Den has been proudly operating for over 40 years, we are not only one of the largest but also the longest established Great Barrier Reef operator in Cairns. In 2017 we have expanded into Port Douglas with our newest vessel AquaQuest and a brand new retail store. Whether you're a first-time snorkeller or an experienced SCUBA diver your safety and enjoyment is our priority.
A brand new custom built luxury dive and snorkel vessel being introduced to Port Douglas in July 2017. She is fully equipped with the most modern and state of the art facilities including Nitrox. As the newest vessel in Port Douglas she will give passengers an unrivaled comfort with the best experience available as we visit some of the best dive and snorkel locations on the Outer Great Barrier Reef at Agincourt, Opal and St Crispin's Reefs.
PADI SCUBA Courses & SCUBA Refreshers
PADI SCUBA COURSES Learn whilst diving the Great Barrier Reef! No matter your SCUBA experience, from total beginner, to the elite PADI Open Water Instructor. Take your diving to the next level, Deep Sea Divers Den has a PADI dive course to suit your needs. Nitrox courses now available
WELCOME ABOARD AQUAQUEST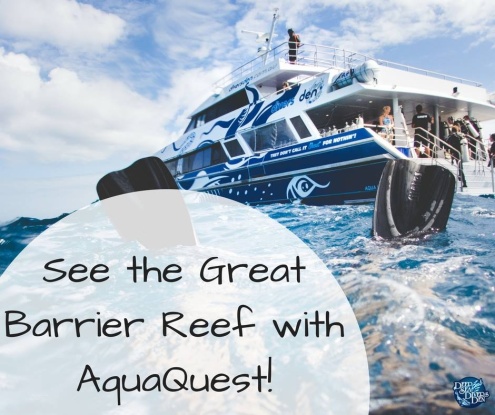 Day Trips • Snorkeling • Certified Diving • Introductory Diving • Nitrox Agincourt, Opal & St Crispins Reefs
AquaQuest , the newest luxury dive & snorkel vessel in Port Douglas. Join our friendly and professional crew for an awesome day trip to the best of the Outer Reef.
Check In Daily, 8:00am inside Port Douglas Reef Marina
Return Daily, approximately 4.30pm
Locations: 2 Snorkel / Dive sites on Agincourt, Opal & St Crispins Reefs
Activities: Snorkeling and up to 3 dives for Certified or Introductory Divers, Nitrox Fills and Courses available
Where do we go?
These reefs are located in the World Heritage Great Barrier Reef Marine Park and are approximately 62km offshore. We have a choice of nine different locations that we can choose from and we will visit two different locations every day with ability to do up to three different dives each day.
Food and Drink
We offer a light Morning Tea, Hot and cold tropical buffet lunch selection with fresh prawns, salads and fruits and complimentary tea, coffee and chilled water are available throughout the day. Snacks, soft and alcoholic beverages are also available for purchase on board.
Day Trip Snorkeling aboard AquaQuest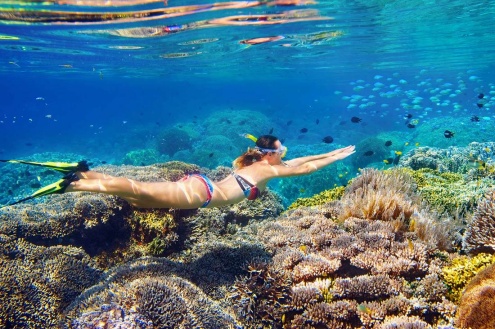 Snorkelling is the easiest way to discover the Great Barrier Reef, it is as simple as breathing. If you have never snorkelled before, don't worry, a briefing is held on board, explaining how to put and use the snorkelling gear. All of the snorkelling equipment you will require is supplied as part of your trip, including a wetsuit or stinger suit. Prescription masks are also available upon request.
Adult 236.50 per adult snorkeler
Child (4-14) 176.50 per child snorkeler
Family (2 adults 2 Children) 746 per family snorkelers
Certified SCUBA aboard AquaQuest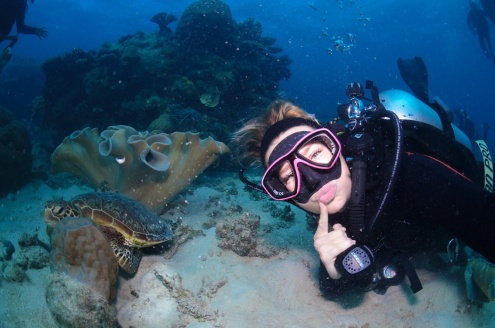 The warm waters of Agincourt, Opal & St Crispins Reefs, offer excellent conditions to enjoy your diving experience. With more than 1,000 different species of fish, you will be amazed by all the diversity the Great Barrier Reef has to offer. 'Nemo's', Parrotfish, shy Sharks, a friendly Maori Wrasse called Wally, Turtles, and many more creatures. If you don't feel confident exploring with a buddy, ask one of our friendly crew members for a shared guided dive at no extra cost. It is the best way to see the reef as we know where the best bits hide! Nitrox fills are also available on board.
Day Trip + 1 dive 281.50 per diver
Day Trip + 2 dives 306.50 per diver
Day Trip + 3 dives 326.50 per diver
Discover SCUBA aboard AquaQuest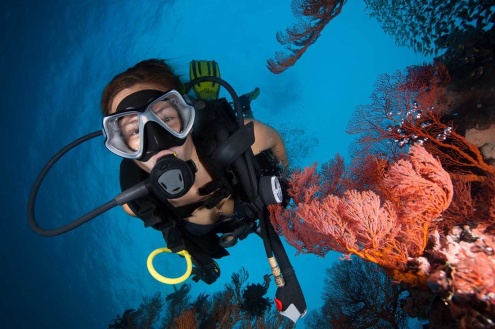 Introductory diving requires no previous SCUBA experience. If you can swim, you can usually dive. On the journey to the Great Barrier Reef you will be given a thorough briefing outlining everything involved. Covering all the procedures that will make your experience a safe and unforgettable one (diving skills, communication under water, marine life behavior, etc). Once at the reef, you will begin by practicing with your equipment on the surface. Once comfortable, we repeat the skills only a few feet below the surface. Finally when comfortable, it's time to dive!
Day Tip + 1 dive $296.50 per diver
Day Tip + 2 dives $346.50 per diver
Day Tip + 3 dives $376.50 per diver
---
News By AquaQuest Port Douglas
GREAT NEWS!
By AquaQuest Port Douglas
27 Sep 2017
Due to their popularity, we're going to be extending our current specials until the end of October!
That means that you've got another 5 weeks to take advantage of:
- $100 off liveaboards
- FREE scuba dives
- $FREE Open Water upgrades, saving $180
New name - new logo - same great company.
By AquaQuest Port Douglas
04 Sep 2017
We have some EXCITING news, after 43 years in business we have re- branded to "divers den"
With the addition of our new vessels and our launch into the Port Douglas region, divers den feel our new branding is a modern reflection of the company's commitment to refreshing and redefining our operation.
Did you know.... We are a locally owned and operated company, who now employs over 100 staff!
We would like to thank every guest for choosing to travel with us and all of our hard working team, we wouldn't have been able to achieve these goals without you!
#acheivingbigthings
---
AquaQuest Port Douglas Reviews
---
Direct Contact Info
Hours: 07:AM - 06:00PM
Address:
Shop 6, 18-20 Macrossan Street
Port Douglas
QLD 4877
Australia
---