Babinda Half Day or Full Day Self-Guided Kayaking/SUP Experience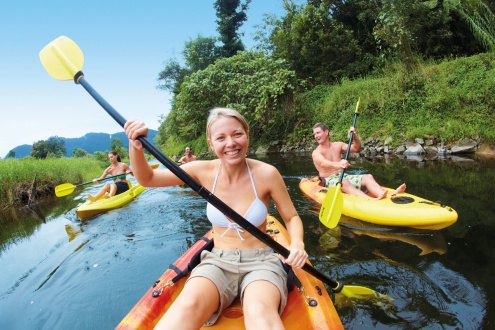 Nestled in the Valley between Queensland's two highest mountains is Australia's wettest town, Babinda. Permanently flowing mountain streams provide the rare opportunity to experience the beauty of Mother Nature's Masterpiece.
Kayak down the gently flowing waters of Babinda Creek. A pristine, crystal clear mountain stream teeming with fish, turtles and the elusive platypus.
Take on a couple of mini rapids (or ripples) along the way, stop on a secluded beach for some lunch and a swim, then float downstream to your pick-up point. What a way to spend a day!
Inclusions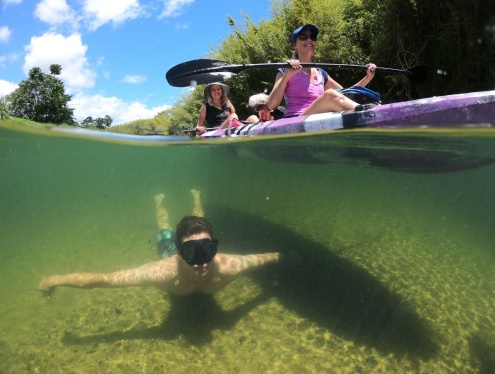 Transport by private vehicle to the starting point
Coffee and/or Tea
Exclusions
Mask and Snorkel (available for hire)
Departure times & locations
Departure Point: 330 Stager Road,Babinda
Return Details: Tour finishes at Rotary Park in Babinda
Start time for a half day tour is 8 am finishing at around 12pm or 1:30pm finishing at around 5:30pm.
The full day trip starts at an arranged time and finishing by 5:30pm
How does it work?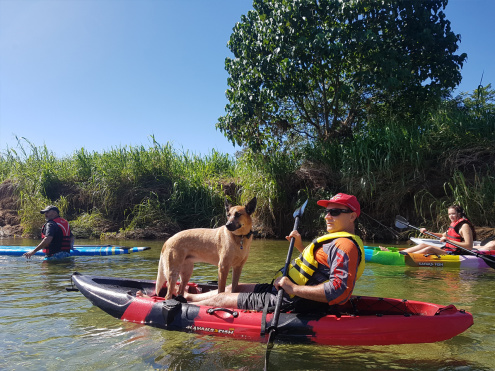 You can hire kayaks for either a Half day (up to 4 hours) or a Full day (up to 8 hours). Half day hires must leave at 8:00am or 1:30pm. Full day hires can leave anytime, but must be ready for pick-up well before dark. Your kayaks will be waiting for you here at the Creeks edge, we put you in, then you paddle downstream at your own pace to the pickup point.
This is a one way trip only, paddling back to the hire location is not an option. A map is provided of the Creek illustrating the start point and the pick-up point. The pick-up point is about three hours paddling downstream and is very easily found. When you get there, give Babinda Kayak Hire a call and they will come and pick you up.
What to Bring: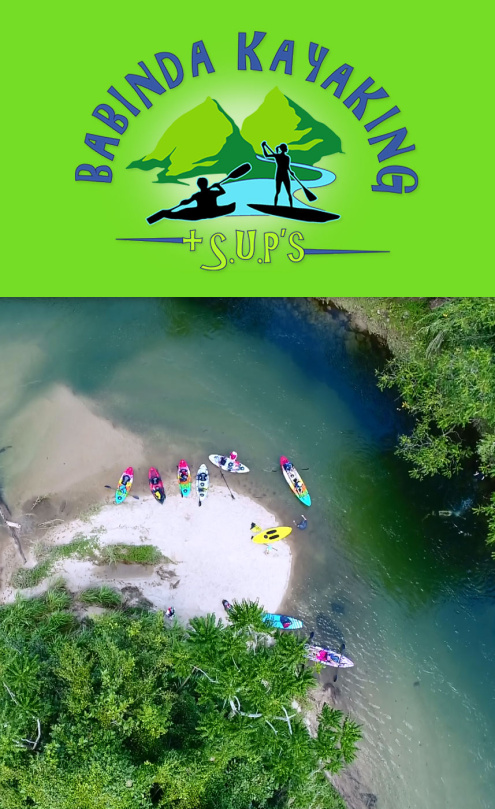 Hat, sunscreen
Optional snorkel gear (ask about the drift snorkel circuit)
A bag for posessions
Mobile phone
Change of clothes
Picnic
Additional Info
Wheelchair accessible
Infant seats available
This tour/activity will have a maximum of 30 travelers
Booking Info
Please advise any specific dietary requirements at time of booking. If you require hotel transfers please have your hotel name ready when booking so we can send you a pick-up time with your confirmation.
Instant Booking & Mobile Friendly Tickets
Check availability & book here to secure you spot. Pre-booking is essential. Please do not turn up on the day without a booking.
---
YAPS Paw Paddle
By Babinda Kayaking
27 Jun 2018
We held a Paw Paddle on Saturday the 23rd June to raise funds for Yaps We managed to raise $835, a fantastic effort! We had lots of happy pooches come along with their owners for an adventure down the Babinda creek. A Big thanks to sponsors Babinda Bakery & SPAR Babinda. Thanks to everyone who came out to support the event! #BabindaKayaking
---
Babinda Kayaking
Departure Point: 330 Stager Road,Babinda Return Details: Tour finishes at Rotary Park in Babinda Start time for a half day tour is 8 am finishing at around 12pm or 1:30pm finishing at around 5:30pm. The full day trip starts at an arranged time and finishing by 5:30pm
---