About Bad Fishy Jet Boat Ride
Bad fishy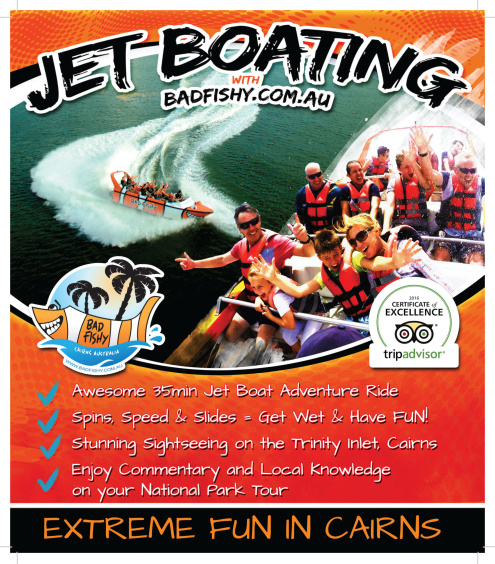 BAD FISHY - IT'S WET, WILD AND LOADS OF FUN!
Grab your cozies and get ready to have an amazing Trinity Inlet Adventure - Cairns style - on the 35min "Tropical Twist"!
Bad Fishy's cool new boat "SCREAMO" is designed for extreme manoeuvrability, speed and agile performance. On the Inlet spins, slides, fish-tails and water-walls are all part of the fun. You'll love the funky tunes Bad Fishy pumps out adding funk and groove to the thrilling ride!
Don't underestimate the beauty of the sightseeing on this 35min adventure either. Your skipper is a Cairns Local and is not only experienced in driving jet boats but also provides interesting local knowledge and commentary during the ride. Check out the views of The Trinity Inlet and it's stunning surrounds while having a thrilling adventure.
Make sure you call or email to secure your seats as bookings are essential and subject to availability.
The Ride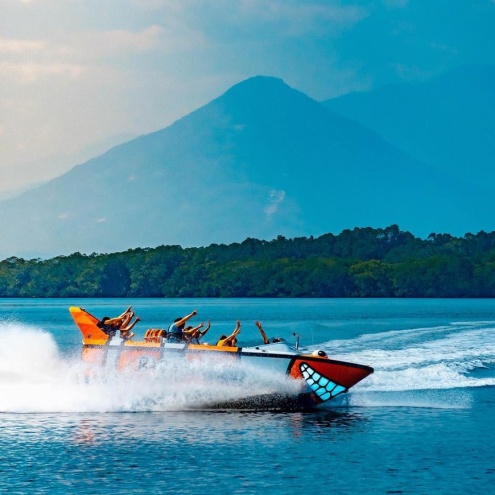 The Bad Fishy Jet Boat, "Screamo" operates the 35min Tropical Twist Ride on The Trinity Inlet and departs from The Marlin Marina in Cairns (see map below).
Enjoy adrenalin-pumping spins, slides, speed and stunts on the adventure and make sure you wear your swimmers or casual clothes...we are in Cairns so part of the fun is getting wet and cooling off!
There are some awesome sights to check our too. The Trinity Inlet is surrounded by stunning mountains and the beautiful waterway is home to mangroves, wildlife and if you are lucky we may even spot a croc!
Public rides depart Tuesday to Sunday (DAILY DURING QLD SCHOOL HOLIDAYS) and times vary so please call or email to check availability and book. Bookings are essential. If you have a group of 10 or more we can operate any day for you, subject to availability.
ADULTS: $69
CHILDREN: $39 (Under 16 and at least 1.2m tall)
FAMILY: $180 (2 adults and 2 children and additional siblings only $20 extra - ID required)
The Jet Boat departs from THE MARLIN MARINA - Finger A
Groups, Parties, Charters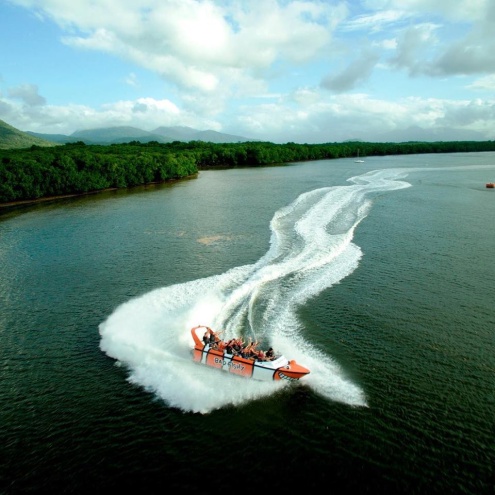 Organising a ride with a group of friends, work-mates or for an event is easy with the help of the Bad Fishy Crew.
Bad Fishy can take up to 12 people out at a time for an thrilling jet boat ride and can offer back-to-back rides for large groups. With spins, slides and speed it's loads of fun and a great team building or party activity.
Groups have the ability to hire the boat privately and the crew will crank up the tunes and take some cool pics to get your event buzzing!
Suitable for;
BIRTHDAY PARTIES
CORPORATE EVENTS
TEAM BUILDING
CHRISTMAS PARTIES
INCENTIVE GROUPS
WEDDINGS, PARTIES, ANYTHING!
Bad Fishy is also great for Children's Birthday Parties (1.2m tall and above) One adult must accompany the group on the boat and we can take the kids out for a great "Tropical Twist", get them soaked and laughing their little heads off and then return them to you ready for a dip in the Lagoon, BBQ on The Esplanade or party at your place!
To obtain a quote for your group please email bookings@badfishy.com.au with event details, estimated group size and desired booking date/time or call 0499 490 030
---
News By Bad Fishy Jet Boat Ride
HAPPY 5th BIRTHDAY TO BAD FISHY!
By Bad Fishy Jet Boat Ride
07 Mar 2019
Woohoo! To thank the local community that supports us we have a great local offer for new bookings in March! ONLY $50 adults and $35 kids (under 16 and at least 1.1m tall) for locals this month!



Ride with Bad Fishy for some EPIC FUN on this amazing LOCAL OFFER! SPINS - SLIDES - SPEED - STUNTS! Bookings available with this offer until 31/3/19 - Bookings essential. Local ID required - can bring along friends/family at the same great rate too.



The Bad Fishy Jet Boat, "Screamo" operates the 35min Tropical Twist Ride on The Trinity Inlet and departs from The Marlin Marina in Cairns. IT'S WET, WILD AND LOADS OF FUN!



Conditions apply. Not valid on gift voucher sales.
https://www.tourismtown.com/offers/cairns/tours.95/happy-5th-birthday-to-bad-fishy.5478/
Christmas Parties Rock at Bad Fishy
By Bad Fishy Jet Boat Ride
10 Sep 2018
Early Bird Specials are on for Xmas party bookings - thrill your team!


Save 25% on adult tickets for groups of 6 or more on Bad Fishy's public Thrill Ride!


Usually $69 - Special $51.75 per adult.


Private charters available. Message us for a quote.


Save 10% on our Restaurant and Ride package with The Pier Bar


Usually $80 - Special $72 per adult.


Must mention offer at time of booking directly with Bad Fishy. Bookings essential and subject to availability. Not available in conjunction with any other offer. Offer ends 24.12.18
---
Bad Fishy Jet Boat Ride Reviews
---
Direct Contact Info
Hours: Please call for opening hours
Address:
Berth A1
The Marlin Marina
Cairns
QLD 4870
Australia
---