About Billy Tea Safaris One Day Daintree Cape Tribulation 4WD Bloomfield Track Tour
1 DAY DAINTREE, CAPE TRIB & BLOOMFIELD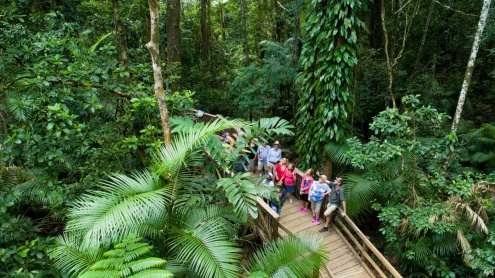 Includes Daintree Rainforest, Cape Tribulation & 4WD Bloomfield Track
Return transfers from Cairns, Northern Beaches & Port Douglas
TOUR OVERVIEW
Billy Tea Safaris is a small locally owned Advanced Eco Accredited Tour Operator, which operates small personalised tours with custom built 4WD vehicles, maximum 16 passengers per vehicle, and your naturalist guides have extensive knowledge of flora, fauna, history of the area and aboriginal culture, which will ensure your day will be a memory of a lifetime.
Highlights of your day in the Daintree
See crocodiles & birdlife on the 1 hour Daintree River Cruise includes morning tea
Spectacular views where the world heritage rainforest meets the Great Barrier Reef - recently named the BEST drive in the world!
Spot rare animals like a Cassowary or a Boyd's Dragon
Walk through the Daintree Rainforest on an elevated boardwalk with our amazing guides and learn about Aboriginal culture and rare flora & fauna
Enjoy lunch at Cape Tribulation. Drinks at passenger's own expense.
Wildlife spotting all day
Go for a freshwater swim in the rainforest at pristine Emmagen Creek
Spend time at the famous Cape Tribulation Beach - the only place in the world where two World Heritage-listed areas meet
Stop for an ice-cream on the way home
Cable Ferry crossing across the mighty Daintree River

Try a traditional Aussie 'Billy Tea' with damper and share an exotic local tropical fruit platter (temporarily unavailable due to COVID restrictions)
PRICES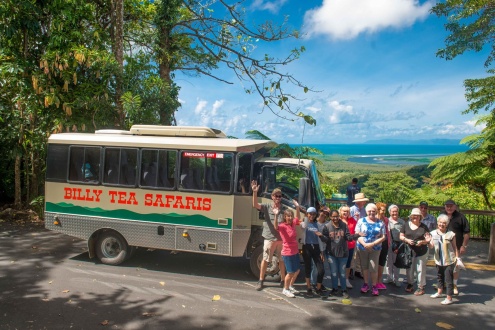 Family (2 adults + 2 children 0-14 years) $650.00
Additional Child (0-14 years): $100.00
Adult $195.00
Child (0-14 years) $150.00
Infant $150.00
Billy Tea Safaris will provide Baby Seats or Booster Seat please advise upon booking, all children up to the age of 7 years.
Customers can cancel their trip up to 18 hours prior to travel for a full refund. In the event, that you need to cancel within the 18 hour-period prior to travel due to medical reasons (feeling unwell) or if the Government changes travel restrictions, you will be able to cancel for a full refund. If you need to cancel within the 18-hour period prior to travel there will be a 100% cancellation fee. We have also waived rebooking fees for any booking alterations.

If you fail to load there is also a 100% cancellation fee applies. No exceptions.
Please check our Terms and Conditions for Cancellation Fees.
PRIVATE CHARTER RATES ARE AVAILABLE ON REQUEST.
ITINERARY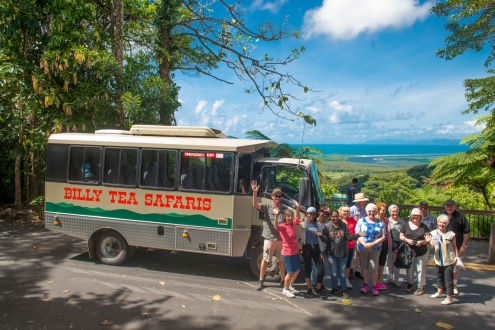 Your Daintree Cape Tribulation 4WD Bloomfield Track day tour begins with being met by your friendly accredited guide at your accommodation Cairns CBD area from 6.50am – 7.15am, Northern Beaches from 7.20am and Port Douglas area from 8.20am, and after introductions, we drive north along the magnificent scenic coastal route along the Captain Cook Highway learning about the history of the area and admiring spectacular views of the coastline and the Azure waters of the Coral Sea. Our first stop is at the Majestic Daintree River for Morning Tea (Tea, Coffee & Biscuits) before enjoying an informative guided River Cruise on the Daintree River. Relax and enjoy the splendour only the Daintree can offer as you learn of Estuarine Crocodiles, mangrove forests and endemic wildlife, this is nature at its best!
From here we make our way up over the Alexandra Range and pause for a panoramic view of World Heritage, Wet Tropics, and Tropical Rainforest merging with the azure colours of the Coral Sea. Experience the rainforest intimately on one of our guided elevated National Park Boardwalks. Your experienced guide will take you on a wonderful journey through this ancient rainforest whilst giving you an interpretation of flora and fauna and you will have ample time for photographs and questions as we search for the elusive, rare and totally unique Southern Cassowary and other wildlife species within this particular habitat.
We now make our way towards Daintree, Cape Tribulation and stop for lunch at a restaurant. At the animal refuge centre where you have the opportunity to hand feed the wallabies, get up close to Eclectus Parrots, Pythons & other native wildlife enjoy delicious barbecue lunch with freshly prepared salads in a beautiful rainforest setting restaurant, (we also cater for vegetarians and other dietary requirements upon notification before tour day) enjoy a cold drink from the bar (own cost). Due to COVID restrictions, we will not be able to visit the wallabies at the animal refuge centre at this time.
It takes us beyond the famous Daintree Tea Plantation, past spectacular mountains and through spectacular World Heritage Rainforest as we pass Cape Tribulation and continue along the 4WD Bloomfield Track through to pristine Emmagen Creek. Billy Tea Safaris is the only tour operator that goes to this secret Jewel in the Rainforest, and now it is time for a refreshing rainforest stream swim, in crystal clear fresh waters and without the crowds of people.
As you seek fish and turtles in this wonderful Rainforest creek, butterflies and exotic birds in the trees and indulge in a feast of exotic tropical fruits, and enjoy sample a cup of traditional Billy Tea, made in a traditional Australian Billy, all of which enhance the tranquil surroundings. You can also enjoy a wonderful refreshing freshwater swim here in crystal clear waters. Due to COVID restrictions, we are not able to provide, tropical fruits, damper or billy tea at this time.
We then make our way to Cape Tribulation Beach after most of the crowds are gone, stroll along the beach and boardwalk to the photographers' platform overlooking the mountains and coast where the 'Rainforest meets the Reef'
On the way home we stop for an Ice-Cream before heading back for the day. After a short afternoon refreshment stop, we cross the Daintree River by cable ferry and begin our homeward journey somewhat wiser for our 'Total Rainforest Experience'. Arriving back at your hotel accommodation approx Port Douglas 5.30pm, Northern Beaches approx 6.00pm, Cairns CBD Area approx 6.30pm.
---
News By Billy Tea Safaris One Day Daintree Cape Tribulation 4WD Bloomfield Track Tour
Our guests enjoy seeing the wallabies in Cape Tribulation
By Billy Tea Safaris One Day Daintree Cape Tribulation 4WD Bloomfield Track Tour
14 Mar 2018
#ExploreTNQ #seeaustralia #visitqueensland
Cape Tribulation Spectacular
By Billy Tea Safaris One Day Daintree Cape Tribulation 4WD Bloomfield Track Tour
14 Nov 2012
This is a wonderful time of year to see the Daintree, Cape Tribulation and 4WD Bloomfield Track, with the turquise blue waters of the Coral Sea against the wonderful World Heritage Rainforest makes for an amazing photo. With Cassowaries and Chicks seen regularly on our guided walks and also the sightings of Boyd's Forest Dragons and the arrival of the Buff Breasted Paradise Kingfisher from New Guinea makes for a wonderful tour.
---
Billy Tea Safaris One Day Daintree Cape Tribulation 4WD Bloomfield Track Tour Reviews
---
Billy Tea Safaris One Day Daintree Cape Tribulation 4WD Bloomfield Track Tour
---
Direct Contact Info
Hours: 6.00am - 9.00pm
Address:
287 Draper Street
Paramatta Park
Cairns
QLD 4870
Australia
---