About Cruise & Dive Frankland Islands
CAIRNS REEF & RAINFOREST RIVER DAY TOUR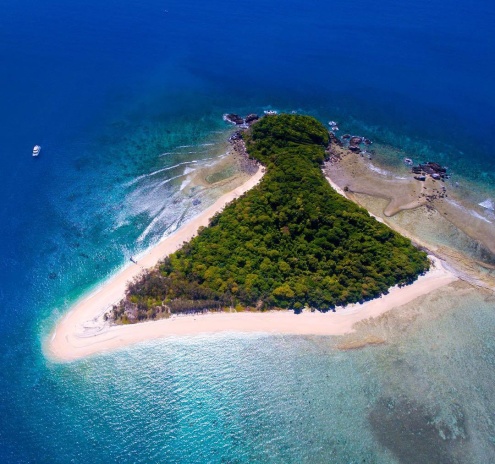 Frankland Islands Reef Cruises is an exclusive Cairns Great Barrier Reef day tour. It commences with a rainforest river cruise, followed by the shortest open water crossing of any of the Cairns day tour boats, to put you right on the Great Barrier Reef. Our destination is the Frankland Islands, a cluster of pristine National Park islands, surrounded by vibrant fringing reefs home to turtles, octopus and many species of marine life, including the ever-popular anemone clownfish, Nemo. You have up to 4.5 hours to explore and enjoy this natural paradise, above and below the water.
A guided snorkel tour and all snorkeling equipment and instruction is included in your tour price, as is a tropical buffet lunch, morning and afternoon tea. Optional activities include an Adventure snorkel safari, Semi-submersible or Glass bottom boat tour, Guided island walk and Introductory or Certified scuba diving. Clear kayaks and Stand up paddle boards as well as Sea-doo scooters are available for hire. We're the only commercial operator with a permit to visit these pristine, uninhabited islands, so there's no crowds and plenty of space and time to maximise your Great Barrier Reef experience.
YOUR DAY INCLUDES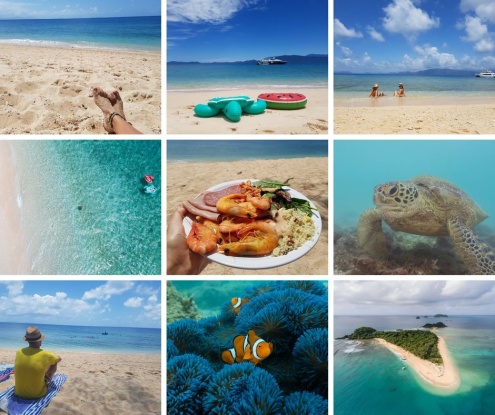 A tropical buffet lunch, which is served on the island. The menu is catered by our contract Chefs, providing a choice of several salads, chicken, ham, prawns, breads and an abundance of fresh tropical fruit. Outstanding customer service throughout the day and plenty of time to explore a pristine Great Barrier Reef National Park island.
Modern Boat
Spectacular 30-Minute River Cruise
Marine Interpretation
Marine biologist onboard daily
Morning and Afternoon Tea
Guided Snorkel Tour
Protection suits (seasonal)
Flotation Devices
Tropical buffet lunch including Prawns
Free Guide for Certified Divers
Up to 4.5 hours reef time
All snorkelling equipment
LOTS OF OPTIONAL ACTIVITIES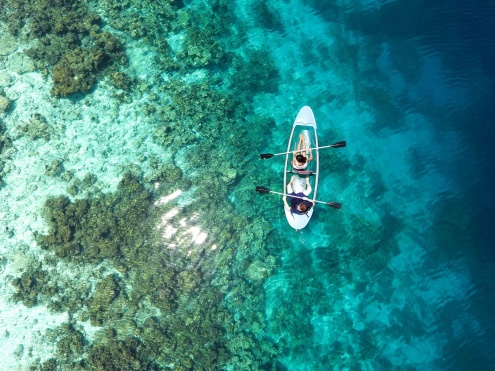 At Frankland Islands Reef Cruises, we want you to be able to customise your day to suit your interests. That's why we have a fabulous range of optional activities. You can choose to do some, or none.
There's an Adventure snorkel safari from the boat, Guided island walk, Semi-submersible or Glass bottom boat tour, Clear kayaks, Stand up paddle board and Sea-doo scooter. Many of our guests like to scuba dive with us and we offer the option of Certified Diving, or Introductory Dives with no experience necessary. All Frankland Islands dives are fully guided, ensuring you don't miss any of the best bits of the Great Barrier Reef. Check our Prices for more information.
An underwater photographer is also onboard daily, to capture your special moments on the Great Barrier Reef. All photos are for sale at the end of the day.
---
News By Cruise & Dive Frankland Islands
We have some exciting news!
By Cruise & Dive Frankland Islands
09 Apr 2019
We have been recognised by Visit Queensland, Australia as a Best Of Queensland Experience! We love sharing our hidden gem with visitors and our crew loves sharing their knowledge of the islands and the Great Barrier Reef! #FranklandIslands
TRANSFERS TO / FROM MISSION BEACH
By Cruise & Dive Frankland Islands
05 Feb 2019
Frankland Islands Reef Cruises are excited to now offer transfers to and from Mission Beach, Tully and Innisfail, to our mainland departure point at Deeral. These are provided by an external operator and payment can be made to them direct.
---
Cruise & Dive Frankland Islands Reviews
---
Cruise & Dive Frankland Islands
---
Direct Contact Info
Hours: Mon - Fri 9:00AM - 5:00PM, Sat - Sun: Closed.
Address:
240 Severin St, Parramatta Park
Cairns
QLD 4870
Australia
---