About Daintree, Cape Tribulation & 4WD Bloomfield Track
TOUR OVERVIEW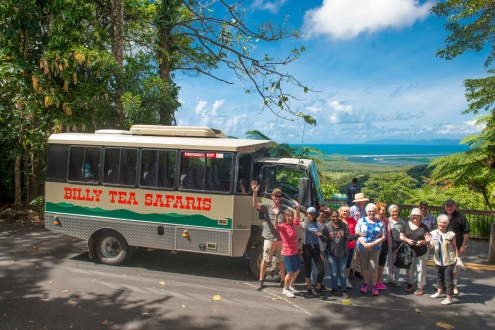 Billy Tea Safaris is a small locally owned Advanced Eco Accredited Tour Operator, which operates small personalised tours with custom built 4WD vehicles, maximum 16 passengers per vehicle , please note that during our busy periods we often have more than one vehicles in the Daintree on Day Tours. Your naturalist guides have extensive knowledge of flora, fauna, history of the area and aboriginal culture, which will ensure you day will be a memory of a lifetime.
Departures:
Cairns from 6.50am – 7.15am and returns 6:30pm
Northern Beaches from 7:20am and returns 6:00pm
Port Douglas from 8:20am and returns 5:30pm
Inclusions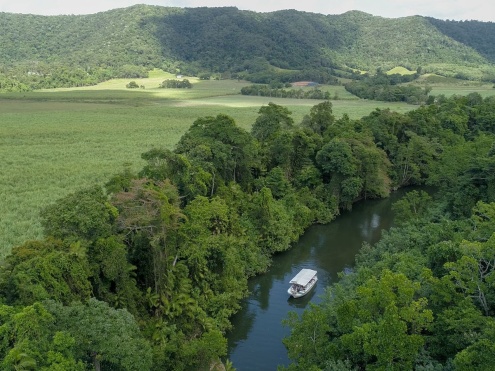 We visit the Majestic Daintree River for a 1 hour river cruise.
Alexandra Lookout, one of the many Rainforest elevated boardwalks (we have permits to all walks in the Daintree / Cape Tribulation) so depending on the day as to where we go.
Our lunch stop is at an animal sanctuary where you can hand feed wallabies, see other wildlife and also enjoy the rainforest setting restaurant for our BBQ Lunch.
Then past Cape Tribulation Beach onto the 4WD Bloomfield Track to Emmagen Creek, to enjoy a refreshing freshwater swim and tropical fruits.
From here to Cape Tribulation Beach for a walk on the beach out to the photographers viewing platform.
From here to the Daintree ice-creamery, at own expense and cash only, then over the Daintree River via Cable Ferry for the homeward journey.
This can change due to weather conditions and is at the descretion of the driver on the day.
ITINERARY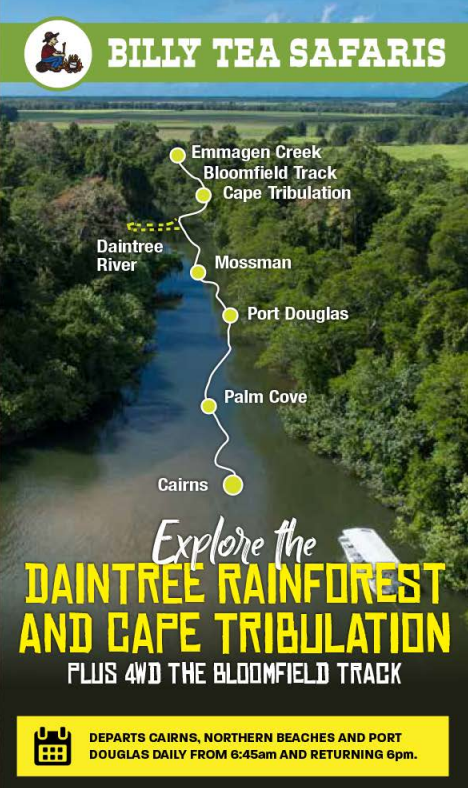 Your Daintree Cape Tribulation 4WD Bloomfield Track day tour begins with being met by your friendly accredited guide at your accommodation Cairns CBD area from 6.50am – 7.15am, Northern Beaches from 7.20am and Port Douglas area from 8.20am, and after introductions, we drive north along the magnificent scenic coastal route along the Captain Cook Highway learning about the history of the area and admiring spectacular views of the coastline and the Azure waters of the Coral Sea. Our first stop is at the Majestic Daintree River for Morning Tea (Tea, Coffee & Biscuits) before enjoying an informative guided River Cruise on the Daintree River. Relax and enjoy the splendour only the Daintree can offer as you learn of Estuarine Crocodiles, mangrove forests and endemic wildlife, this is nature at its best!
From here we make our way up over the Alexandra Range and pause for a panoramic view of World Heritage, Wet Tropics, and Tropical Rainforest merging with the azure colours of the Coral Sea. Experience the rainforest intimately on one of our guided elevated National Park Boardwalks. Your experienced guide will take you on a wonderful journey through this ancient rainforest whilst giving you interpretation of flora and fauna and you will have ample time for photographs and questions as we search for the elusive, rare and totally unique Southern Cassowary and other wildlife species within this particular habitat.
We now make our way towards Daintree, Cape Tribulation and stop for lunch at a restaurant, which is also an animal refuge centre where you have the opportunity to visit the wallabies, get up close to Eclectus Parrots, Pythons & other native wildlife enjoy delicious barbecue lunch with freshly prepared salads in a beautiful rainforest setting restaurant, (we also cater for vegetarians and other dietary requirements upon notification before tour day) enjoy a cold drink from the bar (own cost). Our tour does a little more.
It takes us beyond the famous Daintree Tea Plantation, past spectacular mountains and through spectacular World Heritage Rainforest as we pass Cape Tribulation and continue along the 4WD Bloomfield Track through to pristine Emmagen Creek. Billy Tea Safaris is the only tour operator that goes to this secret Jewel in the Rainforest, and now it is time for a refreshing rainforest stream swim, in crystal clear fresh waters and without the crowds of people.
As you seek fish and turtles in this wonderful Rainforest creek, butterflies and exotic birds in the trees and indulge in a feast of exotic tropical fruits, and enjoy sample a cup of traditional Billy Tea, made in a traditional Australian Billy, all of which enhance the tranquil surroundings. You can also enjoy a wonderful refreshing fresh water swim here in crystal clear waters.
We then make our way to Cape Tribulation Beach after most of the crowds are gone, stroll along the beach and boardwalk to the photographers' platform overlooking the mountains and coast where the 'Rainforest meets the Reef'
We stop at Daintree's hidden secret, the Daintree Ice Cream Company. Your taste buds will be tantalised with exotic tropical fruit home made ice cream. Sample unique flavours, such as Black Sapote, Soursop, Wattle Seed, Jackfruit, and Coconut just to name a few. All the fruits used to make the ice cream have been locally grown on the property and can be purchased at your own expense. This is cash only no eft-pos.
After a short afternoon refreshment stop, we cross the Daintree River by cable ferry and begin our homeward journey somewhat wiser for our 'Total Rainforest Experience'.
Arriving back at your hotel accommodation approx Port Douglas 5.30pm, Northern Beaches approx 6.00pm, Cairns CBD Area approx 6.30pm.
What to Bring: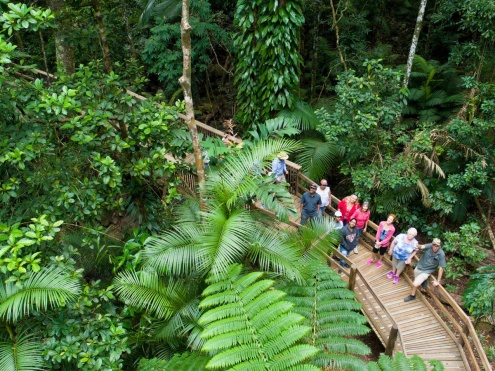 Please take Hat, Sunscreen, Camera, extra batteries & memory cards Water bottle, Towel, Swimming Costume, insect repellent, extra cash for cold drinks, souvenirs or an ice-cream, raincoat in our rainny season or umbrella.
Please wear comfortable clothes as you are in the tropics, our winter you may wish to take a light coat. Flat comfortable shoes or sandals. Preferable no thongs, shoes must have grip and ladies no high heels as there is uneven ground and you will be in the rainforest.
Please advise if Vegetarians at time of Booking.
Billy Tea Safaris will provide Baby Seats or Booster Seat please advise upon booking, all children up to 7 years.
---
Daintree, Cape Tribulation & 4WD Bloomfield Track Reviews
---
Daintree, Cape Tribulation & 4WD Bloomfield Track
Your Daintree Cape Tribulation 4WD Bloomfield Track day tour begins with being met by your friendly accredited guide at your accommodation Cairns CBD area from 6.50am – 7.15am, Northern Beaches from 7.20am and Port Douglas area from 8.20am
---