About Dan's Mountain Biking
Fully Guided MTB tours and custom designed riding.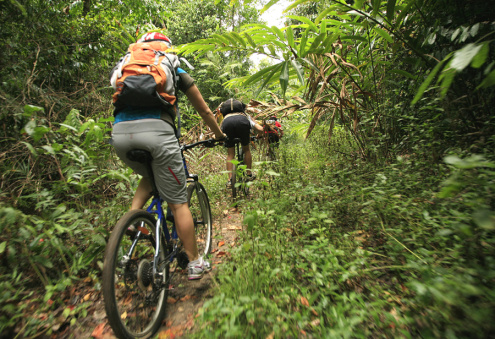 Cairns – Atherton Tablelands – Cape Tribulation – FNQ
Dan, born in Cairns and hooked on mountain biking (MTBA coach, commissarie, represented Australia in 1996 World MTB cross country and is a National accredited MTB instructor). Dan and his skilled guides love to show off the trails of North Queensland to fellow riders as well as introduce first time riders to this fun sport.
Established in 1993, Queensland's 1st official mountain bike tour operator with permits to ride in World Heritage rainforest. Dans Mountain Biking is the longest established mountain biking tour operator in Australia.
Rated Worlds best by Mountain Bike Magazine, USA.
Tours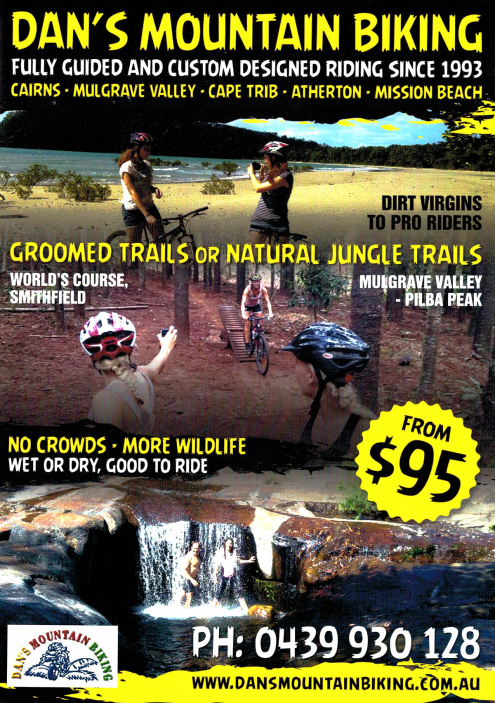 World's Course, Smithfield
1/2 Day | Grade 2 to 4 | $95
Since its beginning Dans Mountain biking has been building, maintaining, guiding, racing and coaching on these trails and with recent upgrade from Glen Jacobs, World trails for future world events, the area has become even more popular.
3 trails in one, Pine Forest to eucalypt Woodlands to light Jungle, ride at your pace and enjoy the well groomed trails that have hosted local, national and world events. Your guide will show you the best bits and fight off drop bears, single speed riders, fat bikes and Minjin (mountain Devil). Screams are often heard near AJ Hackett Bungy. Optional walk sections & easy version.
Pick-up Cairns: 9:00am Depart AJ Bungy carpark: 9:20am
Return Cairns : 12.30
Note: Times are flexible, early am or late pm in summer.
Mulgrave Valley – Pilba Peak
1/2 Day | Grade 2 (optional 4) | $95
3/4 Day | Grade 3 to 4 | $135
Renowned for its crystal clear running streams and lush jungle. We follow the river to its source, progressing from sealed road to deep rainforest single track. Discover a secluded swimming hole (even has a rope swing). We end the ride at Pilba Peak Mountain Bike Park with a chance to test out the race course & downhill track (Grade 4/5).
1/2 Day Pick-up Cairns: 1:30pm | Return 5.00pm Note: Morning option possible
3/4 Day Pick-up Cairns: 9.00 am | Return 2.00pm (deeper jungle ride with energy food)
Crocodile Trail / Minjin Falls
3/4 Day | Grade 3 to 4 | $135
Begin with a steady climb to raise your pulse. Admire the view then hang onto the brakes for some wild downhill to an awesome waterfall. Chance to swim. After some energy food, ride on for more thrills. Note: Last reported sighting of Minjin (Mountain Devil)
Optional: Crocodile Attack Show at Hartley's Crocodile Adventures.
Pick-up Cairns: 9:00am
Departs Hartley's Creek: 9:45am (20 minutes south of Port Douglas)
Return Cairns: 2:00pm
Big Foot (Save $35!)
Full day COMBO | Worlds Course & Mulgrave | Grade 4 | $155
After recent sightings in the World Heritage Rainforest, it is time for riders to explore for further evidence. Enjoy winding single track, exhilarating downhill, log jumps and creek crossings.
Pick-up Cairns: 9:00am
Return: 5.00pm
Cape Tribulation
Full Day | Grade 3 | $185
Ride the Bloomfield Track, plenty of mountain streams to stop and cool off. At low tide we ride the hard packed beaches for added fun.
Pick-up Cairns: 6:30am
Pick-up Port Douglas: 7:40am
Atherton/Big Day Out
Full Day | Grade 3 to 4 | $165
Fun way to see the highlands and get to ride the popular Atherton trails. Another World trails masterpiece. Chance to swim in a volcanic lake on way home.
Pick-up Cairns: 7.30am
Mission Beach
Full Day | Grade 2 | $ 165
Explore the region by bike, taking in some jungle trails, hard packed beach riding (overlooking Dunk Island) and a fun local bike park.
Pick-up Cairns: 7.30 am
Night Rides
Grade 3 | $95
Just when you though you had done everything in life, along comes something completely different. Imagine yourself cycling off-road at night along a trail in the rainforest. Lighting included.
Pick-up Cairns: 6:30pm
Return Cairns: 9:30pm
Custom Rides & Multi-Day Tours
We can design a ride to suit your desires. We have even taken groups to the top of Australia (Cape York). We have the necessary permits, knowledge and experience to undertake any mountain bike adventure. Other rides could include: Paluma, Blenco Falls, Davies Creek, Black Mountain Road, Twin Bridges, Bump Track (Port Douglas), CREB Track and Roaring Meg, etc.
Free Ride
Help Dan with construction and maintenance of local MTB trails and get in some riding at no charge.
Schools & Groups

We have been providing fun, education and skill programs for local, interstate and international schools for over 20 years. Many options exist:
Your school (Townsville to Cooktown)
Your campgrounds (eg.Lake Tinaroo)
Day or multi day expeditions using my private, State forest and National Parks trails
Overnight at Pilba Peak Mountain Bike Park, Little Mulgrave (100+acres next to river)
We can cater for whole Grades, from Grade 5 to Grade 12. Group is split into 20 to 25 for 1.5 to 2 hour sessions. We also undertake multi day expeditions for groups.
Mountain biking is safe and fun at the same time when it is controlled and the correct trails are chosen. A pre ride briefing covering the bike and how it works and rider technique, rider and group safety and bike selection for correct heights. We can provide various bike games that enhance skill and great for team building.
As well as bikes of all sizes, we have Pedal Carts, 4 and 3 wheel, uni cycles and other strange bikes.
Corporates, Groups & Major Events
We enjoy a good challenge, from the epic Discovery Channel Eco Challenge Race (Australia) to the Richmond AFL club pre session, Amazing Race, Cairns. We have looked after the Young Presidents Association, Commonwealth bank corporate event, Streets Ice cream incentive group and even Fat Face Clothing, UK with the production team for their summer catalogue.
What's Included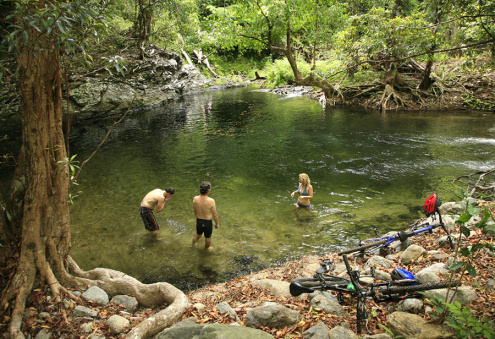 Transfers ex Cairns (Blindfolds supplied if worried about driver)
Guide, coaching and moral support
Mountain bikes for ride (2 wheels & brakes, possible to upgrade and have a seat)
Helmets and drinking water
All forestry, national park and private property fees paid for (to avoid being shot at or worse)
Selected tree hugging (avoid stinging tree and wait a while).
Fear, pleasure and pain (not always in that order)
Sightings of near naked animals
Mud facials (best in wet season)
Additional guide services: Unbelievable jungle stories, spider web and snake removal and Minjin/Big Foot decoy
What to bring
Protective footwear
Cool clothing
Parachute (optional downhill aid)
Survival Information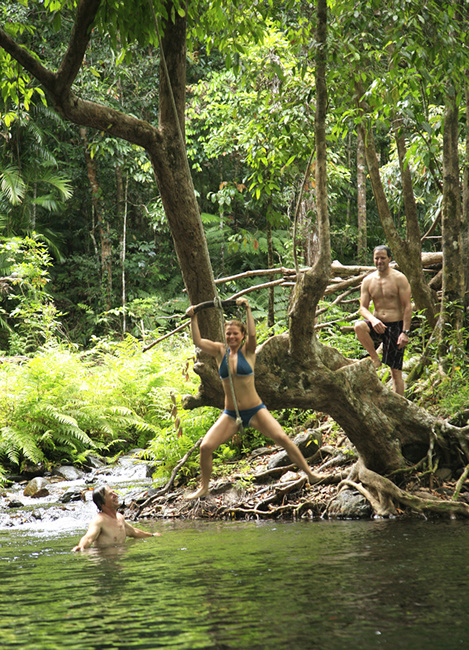 How fit?
½ fit for ½ day and average fitness for full day.
Average is anybody who plays regular sport or exercises 3 times a week
Minimum age is 12 years
Must be in good health and able to ride a bike
Grade Track Type Hills Up/Down Crash Ratio
1 Paved Road Flat 0%
2 Dirt Road Up to 10′ 1%
3 Single Track Up to 20′ 3%
4 Single Track Up to 30′ 5%
5 What Track? Up to 50′ 50%+
Bikes
My bike or yours. Save 30% with own bike
"Over 50 bikes in fleet, able to cater for all sizes and ages. Most bikes are $1000+ bikes with 29",27.5" and 26"' wheel size and hydraulic brakes. Brands are Breezers, Marin, Norco and Fuji.
If you require a high end duel bike can be arranged by Pro Bike Rental.
Environment Policy
We operate all our tours in harmony with natural environments. We recycle wherever possible and ask all participants to co-operate in preserving the integrity of the areas we visit, whether historic or native wilderness areas.
Dan was the mountain bike course designer and leg co-ordinator for the Discovery Channel Eco-Challenge Race (Australia) in 1997.
Responsibility
Responsibility – Any adventure travel involves an element of risk. Each participant must accept responsibility for their own safety and their property.
Passengers will be asked to sign a liability release form before the trip.
Dan's Mountain Biking reserves the right to change or cancel a trip at any time subject to adverse weather and safety conditions.
Additional Information
Private Charters – We can design a tour to suit your needs eg. cross training to improve fitness, educational programs, personal development, stress relief and environmental studies.
---
Dan's Mountain Biking Reviews
---
Dan's Mountain Biking
Established in 1993, Queensland's 1st official mountain bike tour operator with permits to ride in World Heritage rainforest. Dans Mountain Biking is the longest established mountain biking tour operator in Australia.
---