About Fitzroy Island Adventures
Fitzroy Island Adventures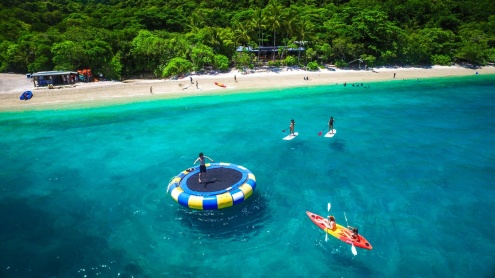 Fitzroy Island Adventures offer a choice of 9am & 11am departure times from Cairns
You can choose the basic transfers or an Activity Pass which include options such as snorkelling gear, a glass bottom boat tour, beach hire equipment, stand-up paddle boards and paddle skis, with or without lunch. As well as exclusive access the big ocean trampoline.
Fitzroy Island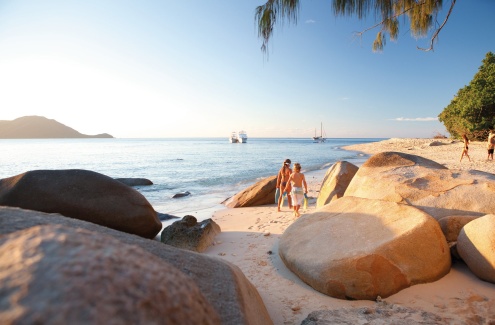 Fitzroy Island is only 45 minutes from Cairns and is one of the most popular islands on the Great Barrier Reef.
Being a continental island, it is covered with lush, pristine rainforest. Exploring the coral reef surrounding the island, where tropical fish present a rainbow of colour, is as easy as stepping off the beach.
Bird life also abounds here, presenting a natural showcase not to be missed. If you want to explore an idyllic, unspoilt tropical paradise, your choices are plentiful with a day tour to Fitzroy Island.
Spend the day snorkelling the fringing coral reefs, strolling through the National Park rainforest walking tracks, or for the more adventurous hiker, discover breathtaking views of the island and surrounding reefs. There are hiking trails and guided walks as well as numerous water sports options available.
The Beach hire hut has noodles as a safety measure provided free to Raging Thunder guests. Wetsuits are available for hire with Size 6 being the smallest size.
Fitzroy Island Adventures Times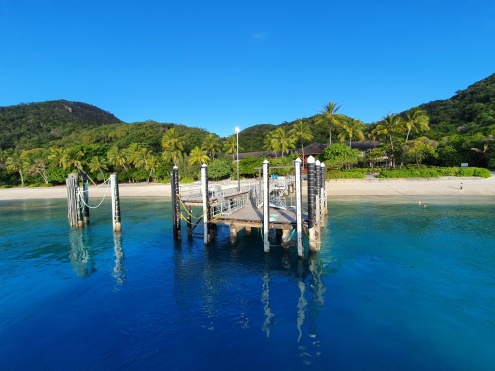 Choose a 9am or 11am departure from Cairns. The ferry takes 45 minutes to get to Fitzroy Island and returns to Cairns at 5pm.
Please be ready for boarding for your return ferry from Fitzroy Island at 3.45pm
Checkin Procedure
Check-in Reef Fleet Terminal, Raging Thunder counter
Check-in 45 minutes prior to departure
Departure from Fitzroy Island
Be ready on the Fitzroy Island Jetty at 3.45pm for a 4pm departure
Arrive back in Cairns just before 5pm
Fitzroy Island Activity Pass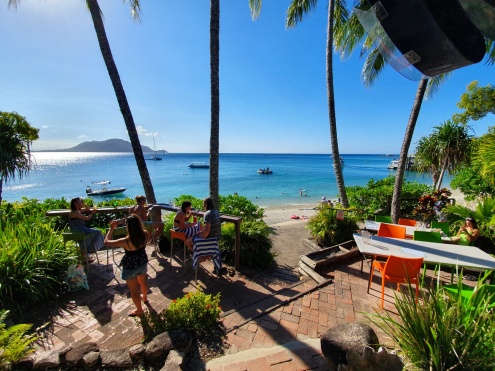 Return ferry transfer
Choice of snorkel hire OR Glass Bottom Boat
Unlimited use of Ocean Trampoline
Paddle Skis
Picnic Lunch (optional)
EMC (Reef tax)
Lycra Suit
Fitzroy Activity Pass Lunch options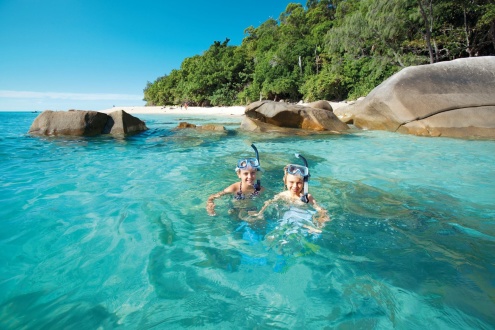 Cold Options:
Double Smoked Leg Ham, Cheddar Cheese, Dijon Mustard, Tomato and Lettuce Focaccia,
Marinated Chicken Breast, Cucumber, Red Onion, Herbed Mayonnaise and Salad Wrap
Seasonal whole Fruit, Muesli Bar, Bottled Juice and Water
Vegetarian available on request
Hot Options:
Japanese Golden Beef and Potato Curry with Steamed Jasmine Rice
Seasonal whole piece of Fruit
Muesli Bar, Bottled Juice and Water
Fitzroy Island Beach Hut Activity & Hire Pricing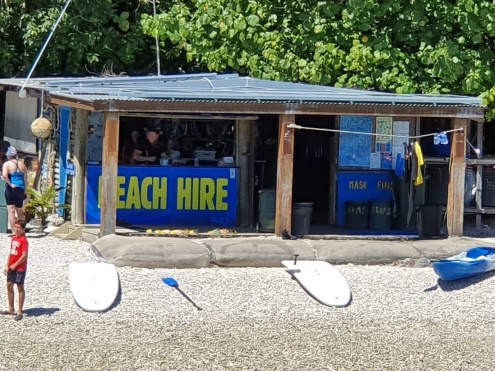 Mask & Snorkel | $10 Adult | Child $5
Fins | $10 Adult | Child $5
30 Minute Glass Bottom Boat Tour | $20 Adult | Child $10
Stinger Suit| $10 Adult | Child $10
Ocean Tramp Access| $3 Adult | Child $3
Paddle Board | $20 Adult | Child $20
Paddle Ski Kayak | $20 Adult | Child $20
Things to Do on Fitzroy Island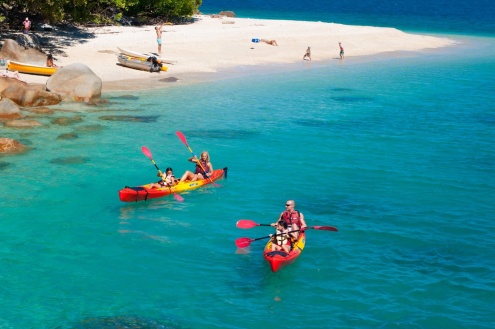 Pack some refreshments and take your time to really enjoy the island on the walking tracks. There is a track up to the lighthouse which is relatively easy. The view from the summit at 260m is breathtaking.
Fitzroy Island is a tropical paradise where guests can choose to either relax and escape or dive right into adventure. Explore rainforest walking trails, escape and unwind on a deserted beach or take the opportunity to snorkel, dive, sea kayak and discover the magic of the Great Barrier Reef. Fitzroy Island is accessible, affordable and friendly. The island's safe, sheltered waters and pristine natural environment are here for everyone to explore and enjoy whether you're here for a day, or a longer stay.
Snorkelling
Snorkelling and swimming are accessible at Welcome Bay and Nudey Beach. Snorkelling offers the perfect opportunity to explore the beautiful colours of the fringing reef and the marine life which include Nemo the clown fish and green sea turtles.
Check the tides before you go as snorkeling at low tide is ideal for getting a closer look at the coral reef.
Hikes & Trails on Fitzroy Island
Fitzroy Island National Park offers some amazing walking opportunities for visitors. Walking is one of the best ways to explore and experience the different rainforest flora and fauna on the Island. There are four main walking trails in Fitzroy Island National Park that range from 30 minutes to 3 hours, each at varying fitness levels.
Secret Garden Track - 1km return (45 minutes) The track takes you for a pleasant walk from the western edge of the jetty through tropical rainforest around huge granite boulders. Interpretive signs and a viewing platform overlooking the creek valley provide informative facts on the surrounding rainforest plants and animals.
Nudey Beach track – 1.2 km return (45 minutes) A relatively easy walk from the western edge of the jetty through tropical rainforest and coast woodlands leading to the beautiful white coral beach. Nudey Beach is the most popular place for swimming and snorkelling on the Island.
Lighthouse Road - 3.6km return (2 hours) The lighthouse road trail is a very steep concrete road that leads from the north-eastern end of Welcome Bay climbing through rainforest towards the lighthouse. You will come across a lookout during your ascent with offers views of the Northern side of the island on a clear day.
The base of the lighthouse (open when a ranger is on duty), contains an informative display of the maritime history of Fitzroy Island and how the lighthouse was used during the World War II. From the lighthouse you will discover spectacular 360 degree views of Fitzroy Island and the surrounding ocean, which make the difficult walk worth the effort.
Summit Track - 2.6km return to resort (3 hours) The Summit Track is recommended only for fit walkers as it is very steep. From behind the jetty, the track starts up the boulder lookout trail, and then continues to ascend steeply through open woodland to the summit of the island (269m). Views of the Island, the Coral Sea and the mountain ranges are the perfect spot to relax and take in the scenery. The trail then winds down amongst the boulders to join the lighthouse road.
---
Fitzroy Island Adventures Reviews
---
Fitzroy Island Adventures
Three departures daily: Departs Cairns at 9am, 11am & 3pm Check-in Reef Fleet Terminal, Raging Thunder counter Check-in 45 minutes prior to departure
---