About Fitzroy Sea Kayaking
SEA KAYAKING - Guided Tour With Lunch & Snorkelling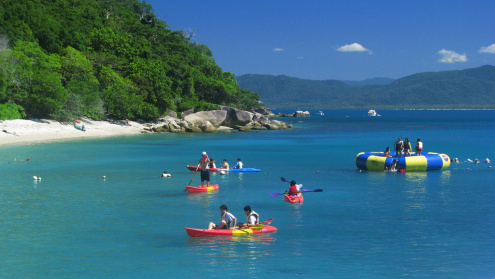 Full Day At Fitzroy Island On The Great Barrier Reef!
Sea Kayaking offers a unique close up experience of paddling and snorkelling the Great Barrier Reef, only $159. From our starting point on Fitzroy Island you guide will choose the best snorkelling location for the day, and take you on a fully guided adventure.
No prior paddling experience is necessary, and after your tour you have a half a day to explore Fitzroy Island. Swim, snorkel off the beaches or walk through the rainforest trails to Nudey Beach or the Secret Garden.
Check out Sea Kayaking at FITZROY ISLAND
Sea Kayaks give us easy access to exclusive snorkelling spots on the Great Barrier Reef, which are not easily reachable by large commercial vessels.
These unspoil locations such as Little Fitzroy Island and Shark Fin Bay (named after a naturally shaped rock), offer hidden wonders to those who visit them, and for many are the highlight of their Cairns holiday.
INCLUSIONS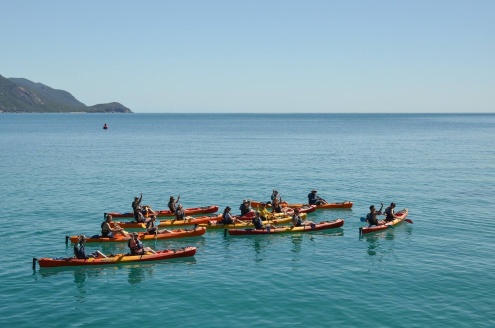 Fast catamaran transfer to Fitzroy Island
Half day guided Sea Kayak tour
Snorkelling gear with mask and flippers
Packed picnic lunch
Half day at leisure to explore Fitzroy Island
DEPARTS DAILY FROM
Cairns Reef Fleet Terminal 9.00am
Fitzroy Island 4.00pm
PICNIC LUNCH
Choice of hot, cold, vegetarian, halal, celiac, gluten and pork free options.
Prices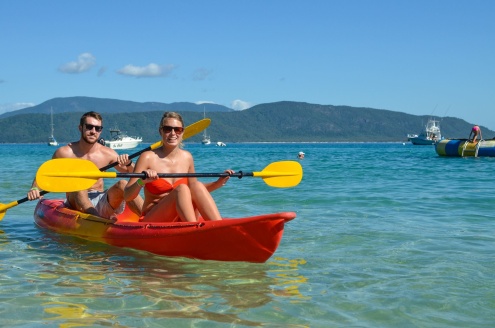 Adult - No lunch $150
Adult - With Lunch $165
Prices valid to 31st March 2020.
Total price includes a levy of $5 per person for recovery of Fitzroy Island facilities licence fees, admin costs & charges.
Lunch option must be pre-booked for catering purposes
Children must be 14 years
Not suitable for anyone who is pregnant
Medical conditions including but not limited to; back, neck or spinal injuries, current or past heart conditions, whiplash
Seating and baggage restrictions apply
---
News By Fitzroy Sea Kayaking
Marine Friendly Sunscreen​ for sale on our tours
By Fitzroy Sea Kayaking
19 Dec 2017
We're very excited and proud to announce that we have​ partnered with Surf Life Saving Sunscreen to​ offer​ Marine Friendly Sunscreen​ for sale on our tours! ​It's safe for our #greatbarrierreef and marine life, as well as being SPF50+, non-greasy and even smells awesome... But the best part is it doesn't cost the Earth!
​#betterchoices #thinkbeforeyoubuy #savethereef​ ​#marinefriendly #tenbucks #ragingthunder #fitzroyislandadventures #cairnscanyoning #tullyrafting
WHALES FROM FITZROY
By Fitzroy Sea Kayaking
26 Aug 2013
Thursday the 22nd of August.
I stood on the beach with about 15 other people and watched in awe as we could see at least 2 whales blowing their blow holes about 1km off shore, so we grabbed some sea kayaks and paddled out from the beach of Fitzroy Island, with only one direction to go... "toward the whales!"
As we paddled we could see there were more than just 2, there were 4 all up and one was a calf. They frollicked around a yacht out in the distance for a while before heading off.
On the ferry home, we were lucky enough to spot the same 4 beautiful creatures, they seemed to just be playing with one another although the skipper informed us we were in about 5m of water so we would not be witnessing any breaches. We watched the majestic animals from around 50m away, for about 20 mintues. To say it was amazing, would the be the understatement of the year!
---
Fitzroy Sea Kayaking Reviews
---
How to get to Fitzroy Sea Kayaking
---
Direct Contact Info
Hours: 9am - 5pm Mon- Fri
Address:
Adventure House
52-54 Fearnley St
Portsmith
Cairns
Queensland 4870
Australia
---