About Foaming Fury - Half Day White Water Rafting Barron River
ABOUT US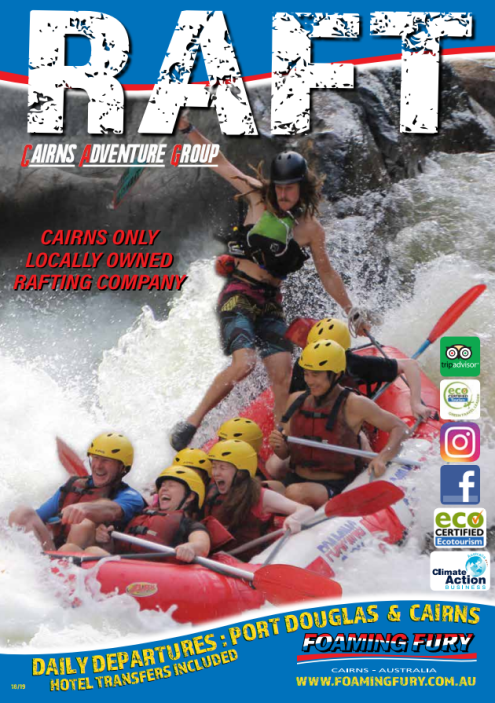 Foaming Fury has been successfully operating full day Russell River and half-day Barron River white water rafting adventures since 1986. During this time, Foaming Fury has built a reputation for the highest quality service, excellent safety standards and training. Foaming Fury employs only the most professional river guides.
All rafts are imported from South Africa and they are made from the best quality materials and engineered with state of the art equipment.
The business is owned and operated by long term local, Roderic Rees. Roderic knows Foaming Fury from the ground up. He began working for the company as a Rafting Guide in 2007, he then cross trained to be a Tour Guide, then Rafting Supervisor, Operations Manager and General Manager.
Loving it so much, Roderic eventually purchased the business in 2014 becoming sole owner in 2016. He brings a total commitment to safety and education, which underpins every element of Foaming Fury's operations.
Passionate about Cairns, its rivers and natural environment, Roderic believes conservation starts with education. By providing guests with an awesome time, they will engage with the environment, which builds awareness, connection and a desire to help protect it.
Foaming Fury guides and staff are trained to the highest possible standard by certified swift water rescue technicians. We look forward to showing you the rivers of Cairns and Tropical North Queensland on a Foaming Fury adventure.
Half Day Rafting Barron River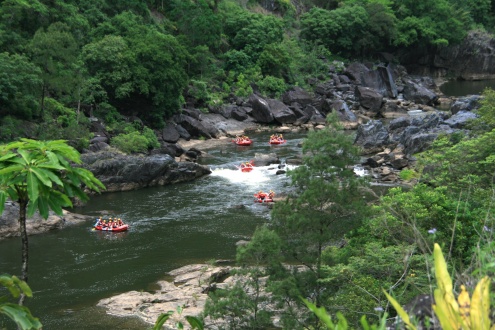 The beautiful Barron Gorge National Park is only 20 minutes from the centre of Cairns (40 minutes ex-Port Douglas). It's known for its rugged rainforest mountains, steep ravines, the mighty Barron Falls and of course, Barron Gorge, which has been carved out over thousands of years by the Barron River.
This is where we do our half day white water rafting tour, on the ebb and flow of the Barron River, as it snakes its way down from the mountains and heads out to the Coral Sea. This is a scenic rafting / rainforest adventure which combines calm water floating with a series of white water rapids for adventure and action.
The Barron River Half Day Tour is a fantastic introduction to White Water Rafting. It's fun, exciting and exhilarating, suitable for all the family*. Enjoy up to two hours rafting, on up to grade 3 rapids.
Our rafts carry up to seven passengers plus your river guide. No experience necessary.
Let our guides entertain you on this spectacular river, offering guaranteed water levels year round!
Timing
Cairns (Daily): Pick up at approx 2pm | Return 5.30pm
Cairns (Seasonal): Pick up at approx 8.45am | Return 1pm
Port Douglas (Daily): Pick up at approx 1.15pm | Return 6.30pm
Port Douglas (Seasonal): Pick up at approx 8am | Return 2pm
Full Day Rafting Russell River (Seasonal)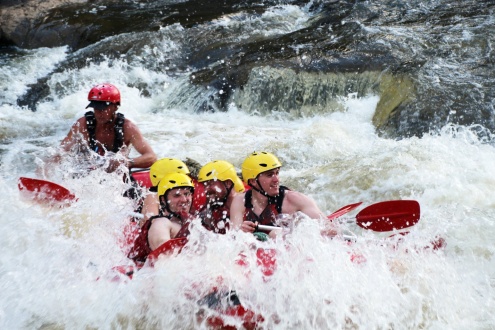 The only way to experience pristine rainforest, crystal clear rivers and breathtaking scenery is to take a white water rafting trip with an experienced company like Foaming Fury. This is not a trip for your average couch potato!
Just an hour south of Cairns, Foaming Fury has created a rafting dream on the Russell River. It's affordable, nail biting and exhilarating! With rapids ranging from grade 1 to 4, there is something for everyone on this river.
Please note a reasonable (medium) level of fitness is required for this tour, as is a comprehensive understanding of English. The tour is suitable for rafters of all experience levels, from beginner to advanced.
The 2 man sports rafts are deflated and share carried in to the start of the river, this all adds to the hands on adventure. Follow a single file track through the lush rainforest of Wooroonooran National Park to get to the crystal clear waters of the Russell River. After 3 hours of exhilarating white water rafting it's time to relax and enjoy a picnic lunch at the beautiful Golden Hole area.
On the river, Sports Rafts are group guided. Skilled guides show you how best to negotiate the rapids while maintaining a very safe environment in which you can enjoy the thrills. Our Sports Rafts are super stable. Anyone can do it!
Timing
Cairns: Pick up at approx 8am | Return 4.30pm
Port Douglas: Pick up at approx 7am | Return 5.30pm
Half Day River Tubing Behana Gorge / Mulgrave River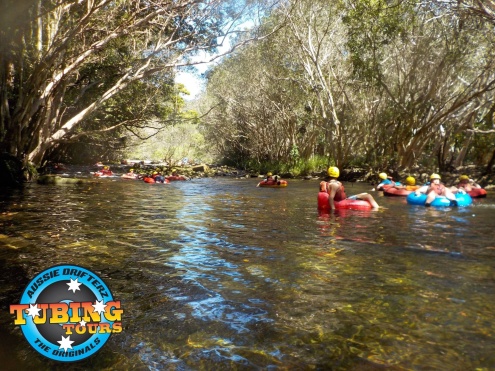 Come play in natures theme park with this Half Day River Tubing adventure on the Mulgrave River. This fun and exciting tour is a safe water activity, which includes calm water drifting, small rapids and some beautiful scenery.
The Mulgrave River is part of the catchment system for Queensland's highest mountains, Bellenden Ker and Bartle Frere, which is also Australia's highest rainfall area. This freshwater river flows year round and is bordered by rainforest and tropical vegetation, creating a lovely natural backdrop for your river tubing tour.
The Half Day River Tubing Tours are safe and fun. The minimum age to participate is 5. Minimum of 2 guides on the water. Foaming Fury guides are certified with the International Rafting Federation, a world wide organisation setting the standard in the rafting industry. Regular ongoing River Rescue and First Aid training ensures our guides maintain high safety standards on every tour.
Suitable for people of all experience levels, you'll float on professional, high quality, twin chamber tubes down the river and across small, fun rapids. There's a free snack included in the tour and you have the option of hiring shoes and/or a water proof spray jacket for just $5 each. You should bring a towel and wear a swimming costume under your clothes. Please bring water resistant sunscreen and insect repellent with you and leave your jewellery and valuables at your accommodation.
This tour is a great introduction to river tubing. It's a hands on adventure and safe water activity, with beautiful scenery and surrounds. A great way to get out and explore natures theme park in Tropical North Queensland.
Timing
Cairns (Morning): Pick up at approx 7.45am | Return 12pm
Cairns (Afternoon): Pick up at approx 1.45pm | Return 6pm
---
News By Foaming Fury - Half Day White Water Rafting Barron River
Join us on Sunday to remember Cassandra Emary
By Foaming Fury - Half Day White Water Rafting Barron River
10 May 2019
Join us on Sunday to remember Cassandra Emary and promote the inclusion of women in the adventure sports industry!
Australian Women's Rafting Team | Cassanga Fund |
Are you looking to do something action packed over your weekend?
By Foaming Fury - Half Day White Water Rafting Barron River
07 Aug 2018
If the answer is YES, Foaming Fury have got you covered! Grab some friends and join us out on the river for a Half-Day raft. This is the best way to spend your weekend!
If your wanting a more personalised rafting experience we offer VIP Rafting. You will get the whole raft to yourself with your friends and family, and of course one of our professional raft guides. Our VIP Rafting is suitable for 2-6 people.
Foaming Fury / Aussie Drifterz / Waterfall Wanderers / Active Tropics Explorer


#foamingfury #barron #whitewaterrafting #thingstodoinCairns #exploretnq
---
Foaming Fury - Half Day White Water Rafting Barron River Reviews
---
Foaming Fury - Half Day White Water Rafting Barron River
19-21 Barry Street, Cairns, QLD, 4870, Australia
---
Direct Contact Info
Hours: 6:30am - 8:00pm
Address:
19-21 Barry Street
Cairns
Queensland 4870
Australia
---
Foaming Fury Brochure including Rafting, Family Rafting, Tubing