About Hinterland Tours & Transfers
CHOOSE YOUR OWN ADVENTURE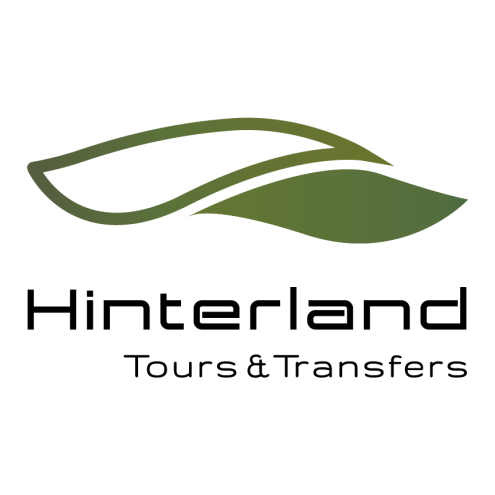 When you travel with Hinterland Tours and Transfers you decide how you want your day to unfold.
You tell us your passions and interests and we'll build an itinerary to suit. Importantly, if you change your mind during the day we're happy to follow your lead.
So what's your passion?
Do you want serenity and scenery? Rainforest walks? Food experiences? Swimming holes and creek crossings? Adventure hiking into the ranges? Waterfalls and picnics? Working History?
Take a look at some of our ideas and destinations and let us know what your idea of adventure is,
Scenic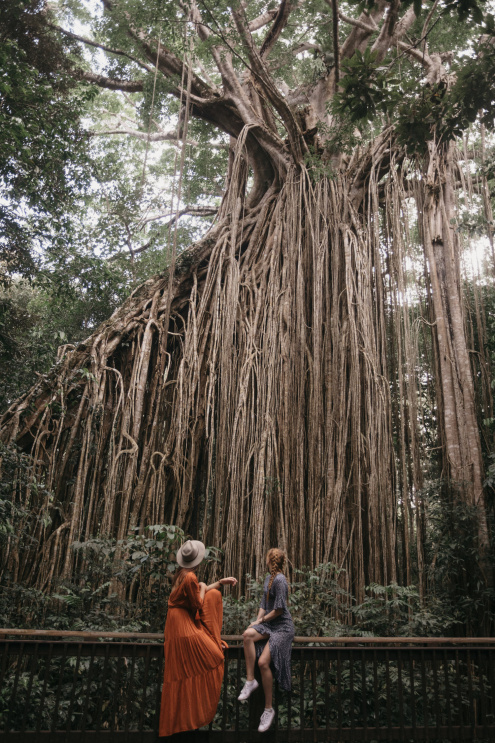 Experience the natural beauty of world heritage listed rainforest. Sample locally grown and handmade food.
If you like to get a little adventurous, get your feet wet exploring crystal clear fresh water creek crossings and hidden river bends.
Enjoy a light breakfast on the balcony over looking a volcanic crater lake. Learn about the history and production of tea at Australia's only commercially grown tea estate. Take the picturesque drive out to one of the most easily recognised Water Falls in the region. Enjoy lunch on the deck at Mungalli Creek Bio-Dynamic Dairy over looking the rolling hills of Millaa Millaa with Mt Bartle Frere in the background. Get a little adventurous & visit Tchupala & Wallicher Falls. Have your breath taken away at Crawford Lookout. Get high above the canopy and see as far as the eye can see at the Mamu Tropical skywalk. Finish the day at Queenslands number one tourist attraction and enjoy the peacful sounds of the rainforst as you dine in the gardens.
DESTINATIONS
Lake Barrine: tea & scones, boat cruise, rainforest walk
Nerada Tea Factory: private tea history & product presentation, free factory tour, gift shop
Milla Milla Falls: the most recognisable waterfall in qld, short walk, swim
Mungalli Creek Bio-Dynamic Dairy: biodynamic, gluten, preservatives & colours free products, lunch, rolling views of mt bartle frere
Tchupala & Wallicher Falls: rainforest walk, swim
Crawford Lookout: breathtaking view
Mamu Tropical Skywalk: elevated photo positions
Paronella Park: voted #1 must do in queensland, fascinating history, light walking, dinner
FOOD TRAILS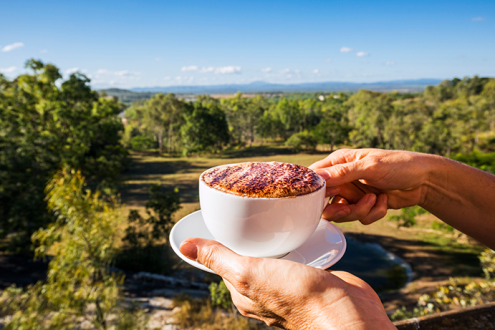 Do you appreciate good food? Would you like to see how your favourite foods are made. Maybe you just like to explore what foods a region produces. Welcome on a journey with us and Discover fine coffee and liqueurs. Visit Australia's best & North Queenslands only craft distillery. Producing award winning Marshmallow Liqueurs, Coffee Liqueurs, Rum, Whiskey, Vodka & Gin. Observe the delicate process's taken to make the best cheese and chocolate.
Travel out into the lush rolling hills of butches creek and learn about tea processing accompanied by some delicious home made scones of course. Sit on the balcony of the Lake Barrine Tea House, built by the Australian Defence Force during the war and enjoy the tranquillity of a extinct volcanic crater. Wind down the day at the Gillies Range Lookout. A great opportunity to open one of the unique bottles you've purchased & enjoy the spectacular view over the 800 metres in elevation.
DESTINATIONS
Jaques coffee: liqueur tastings, segway adventures,
Mt Uncle: distillery viewing, product tastings, marshmallow liqueur, coffee liqueur, vodka, gin, rum, whiskey
Gallo Dairyland: cheese & chocolate factory viewing, animal nursery, rotary dairy viewing
Nerada Tea: free factory tour, tea presentation, home made scones, gift shop
Lake Barrine Tea House: tea house, boat cruise. history
Gillies Lookout: just the best lookout in queensland
PIONEERING TRAILS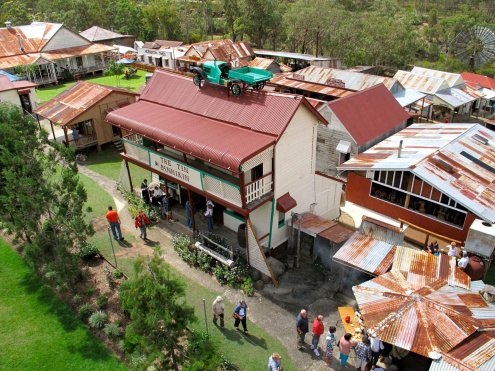 Are you fascinated by life in the early 1900'S. Are you interested in seeing how the day to day life was different in the north, compared to the cooler climates & more established cities in the south.
Take a look back in time at the agricultural practices that helped to build towns in North Queensland. Retrace the foot steps of over a thousand former Chinese residents & how lucky we are to have the only surviving timber & iron temple in Queensland. Visit one of the true gems in the Cairns Hinterland.
The most significant vintage collection Of life 100 years ago in Queensland with restored motor vehicles, butcher shops, cashmere slap huts to the centre piece Tin Pannikin Pub. After the information overload we slow things down with a quick stop in the tallest town in Queensland. A driving tour of some of the biggest and oldest timber buildings in Australia. Before continuing on to our last stop where we will have the opportunity to spot one of Australia's most unique mammals. As well as point out the many facets of history hiding in plane site that have help shape our world today.
DESTINATIONS
Mareeba Heritage Museum: history, agriculture,
Hou Wang Temple: the only one of its kind still in australia
Historic Village Herberton: mining, restored vehicles, war time, clothing, banking, toy shop, telephone exchange
Ravenshoe: tallest town in queensland, rich in mining histroy
Malanda: home to some of the biggest & oldest timber buildings in australia
Yungaburra: spot a platapus & discover history hiding in plane sight.
MILITARY HISTORY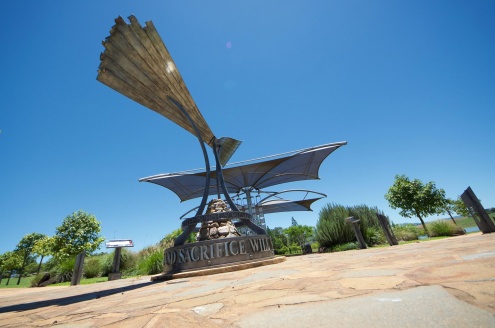 Connect with the local history and see the contribution made all over the Cairns Hinterland by the Anzacs from World War I through to the most recent Middle East campaigns. Start the day at the Australian Armour & Artillery Museum. Take a walk through time and learn about the Significant Contributions the Artillery Corps have made for diggers in the field. Learn about the significant medical contribution made for the rehabilitation of injured diggers from across the Pacific Theatre.
Head deeper into the Hinterland and witness the most intact Structural remains of a training area. Enjoy a harty lunch at one of the old pubs in the area with a strong contribution to the World War campaigns. After lunch take a short drive down to Tinaburra and walk the Afghanistan Avenue of Honour. Enjoy the afternoon sitting on the banks of Lake Eacham like the diggers did or take a swim.
DESTINATIONS:
Australian Armour & Artillery Museum: national museum of artillery spanning all australian campaigns
Rocky Creek War Memorial Park: site of the largest field hospital in the southern hemisphere during WWII
Millstream Falls: site of the most intact military activity from WWII
Yungaburra Pub: lunch at the second largest timber hotel in the southern hemisphere
Afghanistan Ave of Honour: national memorial to the afghanistan & iraq campaigns
Lake Eacham: local site that both officers & other ranks enjoyed on medical leave
PUB TOUR - ALCOHOL ENTHUSIAST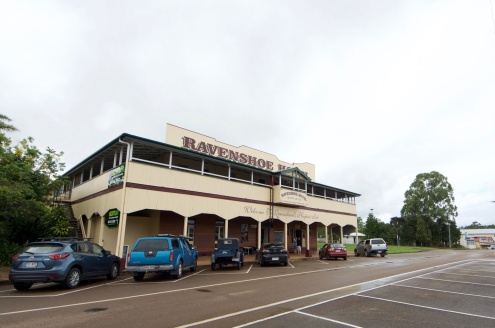 This day is for those who enjoy our unique North Queensland history. Not only that but enjoy a few cold ones as well. so if this is you, Come spend a relaxing day out knocking the froth off a couple jars and gather a new found understanding of what life was like when these pubs were built. Each pub has played its owen part in the local community, seeing the rise and fall of the different Industries over the course of 100+ years.
Two of these pubs have claims to how big they are. One pub has been in the founding family for its entire life. One is the oldest hinterland pub which was heavily damaged during Cyclone Larry in 2006. Another is built at the highest elevation in Queensland and others are on the Queensland heritage list. The only thing that could make this day better is if the walls could talk...
DESTINATIONS
Lake Eacham Hotel: second largest timber hotel in the southern hemisphere
Peeramon Pub: cairns hinterlands oldest pub until cyclone larry dropped in
Malanda Hotel: reputed to be the biggest timber pub in australia
Ravenshoe Hotel: queensland's highest pub at an elevation of 916 metres above sea level
Barron Valley Hotel: listed on the queensland heritage register on 5 february 2010
Gateway Hotel: extensive renovated to retain the character & charm of a classic queensland country pub
Custom Itinerary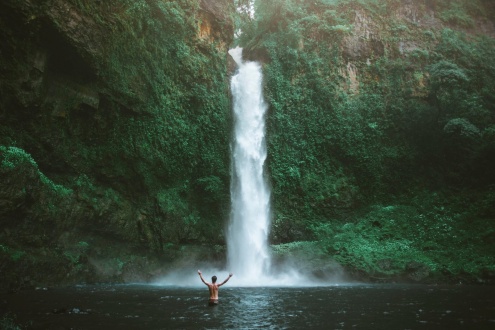 Custom Itineraries are all about you. We want to know what you have heard about and what you have come here to see.
We want to know what sort of traveler you are so we can design the best possible day out for you.
---
News By Hinterland Tours & Transfers
A short History of Soft Drink.
By Hinterland Tours & Transfers
08 May 2018
It was Joseph Priestley in 1767 who made the first carbonated water drink.
Based on his discoveries, Johann Schweppes developed a process to manufacture carbonated mineral water, founding the Schweppes Company in Geneva in 1783.
The drinking of either natural or artificial mineral water was considered a healthy practice and pharmacists began adding flavours like dandelion, sarsaparilla, birch bark and fruit extracts to their counter-top soda fountains.
The Crown Cork Bottle Seal was patented by Baltimore Machine Shop Operator William Painter in 1892.
The Pinnacle Bottle Filler and Capper was designed in Australia to fill bottles using the crown seals.
Here in the Cairns Hinterland Soft drink Manufacturing dates back to the beginnings of Herberton in 1880. There have been a number manufacturers including Channell's Cordials in Atherton with their distinctive blue labels featuring Millaa Millaa Falls.
These Bottles, as well as Kirks, Schweppes, Coke and many other bottles from through out history, can be found at the #historicvillageherberton. The Histroic Village is a highlight of our Pioneering History Tour and can easily be incorporated into any custom made tour just for you.
#cairnshinterland
#athertontablelands #drink
#softdrink
#foodhistroy
#foodhistorian
#foodhistroy360
#thecuratedfeast
#drinkhistory
#thisisqueensland
#queensland
#seeaustralia
#crowsnestsoftdrinks
#australiacalling #tropicalnorthqueensland
---
Hinterland Tours & Transfers
Our customised Tours come with free pick up from anywhere in Cairns to Atherton.
---