Experiences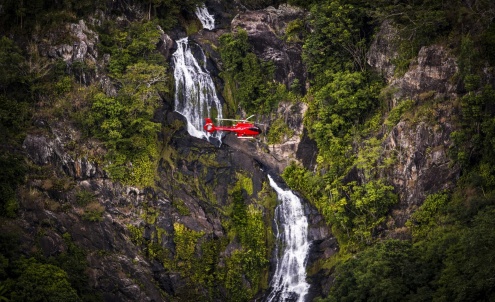 Take off over Cairns city and experience the natural beauty of the region's spectacular heritage listed rainforest. Fly over Stoney Creek Falls, Barron Gorge National Park, Barron Falls and the rainforest surrounding Kuranda before passing over emerald-covered mountains and the stunning coastline of Palm Cove and the northern beaches on your return to Cairns
Reef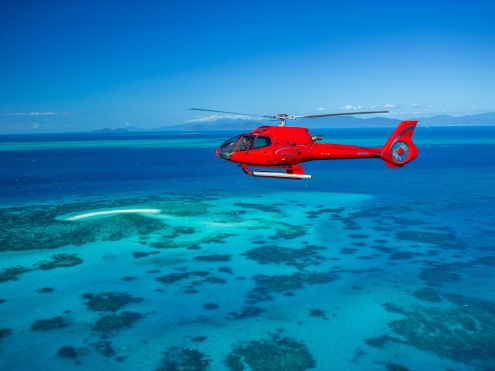 Discover the Great Barrier Reef, the world's largest coral reef system! Feel the thrill of flying over the picturesque coral-studded sea before landing on Vlasoff Cay, a pristine sand cay in the heart of the Great Barrier Reef.
Daintree Experience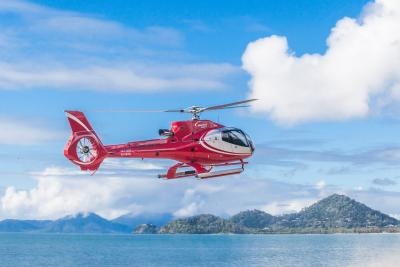 An inspiring tour combining spectacular views of North Queensland's coastline and a cultural experience with a local Kuku Yalanji Aboriginal tour guide in the Daintree. The only place on earth where two World Heritage-listed sites are side by side- where the rainforest meets the reef! Learn about the unique environment and the different foods and medicines utilised from nature – even sample some bush tucker and try traditional hunting practices.
Departs: on demand
Duration: approx. 6 hours
Price: $1050 per person
Inclusions
Return helicopter flight to the Daintree (approx. 80 minutes)
Half day Walkabout Cultural Adventures Tour
Lunch at the Daintree Village with a glass of wine or beer
Morning departure advised
Approx. 6 hours
Return transfers to/from Cairns accommodation
*Minimum two passengers
Full day Aboriginal cultural tours to Yindilli Camp with welcome smoke ceremony, ceremonial painting, traditional foods & medicine tours are available upon request (additional charges apply)
Scenic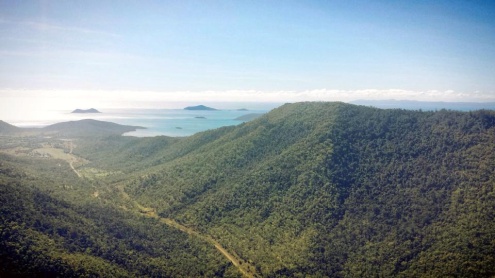 Soar high above the lush rainforest, pristine reef, Cairns city and beyond !
Rainforest Scenic Flight: 30 minutes $399 pp
Take off over Cairns city and experience the natural beauty of the region's spectacular heritage listed rainforest.​
Great Barrier Reef Scenic Flight: 30 minutes $399 pp
Enjoy a spectacular view of Cairns city as you take off towards the world's largest coral reef system.
Reef and Rainforest Scenic Flight: 45 minutes $499 pp
Combining two of the region's most impressive natural beauties, the Reef & Rainforest Scenic Flight showcases the wonders of heritage-listed rainforest and the magnificent Great Barrier Reef in one flight.
Tropical North Scenic Flight
Our most luxurious flight encompasses all the natural beauty of the Cairns region in an hour-long scenic adventure.
Heli Fishing – Cairns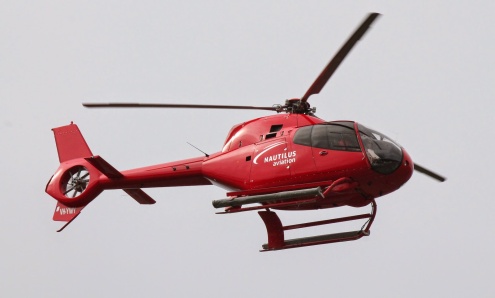 Cairns-based 'HeliFish' offers full-day fishing adventures flying over impressive landscapes to target anything from the mighty Barramundi, Mangrove Jack and Salmon, the elusive Jungle Perch and Giant Trevally, Mackerel and Coral Trout!
Helifish is more than just fishing – it is a photographers dream! Expect to see sandy beaches, rainforests and the Great Barrier Reef. Specialising in helicopter fishing, the tours are flexible to suit personal requests, fishing skill and groups of all sizes!
Duration: Full day
Price: $1560 pp
Inclusions
Full day tour

Approx. 2 hours flight time

Approx. 6 hours fishing

Exclusive fishing sites

Fishing Equipment

Lunch

Return transfers to/from Cairns accommodation
*Minimum two passengers
Cairns and Reef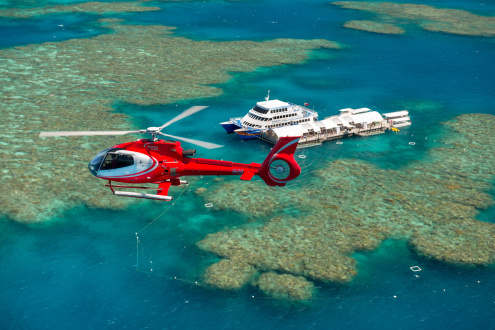 Morning – Begin your journey on board the Kuranda Scenic Railway, discovering the living colour and natural beauty of rainforest millions of years old.
1 day $550 pp
Cairns in a Day – Horse Riding and Reef
Morning – Saddle up for a journey through the natural rainforest of the Kuranda Valley on horseback. Experience the changes in scenery from Savannah grasslands to freshwater streams and breathtaking views from the mountain-top lookouts.
Full day $500 pp
Kuranda and Reef – 2 days
Day 1 – Start your journey aboard the Kuranda Scenic Railway where you'll meander through pristine rainforest, rugged mountains and cascading waterfalls to the pretty village of Kuranda.
2 days $570 pp
The Golfing Experience (2courses)
Get the VIP treatment with your own helicopter ride to two different golf courses in one day. Take off from Cairns and
Price: $1,050.00
Ultimate Heli Golf Experience (3 courses)
Imagine playing multiple rounds on different golf courses in one day… then add onto the scorecard, three iconic courses set against picture perfect tropical backgrounds.
Adrenaline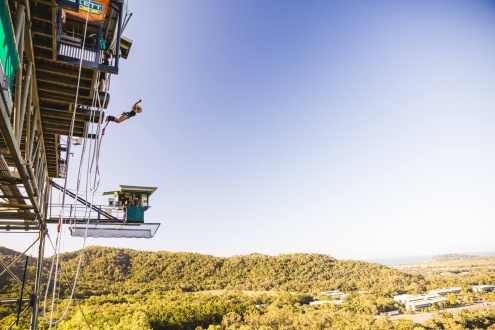 For an extraordinary day in Far North Queensland, combine your Down Under Dive outer reef cruise with an exhilarating helicopter flight over the reef and then a bungy jump.
Full day $580 pp
Cairns in a Day – ATV, Fly & Cruise
Morning – Prepare yourself for an adrenaline-pumping journey as you experience an ATV obstacle course complete with jumps, dirt mounds and mud pits before heading out to explore the rainforest and open bush trails. The ATVs are Can-Am 250cc, with full auto gear shifting that makes it easy for beginners to enjoy!
CHARTERS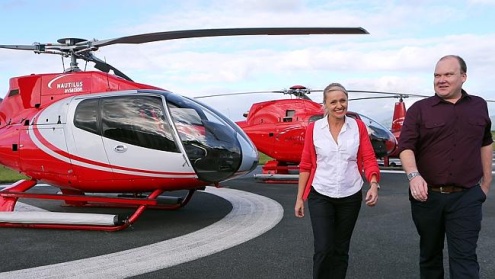 Nautilus Aviation offers a range of helicopters to facilitate any charter requirement across North Queensland. Our fleet of modern helicopters is luxuriously fitted out to transport any number of passengers to any occasion and our extensive knowledge of the region means your charter will be completed safely, efficiently and at the least cost to you or your organisation. If you are looking to arrive in style and comfort, you need an efficient mode of transport, or if you just want the very best in helicopter charter services, Nautilus Aviation has the helicopters to meet your every need.
Transfers
Linking you to some of the most spectacular destinations in North Queensland, Nautilus Aviation provides luxurious helicopter transfers to/from the following locations:
Orpheus Island
Departing from either Townsville or Cairns, guests staying at the secluded island paradise of Orpheus will enjoy a magnificent scenic flight over the picturesque coral-studded sea to the island lodge. From Cairns, swoop over the stunning reef systems, dotted islands beneath and marvel at the rugged North Queensland coastline; where the emerald green rainforest meets the azure waters of the Coral Sea.
Daintree Eco Lodge
Take off from Cairns and enjoy a scenic flight over heritage-listed rainforest and jagged North Queensland coastline before reaching your secluded getaway set in the heart of the emerald Daintree. On the way you will be treated to panoramic views of the region, including the picture postcard villages of Palm Cove and Port Douglas. This transfer flight is truly where the rainforest meets the reef!
Bedarra Island
Departing from Cairns and Townsville, this island transfer showcases some of the best scenery North Queensland's coastline has to offer. From Cairns, guests will be treated to spectacular views of heritage-listed rainforests and national parks, while guests departing from Townsville will experience the natural beauty of the Palm Island archipelago and Hinchinbrook Island, before arriving at their very own tropical island paradise.
---
Nautilus Aviation Reviews
---
Direct Contact Info
Hours: 8am - 5pm
Address:
Hangar 9 Bush Pilots Ave. General Aviation
Cairns
Queensland 4870
Australia
---
For more information on some of the experiences we have to offer.