About Ocean Freedom Cairns
Two Unique Great Barrier Reef Sites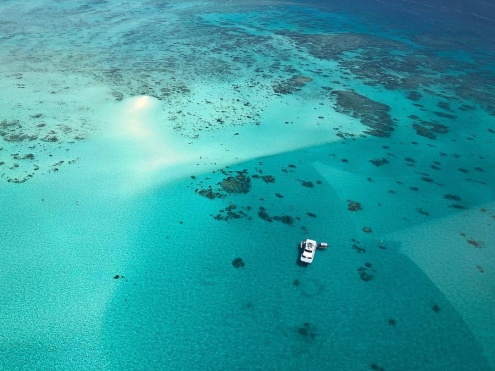 Travel with style and speed on our comfortable 20 metre motor catamaran. Ocean Freedom provides you with a first class way to experience two unique Great Barrier Reef sites, without the crowds.
↻ Duration | Up to 9 Hours
⇨ Instant Confirmation
⎙ Mobile or Printed Ticket
Enjoy truly personalised service. Our crew will connect with you to ensure you have the best reef experience possible. Ocean Freedom is the only boat in Cairns offering a full 6 hours on the reef, meaning there's absolutely no rush in the day. You get to enjoy all the complimentary water activities, whilst still having time to relax and enjoy a long lazy lunch.
Experience an adventure drift snorkel tour with our attentive crew and jump on board for an informative glass bottom boat tour.
If interested in taking your first ever scuba dive experience with us, Ocean Freedom's unique 2 divers to 1 instructor ratio ensures your comfort and care. If you're a certified diver, enjoy a small personal group with complimentary guide, so you can just relax and enjoy the sights!
Ocean Freedom visits two Great Barrie Reef destinations in one day. The crystal clear, shallow waters and surrounding reef of Upolu Cay and "Wonder Wall" on the outer edge of Upolu Reef. Explore the wonders of the Great Barrier Reef with us, for a simply superb day in paradise.
Ocean Freedom Times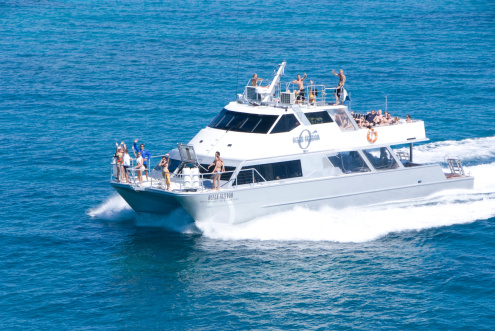 ​Check in & Departure Time
Check in at Reef Fleet Terminal from 7.15am at Ocean Free + Ocean freedom desk. Board from 7.30am A Finger No. 5 at the Marlin Marina, Cairns for an 8.00am departure – coffee, tea and fruit and Danish pastries on boarding.
Ocean Freedom returns to Cairns at around 4.00pm – 4.15pm
Accommodation Transfers
CoachTransfers are an optional extra and must be pre-booked – the bus will pick up from Cairns and as far north as Palm Cove

Tour Inclusions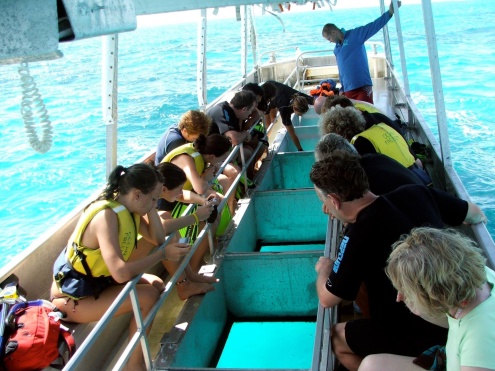 Danish pastries + fresh fruit on boarding
Snorkelling tuition and use of top quality snorkelling gear including buoyancy vests, lycra suits/wetsuits
High snorkel and dive crew to guest ratio
Coffee + tea all day
Glass Bottom Boat Tour with Marine Naturalist
Adventure Drift snorkel tour
Large lunch including seafood
Tropical afternoon tea ( cheese platters / fresh fruit and cake platters)
Fish Feed
Fresh water showers
Prescription masks
Optional Extras
Certified Diving
Introductory Diving
Underwater camera hire
Your day with Ocean Freedom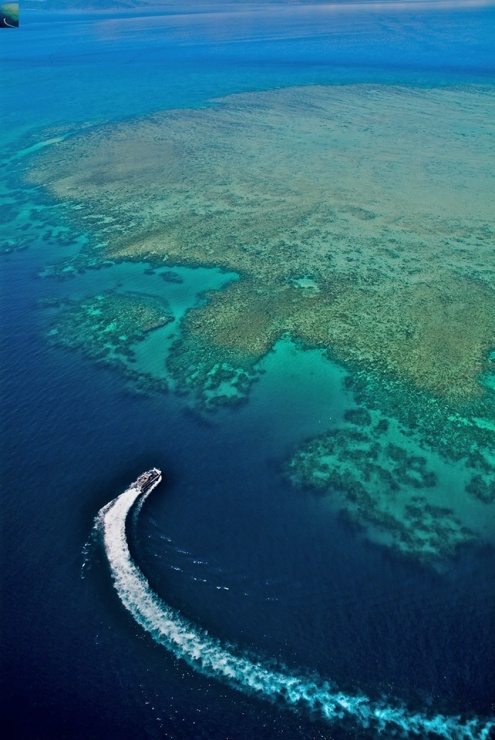 Check in at the Reef Fleet Terminal at Cairns' Marlin Marina from 7.15am, boarding commences at 7:30am with an 8am departure. Upon boarding you will be greeted by our friendly crew offered coffee or tea and Danish pastries and fresh fruit.
Your bags and shoes can be stored in cubby holes on the upper deck, our crew will direct you.
Once all guests are boarded, the skipper will do a head count to ensure all are on board and the boat will depart. As you sit on the comfy cushioned seats, our friendly crew will welcome you, introduce themselves and give the safety brief.
Depending on the conditions on the day, the skippers will decide which of our two sites to visit first, but regardless of that, arrival at the reef will be around 9.15am – only just over an hour travel time on our fast vessel!
On arrival at the reef you will be given a "Snorkel Brief", covering how and where to snorkel and when the Glass Bottom Boat tours and Snorkel tours will be happening throughout the day.
At our outer edge Upolu Reef site you will be introduced to "Wonder Wall". Here, many different types of hard and soft coral festoon the wall, in addition to fans, giant clams and turtles. There is a huge diversity and bountiful abundance of reef fish of all sizes, nemos everywhere! Snorkel and dive here.
We conduct guided drift snorkel tours along the breathtaking wall. A self serve buffet lunch is presented at approximately 11:30am and while you dine, Ocean Freedom cruises to its second site (10 mins).
At our second destination Upolu Cay Reef you can swim, snorkel or dive the beautiful turquoise shallow waters surrounding the cay. Look out for turtles and stingrays feeding on the bottom amongst the pretty coral formations. How much cay is visible on the day will depend on the conditions of the day.
Throughout the day guests can experience a Glass Bottom Boat Tour and an Adventure Drift Snorkel Tour. If you are not a strong or confident swimmer let the crew know and they will guide you around in a small personal snorkel group with a snorkel jacket and a ring to hold onto.
Ocean Freedom departs at 3pm after 6 hrs of fun and relaxation for the cruise back to Cairns. On the way back, enjoy afternoon tea, a sumptuous selection of tropical fruit followed by mouth-watering cheese + crackers. Lastly, a decadent cake platter: an ultimate way to wind down after a magical day on the one and only Great Barrier Reef.
Introductory Scuba Diving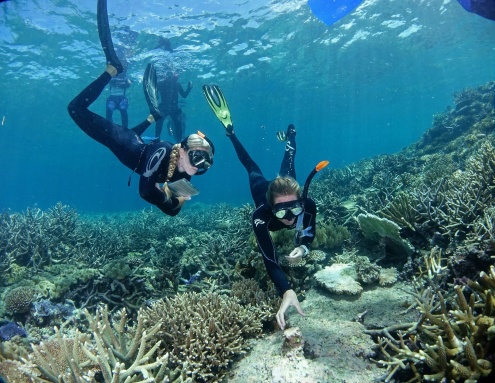 No experience required! Ocean Freedom's professional crew of qualified dive instructors will introduce you to the wonderful world of scuba diving on the amazing Great Barrier Reef. You will never forget your first dive, breathing underwater and the feeling of total weightlessness. Many people tell us it is the most amazing experience of their life!
Over the years we have helped many nervous guests overcome their initial fears, to become raving scuba diving fans. How do we achieve these results? Comprehensive, informative dive briefings are provided on the way to Upolu Cay.
Everything you need to know is clearly, slowly explained, including scuba diving equipment, underwater communication signals, safety and procedures. Ask as many questions as you like, the more you know the better experience you will have.
You will be required to fill out a dive medical questionnaire (supplied on the boat) to ensure that you have no medical problems (past or present) or taking any medication that may be contradictory to diving.
Certain medical conditions and / or medication may prevent you from diving. If you are uncertain about this, please enquire when you make your reservation.
Certified Scuba Diving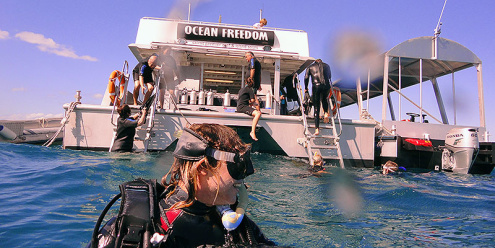 Ocean Freedom is dedicated to giving you a great dive experience.
Our crew are passionate and knowledgeable about the reef and love showing you our reef sites. All our certified dive groups are small, usually no more than 4 in a group and all are offered a complimentary guide to ensure that you get the most of your dive on the Great Barrier Reef!
Whether you are a newly certified diving novice, someone who has not dived for years or a seasoned diver with hundreds of dives to your credit, we will show you the very best of the Great Barrier Reef.
You have the chance to enjoy two dives, at two very different reef sites. The Wonder Wall site on Upolu Reef offers dives up to 15m, depending on the tide. This is a spectacular dive. Drop down to 10-12m and follow the Wall to see beautiful hard and soft corals including brain, boulder and branching coral.
Check out the large Gorgonian sea fans and watch for a multitude of anemone fish, all related to Nemo of course. Upolu Cay diving offers pretty coral gardens, home to parrotfish, stingray, green turtles and an array of smaller reef fish. The turtles are used to divers so you can get quite close, but please don't touch them, rather dive slowly by and share their reef wonderland.
You will be required to fill out a dive medical questionnaire (supplied on the boat) to ensure that you have no medical problems (past or present) or taking any medication that may be contradictory to diving. Certain medical conditions and / or medication may prevent you from diving. If you are uncertain about this, please enquire when you make your reservation.
Upolu Cay & Reef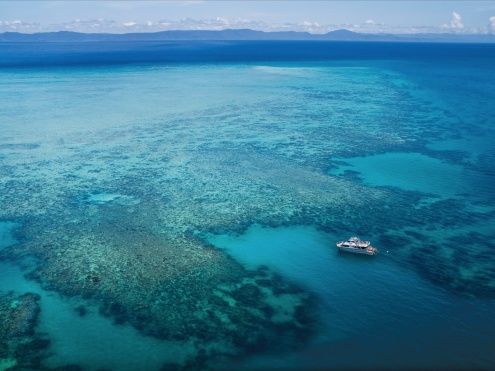 Ocean Freedom has two stunning destinations, one close to Upolu Cay and the other on the outer edge of Upolu Reef. Both are a part of the Great Barrier Reef World Heritage Area. This area is approximately 348,700 square kilometers, running along the Queensland coastline from just north of Bundaberg to the tip of the Cape York Peninsula, over 2,300 kilometers in length.
The Great Barrier Reef is made up of over 2,900 reefs. This includes 760 fringing reefs and 300 coral cays. Upolu Cay Reef (16-046) is a middle-shelf Planar Reef within the Cairns Section at latitude 16°40.5′ longitude 145°56′. Both of our destinations have been carefully chosen for their natural beauty and ability to deliver a first class Great Barrier Reef experience.
---
Ocean Freedom Cairns Reviews
---
Ocean Freedom Cairns
Ocean Freedom is berthed at A Finger, no 5 at the Marlin Marina, Cairns. Check in is at 7.15am at the Reef Fleet Terminal. Boarding after check-in from 7.30am A Finger no 5 Marlin Marina Cairns and we depart at 8am.
---