About Snapping Tours River Cruises
SMALL GROUPS, CALM WATERS AND UNIQUE WILDLIFE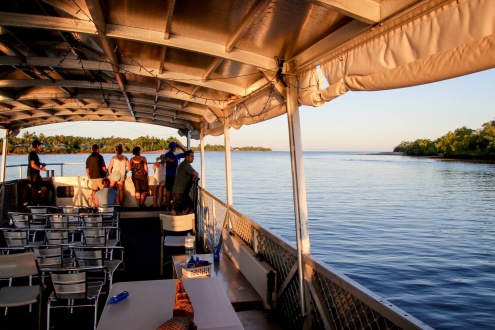 Come on board Snapping Tours and experience the world heritage listed wet tropics. Our tours give you the opportunity to learn more about the history and biodiversity of the Innisfail area, together with spotting a variety of wonderful species that call the Johnstone River home. Our tour guides will take you on a journey around the Johnstone River, so you can experience the beautiful scenery and take a closer look at life above and beneath the waters of the Johnstone River. We have a very keen eye for spotting crocodiles in their natural habitat. They will either be lurking beneath the waters or sunning themselves on the sandbanks. Either way, it is a spectacular sight!
During the tours, our tour guides will also check crab pots in the hope of seeing wild caught mud crabs, as well as explaining their general features and their habitat. Complementary drinks and light snacks are available on board. Don't forget to bring a hat, sunscreen, a camera and big smiles!
This unique cruising experience on the tranquil waters of the Johnstone River awaits you! Book a tour today!
JOHNSTONE RIVER CRUISES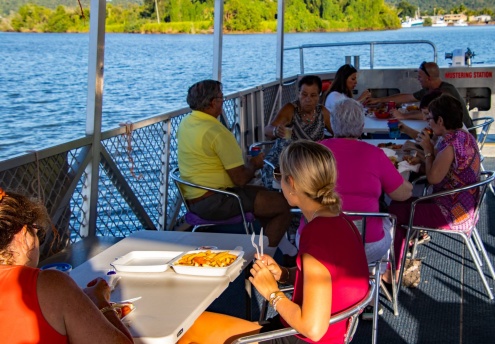 Here at Snapping Tours, our number one priority is to make sure our customers choose the best possible time for spotting crocodiles and other beautiful wildlife. Low tide is perfect for spotting crocodiles either in the water or on the banks of the Johnstone River.
Come on board and enjoy a wonderful two hour cruise along the Johnstone River. You can be guaranteed a fantastic time out on the water, experiencing the wildlife up close and enjoying the beautiful scenery of the Johnstone River.
ECO-CHARTERS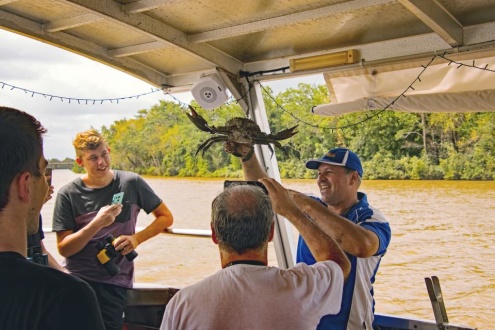 For those who have a passion for bird watching or are wildlife enthusiasts, you would certainly enjoy our Eco Tour. Explore the wonderful Johnstone River right on board our small boat, the Coral Explorer. The boat can cater for a maximum of 10 people and is perfect for small personalised tours.
This tour operates for 2 hours (time can be extended), giving you time to appreciate the wonderful world heritage listed rainforest and the amazing wildlife. What is even better is that the tour boat is small enough to sneak into small places, allowing you to experience the wildlife from up close.
Our Eco Tour is privately operated, giving you the opportunity to invite family and friends along with you to experience the Johnstone River. You get the whole boat to yourselves. You pick the day and depending on the tide, we will choose the best possible time for you to cruise the Johnstone River. Book your Eco Tour today!
SUNSET CRUISE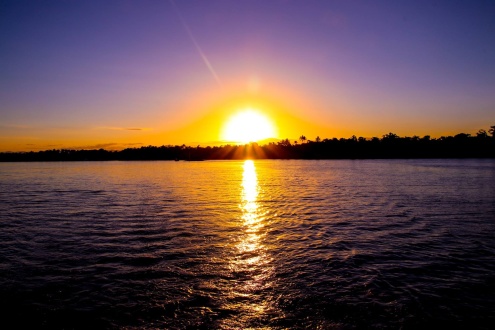 Check out our sunset cruise!
Come on board our 5:30pm tour and experience the picturesque views our beautiful Johnstone River has to offer during dusk and at night time. This tour is highly recommended from September to May, giving you a better chance of spotting wild salt water crocodiles in their natural habitat.
Night time is prime time for crocodiles to begin hunting, so this tour is not to be missed!
GETTING HERE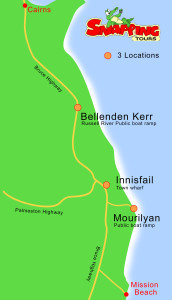 ONLY AN HOUR FROM CAIRNS
Getting to Innisfail is easy! You can self-drive, take a coach from Cairns, or a day tour with our mates at Let's Go Cairns.
SELF DRIVE
Take a leisurely 60-minute drive from Cairns to Innisfail. Along your way are a variety of tourist attractions such as the second highest mountain in Queensland known as Mount Bartle Frere and many beautiful swimming holes. Stop in for a feed at one of the most renowned bakeries in Queensland, the Babinda Bakery. You may even spot some beautiful wildlife during your drive to Innisfail!
Simply make your way to the Innisfail Commercial Wharf located along the Innisfail Esplanade and look out for the 'SNAPPING TOURS START HERE' sign.
COACH
Take a 60-minute coach ride from Cairns to Innisfail on weekdays and weekends.
Find out more at greyhound.com.au
CONTACT
Our guides are well-equipped with local knowledge of the history of the Innisfail area and prioritise in making sure our customers enjoy a relaxing and fun filled day out on board Snapping Tours.
LET'S GO CAIRNS
Enjoy a day trip with Lets Go Cairns and experience more of what our region has to offer. The tour is $124 and includes sightseeing, lunch and swimming.
Tours depart Cairns from your accommodation at 10:00am and arrive back in Cairns at approximately 3:00pm.
Find out more at letsgocairns.com.au
---
News By Snapping Tours River Cruises
Here are a few shots of what you will experience right on board Snapping Tours!
By Snapping Tours River Cruises
13 Aug 2018
What an amazing River we have in Innisfail, home to a vast of amazing wildlife! Our next tour is at 3:30pm tomorrow!
#snappingtours #johnstoneriver #innisfail #crocodile #tropicalnorthqueensland
---
Snapping Tours River Cruises Reviews
---
Snapping Tours River Cruises
---