About Sunlover Reef Cruises | Moore Reef Tour
Outer Reef Pontoon Cruise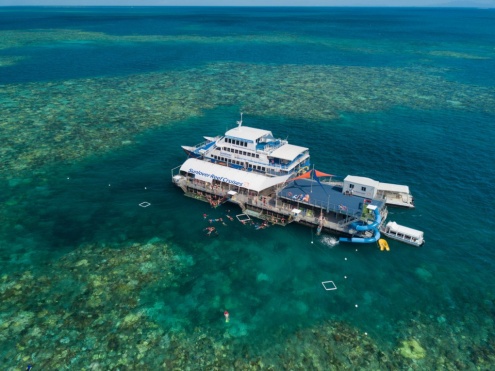 Discover the real reef as you join Sunlover Reef Cruises luxury fast, air-conditioned catamaran to our large pontoon (floating platform) located at Moore Reef, on the outer edge of the Great Barrier Reef off Cairns.
We give you approximately four to five hours to explore the outer reef from our Moore Reef pontoon, so you will have plenty of time to be amazed and inspired by the unsurpassed beauty and splendour of this underwater playground.
Great Barrier Reef Day Trip Includes: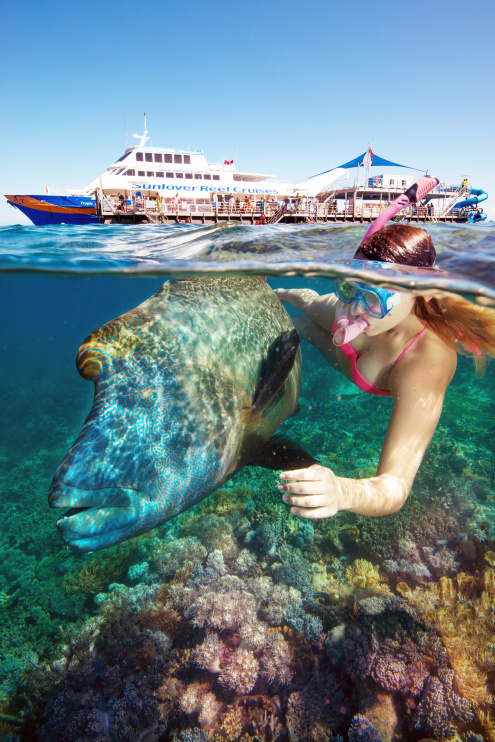 Luxury travel to the reef on-board our air-conditioned catamaran;
Informative presentation hosted by our marine naturalist;
Delicious chef-prepared buffet luncheon featuring fresh seafood, hot dishes, salads and sumptuous tropical fruits;
Guided coral viewing from our semi-submersible and glass bottom boat vessels;
On-board touch tank to experience unique marine life up close;
All snorkelling equipment;
Afternoon tea
FREE WI-FI available on board (login details will be provided once on the vessel)
Extra Activities Upgrade

Optional activities to personalise your day on the water including Certified and Introductory Diving, Seawalker® Platform Helmet Diving and Guided Snorkel Tours; Scenic Helicopter Flights are also available and may be booked onboard.
Optional Extras (Charges Apply):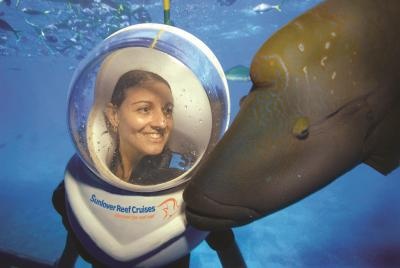 Certified Scuba Diving
Introductory Scuba Diving
Guided Snorkel Tours
Scenic Heli Flights
Transfers from accommodation in Cairns, the Northern Beaches and Port Douglas are available.
Family Rates are available for families with 2 adults and 2 children aged between 4 - 14 years inclusive.
Departure Times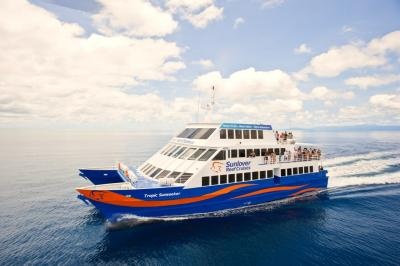 Sunlover Reef Cruises departs Cairns Marina at 9.30am and returns approximately back to Cairns at 5.30 pm.
Check-in commences at the Reef Fleet Terminal from 8:30am.
Great For all Ages!

The ultimate Great Barrier Reef experience for people of all ages with a variety of different activities including introductory and certified scuba diving, the world famous Seawalker® Platform Helmet Diving*, guided snorkel tours and deluxe helicopter scenic flights are optional activties available at the pontoon. Whether you want to get wet or stay dry, there are numerous activities available for you to enjoy. Or simply just relax, sit back and marvel at the serenity.
Before leaving the reef fish feeding will be conducted for your enjoyment from the back of the pontoon and can also be viewed from the underwater observatory.
Safe For Families

Sunlover Reef Cruises snorkeling area is fully enclosed for your safety, with rest and view stations. Small children can also enjoy the safety of an enclosed pool area. The kids can swim in a safe, enclosed environment and still get to experience the Great Barrier Reef, as fish can swim inside the enclosure.
Don't Swim? No Problem!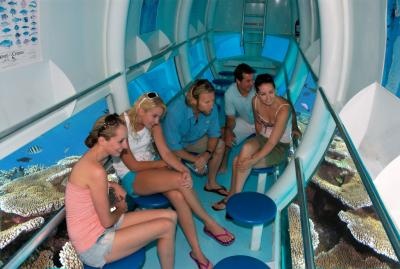 If you prefer a reef experience without getting wet, Sunlover Reef Cruises offers both the semi-submersible and glass bottom boat tours, a marine touch tank and an underwater observatory theatre to view the fish feeding. This is included in the cost of the day.
---
News By Sunlover Reef Cruises | Moore Reef Tour
Our new Moore Reef pontoon has arrived, and yes, it has a waterslide!
By Sunlover Reef Cruises | Moore Reef Tour
28 Apr 2017
Yesterday, after 18 months of planning, our old pontoon was switched out and replaced with our brand new, multi-level version with sundeck and theme park style water slide, and is now up and running! ⚓️☀️
A special thanks goes to our dedicated Ops and Engineering crew who have worked tirelessly to make this transition happen...it's almost time to crack open those celebratory beers!
No Barrier to Reef Treat
By Sunlover Reef Cruises | Moore Reef Tour
08 May 2015
Having arrived in Australia from Switzerland in 1988 as a professional aircraft spray painter, Beat Bracher affectionately known amongst friends and colleagues as "Splash", could never have dreamed that he would one day be showing visitors from all over the world the natural wonders of the Great Barrier Reef.
For the past 19 years, Beat has worked for leading reef operator, Sunlover Reef Cruises having started with the company in 1996. Since then he has provided many thousands of people with what is often for them a once in a life time experience.
He was working in the Kimberly Region of WA when he met a friend who was a paraplegic. Beat taught him how to snorkel in the local swimming pool. After this experience, Beat decided to train to become an instructor for people with a disability. He ended up taking his friend for his very first scuba dive.
Over the years, Beat has been handed many challenges as one of the companies lead dive instructors. Once he was asked if he would guide a visitor from Japan on an introductory dive. Beat recalls saying "no problem", and asking what the details of the person's condition were. The reply together with a photo of the Japanese man indicated that this guest had no limbs.
As Beat recalls, "When the guest did his swim test, he still seemed to be able to propel himself through the water using a whole body motion that needed to be seen to be believed. I still get goose bumps and emotional when I think about his determination to experience the reef as every fully able bodied person has the opportunity to experience. Having no limbs was not going to stop him"
Beat has also learned sign language and has taken many deaf people snorkelling and diving on the Great Barrier Reef.
Beat says, "I simply want to provide 110% effort and service to people of all ages and abilities so they too can experience the wonders of the Great Barrier Reef"
"Over the years, Cairns has become much more friendly to people with a disability and this extends to reef operators such as Sunlover who have vessels and pontoons with the room to accommodate wheelchairs, and staff who are experienced in providing assistance to people with a disability and require in many cases just a little assistance to enable them to enjoy their day on the reef as everyone should.
Sunlover Reef Cruises prides itself on being able to provide a variety of experiences from a permanent, stable pontoon for all ages and abilities. Having team members such as Beat who have gone further to become qualified as specialist dive instructors who can assess each person, and tailor an experience of either snorkelling or diving to ensure that person can get as much out of visiting the reef as possible.
Julie Duncan, Group General Manager says" At Sunlover we are providing wide gangways for access to the vessel, ramps to get over small bulkheads and we have a designated seating area that can accommodate a wheelchair".
Julie added that "We have an extremely able and willing crew who take great pride in showing guests from all over the world the Great Barrier Reef. If we need to lift a guest up and down stairs, then that's what we do. If we can get someone to the water's edge to try snorkelling, that's what we will do!"
In 2014, the company was approached by a blind man who wanted to dive on the Great Barrier Reef. Beat was able to gear him up, and guide him on his first ever dive.
For both men this was a very emotional moment as well as being a fantastic achievement.
---
Sunlover Reef Cruises | Moore Reef Tour Reviews
---
Sunlover Reef Cruises | Moore Reef Tour
---
Direct Contact Info
Hours: 8AM-8PM
Address:
Reef Fleet Terminal - 1 Spence Street
Cairns
Queensland 4870
Australia
---