Tusa specialise in Cairns Great Barrier Reef experiences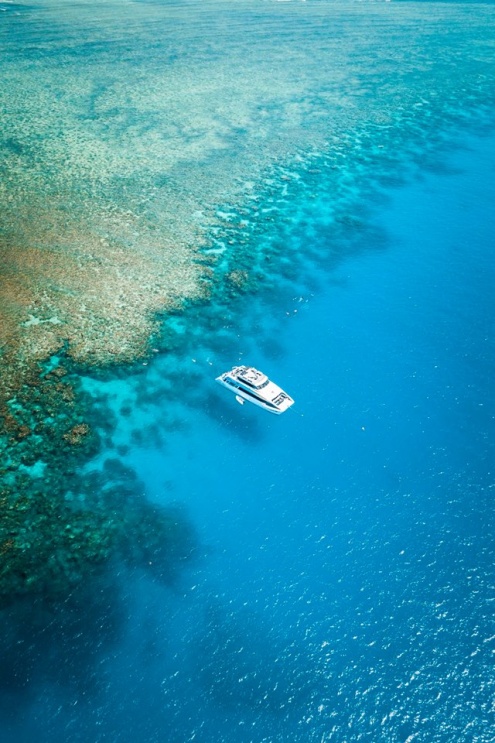 Experience the Great Barrier Reef with Tusa! With more than 30 years experience, a choice of 16 outer reef locations, modern comfortable vessels, and a friendly professional team to look after you, you are in for an exceptional Great Barrier Reef adventure with Tusa Dive. We cater to snorkellers & certified scuba divers of all experience levels.
You will cruise to the outer reef on board one of Cairns' newest reef crafts, Tusa's T6, which was custom-built for ultimate comfort and easy access to the water.
Key Features
We cater to snorkellers & certified scuba divers
Time for 3 dives in one day.
Small passenger numbers (max 60)
Tropical buffet lunch
Checkin & Departure Times
Tusa Dive Departs Cairns Daily at 8am.
Check-in at 7:40am directly on the Tusa T6 vessel on A finger at Marlin Marina.
​Instant Booking & Mobile Friendly Tickets.
Check availability & book here to secure you spot on Tusa Dive.
Bookings made are instantly confirmed.
After you complete your booking you will receive an e-mail ticket.
Pre-booking is essential. Please do not turn up without a booking.
Cairns, Palm Cove & Trinity Beach Transfers
We offer transfers from most hotels and resorts in Cairns & the Northern Beaches.
If you requre a pick-up and drop-off please have your hotel name ready whern booking
Your Day with Tusa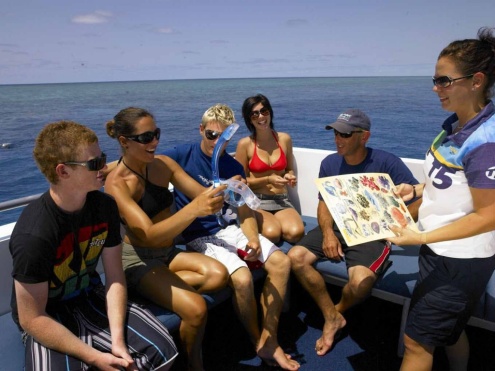 7:40am Check-in & boarding direct on Tusa vessel
8:00am departure to the outer Reef
90 minute trip to outer reefs
9:30am Spend 5 hours on the Reef
3:00pm Depart for Cairns
4.30pm Arrive back in Cairns
Passengers numbers are limited to just 60 on Tusa T6 to ensure plenty of space, and our friendly crew will ensure your day is fun, safe and memorable. Two new sites are selected each day, as being the best for the day's conditions. This provides guests with a whole new underwater adventure daily.
Your Day Includes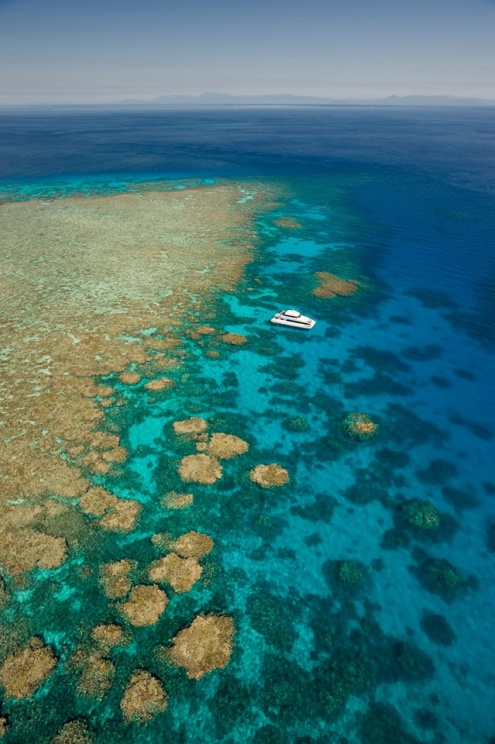 Visit 2 outer reef sites, chosen from our selection of 16 sites
Fresh, healthy and tasty buffet style lunch
Morning and afternoon tea
Tea, coffee, and milo (with soup in the winter)
Quality masks, fins and booties
Top quality scuba equipment and dive computers
Lycra suits for all in the warmer months (no charge)
5mm shortie wetsuits all year round (no charge)
Prescription mask hire
Guided snorkel tour
Reef talk and presentation
Hot fresh water showers on board
Optional Extras
Cairns hotel transfers at $15 per person
Northern Beaches hotel transfers at $20 per person
Guided dives at $10 per dive
Nitrox Fills (32%) at $15 per fill
Digital Camera Hire
Snorkelling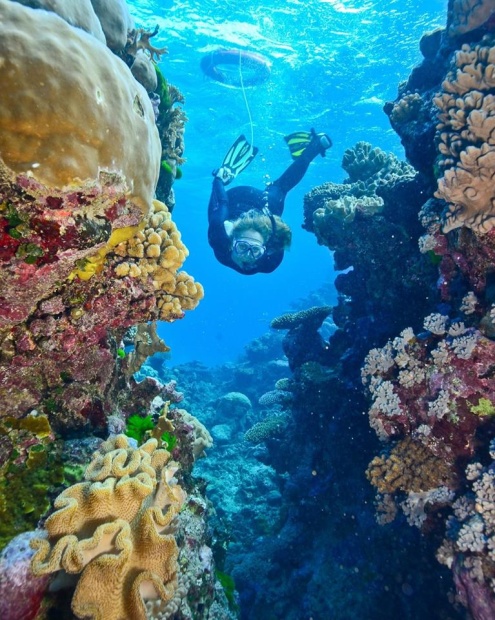 Tusa Dive have a wide variety of Outer Great Barrier Reef dive and snorkel locations for you to explore. You'll be provided with top diver quality masks and snorkels, booties and fins. Wetsuits or lycra suits (depending on the season) are provided for all, and for those who like a little extra buoyancy in the water, our 'noodles', or snorkel vests will help keep you safely above the coral.
Our dedicated snorkel guide will teach you the best snorkelling techniques for viewing the spectacular coral gardens. Enjoy the freedom of snorkelling with your buddy or join our free guided snorkelling tour. The snorkelling is straight off the back of our boat, with the reef never more than a short swim away.
Introductory Diving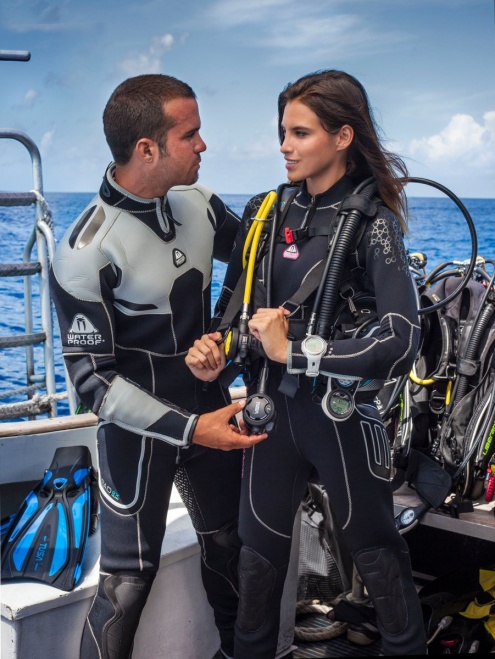 What better place in the world to discover scuba diving, than on the Great Barrier Reef! Choose 1 or 2 dives and get ready for a whole new perspective. No experience necessary with one of our experienced instructors by your side and all tuition is undertaken on board. You do however need to be at least 12 years old, and be able to pass a medical questionnaire when you board the boat in the morning.
After your briefing and once at the reef, you will be diving right off the back of the boat, at the same sites as the certified divers, to a maximum of 12 metres' depth. You will have the most experienced instructors by your side, and a maximum of three other 'intro' divers with you. You can expect your dive to last between 20 and 35 minutes, and give you a whole new perspective of the underwater world!
You'll have the opportunity to take a second dive at the day's second reef location, as well as a couple of hours between your dives for snorkelling.
Certified Diving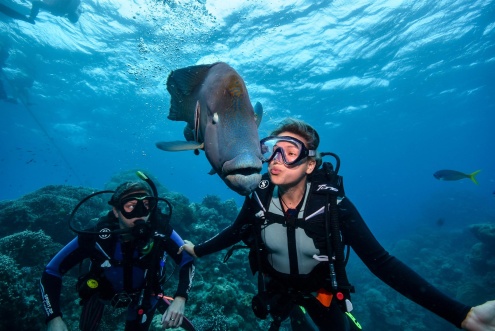 Tusa have 16 dive sites within a 50 km radius of Cairns, allowing the Skipper to choose the best two sites, for the conditions of the day. Each site you dive will be unique, allowing you to explore vast coral gardens, caverns, walls and isolated pinnacles, while amazing you with the sheer diversity and colour of marine life.
Tusa Dive offer you the freedom to dive with your buddy or join a guided dive with one of our divemasters at no extra cost! Top quality scuba equipment, including dive computers, and dive quality masks, booties and fins. Wetsuits are available in all sizes, and include 3mm full length and 5mm shorties, as well as lycra suits if preferred.
Nitrox fills at 32% are available for Nitrox certified divers at a cost of $15 per fill, when booked in advance.
You will be asked about your current medical fitness to dive. Dive recommends a minimum of 24 hours from the last dive before flying or ascending to an altitude of 300 metres or greater. Don't forget to bring your certification card.
---
Tusa Dive
7:40am boarding & 8:00am daily departure from A Finger, Marlin Wharf, Cairns
---