About Cairns Wildlife Parks & Attractions
Kuranda Wildlife Park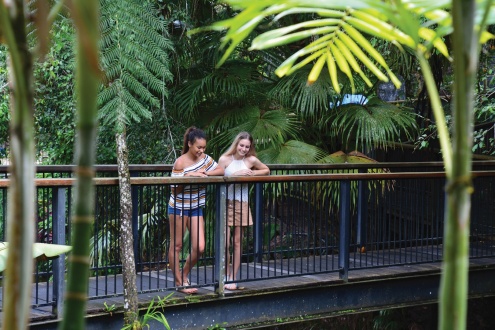 Kuranda Koala Gardens is a boutique wildlife attraction, located in the world famous Kuranda rainforest village. Situated in the Kuranda Heritage Markets, the wildlife park is home to an amazing array of Australian animals, including wallabies, wombats, quokkas, gliders and freshwater crocodiles. What we lack in size, we make up for in cuteness.
In fact, we are one of the very few places in Australia where you can hold a Koala for a souvenir photo (extra cost). For something different, you can have your photo taken with a large python, for a small additional fee. Our couples photos are very popular. The recently opened Aussie Bush Collection has a fascinating combination of marsupials and reptiles, all living in harmony together. See the Long-nosed Potoroos along with Bearded Dragons and Blue Tongue Lizards.
Kuranda Koala Gardens has the only nocturnal exhibit in our Tableland region, giving visitors the opportunity to see up close some night-loving marsupials like the Greater Bilby, Northern Bettong and the rare Mahogany Glider.
Meet Famous Australians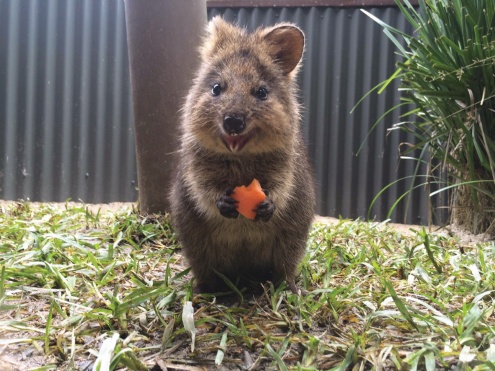 Koalas: Lots of opportunity to observe our koalas doing what they do best - eating, sleeping and looking adorable. Fossil evidence shows that koalas originally lived in rainforest environments. As Australia became drier, they adapted to eat Eucalypt leaves, which replaced much of the country's rainforests.
Freshwater Crocodiles: Another Australian native - perhaps not as endearing as the Koala but a fascinating part of the eco system, is the Freshwater Crocodile. This is one of the two Australian saurians - the other being the Saltwater Crocodile. The Saltie does not function well in the cooler climes of the mountain regions but is on display at Cairns Tropical Zoo and Hartley's Crocodile Adventures.
Kangaroos & Wallabies: Australia has a large variety of these macropods and you will see swamp wallabies, parma wallabies, eastern grey kangaroos and red legged pademelons amongst others.
Snakes: Australia is home to many snakes, both deadly and harmless. Enjoy a unique 'up close' experience with pythons when you enter their domain in Australia's first 'Walk Through Snake House'.
Wombats: This quaint marsupial is an Australian favourite. They are often playful and quick to learn. However, as they sleep quite a lot, their intelligence is often underestimated! They lay claim to being the world's largest burrowing animal and can dig up to two metres of burrow in one night.
Lizards, Monitors and other Reptiles: Australia is home to an amazing selection of reptiles and there are lots on display. See Dragons and Monitors with their long forked tongues, and much more. Many of these creatures have great camouflage techniques - see what you can spot in their enclosure!
---
Cairns Wildlife Parks & Attractions Reviews
---
Cairns Wildlife Parks & Attractions
Kuranda Koala Gardens is open 10am – 3pm daily, at the Kuranda Heritage Markets.
---