About Cairns Wildlife Parks & Attractions
Welcome to Cairns
Welcome to Cairns, an unrivaled destination for wildlife enthusiasts! Immerse yourself in a world of captivating wildlife parks and attractions that showcase Australia's unique biodiversity. Nestled on the edge of two UNESCO World Heritage sites—the ancient Daintree Rainforest and the iconic Great Barrier Reef—Cairns offers an extraordinary opportunity to encounter a diverse range of wildlife like nowhere else
Meet Famous Australians
Koalas: Lots of opportunity to observe our koalas doing what they do best - eating, sleeping and looking adorable. Fossil evidence shows that koalas originally lived in rainforest environments. As Australia became drier, they adapted to eat Eucalypt leaves, which replaced much of the country's rainforests.
Freshwater Crocodiles: Another Australian native - perhaps not as endearing as the Koala but a fascinating part of the eco system, is the Freshwater Crocodile. This is one of the two Australian saurians - the other being the Saltwater Crocodile. The Saltie does not function well in the cooler climes of the mountain regions but is on display at Cairns Tropical Zoo and Hartley's Crocodile Adventures.
Kangaroos & Wallabies: Australia has a large variety of these macropods and you will see swamp wallabies, parma wallabies, eastern grey kangaroos and red legged pademelons amongst others.
Snakes: Australia is home to many snakes, both deadly and harmless. Enjoy a unique 'up close' experience with pythons when you enter their domain in Australia's first 'Walk Through Snake House'.
Wombats: This quaint marsupial is an Australian favourite. They are often playful and quick to learn. However, as they sleep quite a lot, their intelligence is often underestimated! They lay claim to being the world's largest burrowing animal and can dig up to two metres of burrow in one night.
Lizards, Monitors and other Reptiles: Australia is home to an amazing selection of reptiles and there are lots on display. See Dragons and Monitors with their long forked tongues, and much more. Many of these creatures have great camouflage techniques - see what you can spot in their enclosure!
Wildlife Parks & Attractions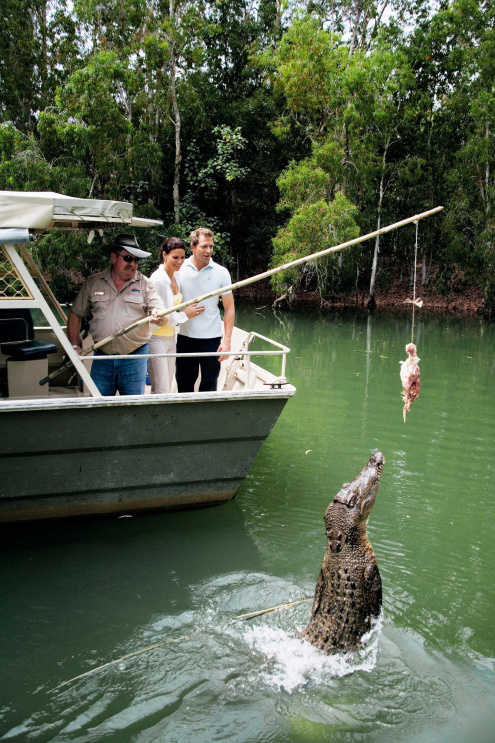 Cairns Wildlife Dome
Interact with diverse animals and enjoy panoramic views of Cairns at this all-weather wildlife exhibit atop the Reef Hotel Casino. Encounter reptiles, hand-feed kangaroos, and brave a challenge ropes course above a 4-meter saltwater crocodile.
Location: Reef Hotel Casino, 35-41 Wharf St, Cairns City QLD 4870, Australia
Opening Times: Daily, 9:00 AM - 5:00 PM
Hartley's Crocodile Adventure Park
Experience an innovative approach to wildlife viewing through elevated timber boardwalks and captivating presentations. Witness up close crocodile shows, snake encounters, and koala feeding, and learn about North Queensland's unique wetland wildlife.
Location: Captain Cook Highway, Wangetti QLD 4877, Australia
Opening Times: Daily, 8:30 AM - 5:00 PM
Cairns Aquarium
Immerse yourself in the wonders of North Queensland's ecosystems, journeying through ten stunning habitats and encountering over 15,000 aquatic animals without leaving the city. Follow the captivating journey of a raindrop from mountain ranges to the depths of the Coral Sea, while enjoying informative habitat talks, mesmerizing animal feeds, and the opportunity to interact with touch tanks.
Location: 5 Florence St, Cairns City QLD 4870, Australia
Opening Times: Daily, 10:00 AM - 3:00 PM
Port Douglas Wildlife Habitat
Explore diverse ecosystems and meet iconic Australian animals such as kangaroos, koalas, crocodiles, and birds. Discover the unique flora and fauna of Tropical North Queensland, and enjoy interactive wildlife presentations and close encounters.
Location: Port Douglas Rd, Port Douglas QLD 4877, Australia
Opening Times: Daily, 8:00 AM - 4:00 PM
Kuranda Wildlife Attractions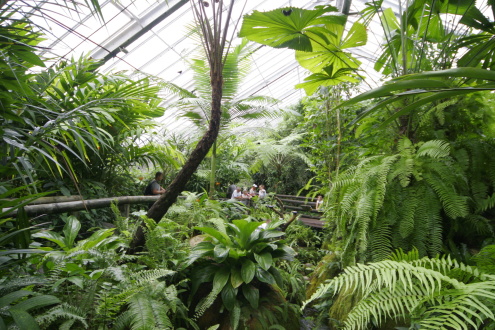 Kuranda Koala Gardens
Get up close to cuddly koalas, freshwater crocodiles, and a variety of native wildlife while exploring Kuranda's history in this enchanting sanctuary. Explore Australia's first walk-through snake house, discover the history of Kuranda through a pioneering family's perspective, and marvel at the wide range of wallabies and wombats, providing a comprehensive wildlife encounter.
Location: 2-4 Rob Veivers Dr, Kuranda QLD 4881, Australia
Opening Times: Daily, 10:00 AM - 4:00 PM
Birdworld Kuranda
Marvel at over 45 species of native and international birds in Australia's largest free-flying bird aviary. Hand-feed colorful native birds, and learn about rainforest conservation.
Location: Heritage Markets, Rob Veivers Dr, Kuranda QLD 4881, Australia
Opening Times: Daily, 10:00 AM - 4:00 PM
Australian Butterfly Sanctuary
Experience the magic of hundreds of brilliantly colored butterflies in a lush enclosure, including the iconic Ulysses butterfly and one of the largest butterflies in Australia, the Cairns Birdwing butterfly. Discover the life cycle and behavior of these delicate creatures, and enjoy the opportunity to entice them to land on you.
Location: 8 Rob Veivers Dr, Kuranda QLD 4881, Australia
Opening Times: Daily, 9:30 AM - 3:30 PM

Kuranda Riverboat Cruise
Take a scenic 45 minute riverboat cruise along the Barron River in Kuranda. Enjoy the natural beauty of the rainforest and spot wildlife, including turtles, fish, and colorful birds. Learn about the ecosystem and cultural significance of the river on this leisurely journey.
Location: Barron River, Kuranda QLD 4881, Australia
Cruise Times:
10:45 AM - 11:30 AM
11:45 AM - 12:30 PM
12:30 PM - 1:15 PM
1:30 PM - 2:15 PM
2:30 PM - 3:15 PM
---
Cairns Wildlife Parks & Attractions Reviews
---
Cairns Wildlife Parks & Attractions
Kuranda Koala Gardens is open 10am – 3pm daily, at the Kuranda Heritage Markets.
---