About Dunk Island Transfers from Mission Beach
Dunk Island Round-Trip Water Taxi Transfer from Mission Beach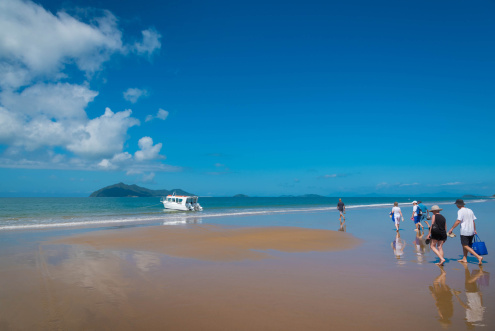 Book a round-trip transfer by water taxi to visit Dunk Island from Mission Beach. When you arrive on Dunk Island, located between Townsville and Cairns, you are free to enjoy it however you wish at your leisure; perhaps explore the rainforest walking tracks, go snorkeling or fishing, or just find your own slice of paradise and relax.
The water taxi ride is just 10 minutes each way by fully enclosed 33-foot (10-meter) vessel, which whisks you across the azure waters of the Coral Sea. When booking, select from three options to suit your preferences for departure time and amount of time on the island.
What makes it Great:
Choose a round-trip ticket for the morning, afternoon, or full day
Enjoy free time on Dunk Island for snorkeling, fishing, hiking or relaxing
Swim or snorkel in the Coral Sea
Inclusions
Round-trip ferry ticket from Mission Beach to Dunk Island
National Park fees
Departure times & locations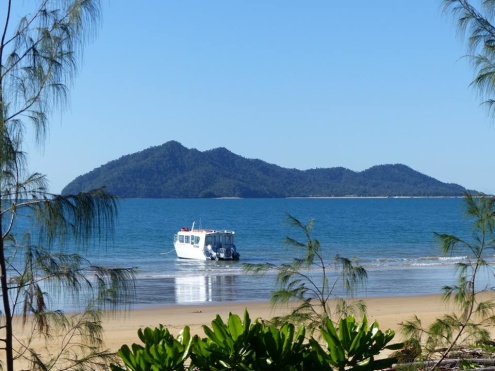 Meeting Point: 71 Banfield Parade, Wongaling Beach. Please arrive 15 minutes prior to departure at our beachfront office for check in and island information. Tours depart at 9.00am & 11:00am.
Return Details: Returns to original departure point at 12.00pm & 3.30pm
Your day at a glance:
The Mission Beach Dunk Island Water Taxi departs from the beachfront, where you'll walk through knee-high water to board the Island Spirit. After a 10-minute boat ride, arrive at the Dunk Island jetty.
On the island, you have the morning, afternoon, or full day to explore and relax at your leisure, depending on option selected when booking. Dunk Island is home to walking tracks, natural scenery, snorkeling facilities, and the Sunset Bar, which is open Fridays, Saturdays, Sundays, long weekends, and all school holidays from 10am onward, providing a place to have a bite to eat and a cold drink with the sand between your toes (food, drinks, and any activities are at your own expense).
Choose from three different walks, if you wish: a short walk to snorkel at Muggy Muggy Beach, a 2-hour round-trip journey to the top of Mt Kootaloo with views down to the family group of islands and back to Mission Beach, or continue on the Island Circuit Track for about 5.5 miles (9 km) to check out the Valley of the Palms and Coconut Beach.
When your time on the island is up, board the ferry for the quick trip back to the mainland, where the crew will hose the sand off your feet before saying goodbye.
Dunk Island Walks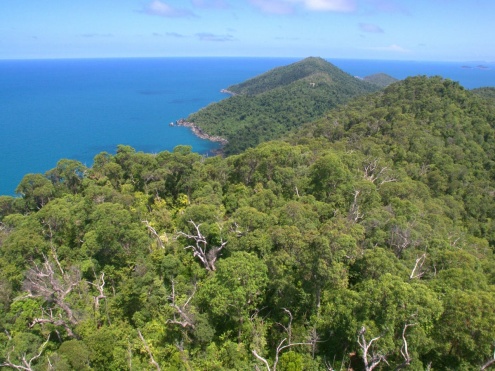 Muggy Muggy Beach
Approx. 3 km return (40 mins)
Grade: Easy​
From the spit, walk to the north-east end of the beach to the start of the walking tracks. This pleasant walk winds through rainforest, coastal woodland, and mangroves before arriving at Muggy Muggy Beach. At this picturesque sandy cove, sheltered behind a rainforest clad headland, enjoy a swim and snorkel before returning along the same track. Access to this walking track may be affected by tidal influences at certain times.
Mt Kootaloo
Approx. 7 km return (2 hrs)
Grade: Moderate
From the spit, walk to the north-east end of the beach to the start of the walking tracks. This more strenuous walk winds up a steep track to the 271 m summit. Cyclone-damaged rainforest on the lower slopes allows glimpses over the island and reefs as the track ascends. On the upper slopes, the forest opens out and eucalypts emerge through the canopy. Near the summit, a short branching track leads to a lookout, which offers spectacular views over the Family Islands and nearby mainland. Near the lookout, the remains of No. 27 Radar Station, built during World War II, are slowly being reclaimed by the rainforest. The track continues around the summit, rejoining the main track and returning to the beach. Access to this walking track may be affected by tidal influences at certain times.
Dunk Island Circuit Track
Approx. 9.2 km (3.5-4 hrs)
Grade: Moderate
From the spit, walk to the north-east end of the beach to the start of the walking tracks. Mt Kootaloo, you'll pass through the magical Palm Valley and then onto Coconut Beach. Not for the faint hearted, this challenging walk will introduce you to Dunk Island's lush green rainforest where you are likely to encounter the many different species of birdlife.
The islands support many species of birds, insects, reptiles and mammals. The brilliant blue Ulysses butterfly has become a symbol for Dunk Island. The fringing reefs surrounding each of the islands are home to a diversity of reef life. Extensive seagrass beds lie between the islands providing important feeding grounds for sea turtles and dugong.
Family Acitivites Ideas​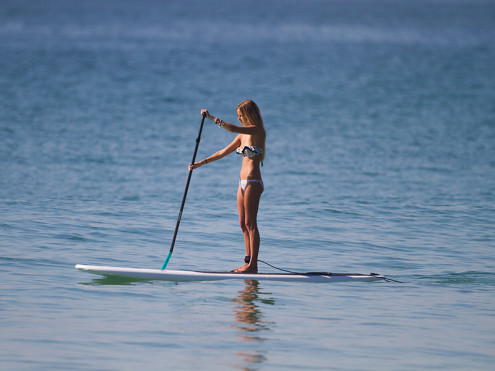 Build a sand castle.
Find a bird eating spider on the walks.
Take an esky with a BBQ and beers – we have a beach cricket set and soccer ball to borrow.
Snorkel at Muggy Muggy Beach.
Sit and eat oysters off of the rocks on Coconut Beach.
Continue on the circuit track and duck into Coconut Beach before returning to the spit.
Take some fishing gear and catch a big one.
Crack a coconut - PINA COLADAS!
Overnight camp on Dunk Island.
Relax and enjoy the quiet serenity and watch out for turtles and dugong.
Additional Info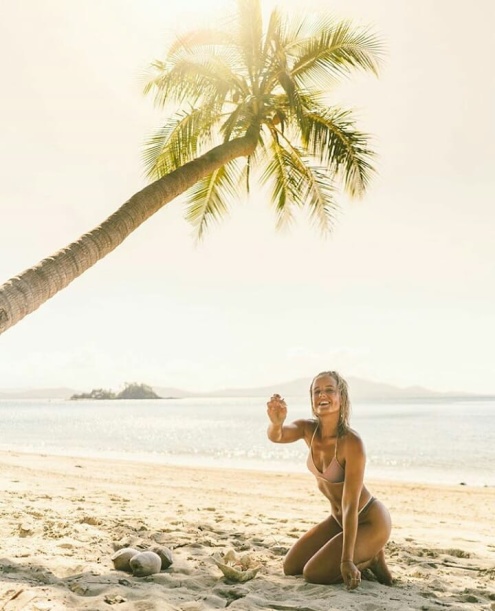 Please note: to access the water taxi, you must walk through knee-high water in order to board
You'll enter the water taxi via two steps up onto the rear walkway with large hand rails
This tour is not recommended for people with limited mobility: you must be able to step on and off the vessel
What to bring
Comfortable shoes
Swimwear
Feel free to bring a snack or drinks etc.
Instant Booking & Mobile Friendly Tickets
Check availability & book here to secure you spot on Dunk Island Round-Trip Water Taxi Transfer from Mission Beach. Pre-booking is essential. Please do not turn up on the day without a booking.
If you require hotel transfers please have your hotel name ready when booking so we can send you a pick-up time with your confirmation.
About Mission Beach Dunk Island Water Taxi
Having been in operation since 1975, the Mission Beach Dunk Island Water Taxi offers transfers daily to one of Australia's most beautiful tropical island destinations, Dunk Island. Simply a short 10 minute ride in their fully enclosed 10 metre vessel, over the azure blue waters of the Coral Sea and you can sink your feet into the sand and enjoy this remarkable island for the day. The day trip is all made easier by the great team at the Mission Beach Water Taxi who are friendly and always ready to help out.
---
News By Dunk Island Transfers from Mission Beach
Dunk Island Transfers is now Live on the Tourism Town Marketplace!
By Dunk Island Transfers from Mission Beach
21 Dec 2018
Check availability book instantly on the Tourism Town Marketplace: https://www.tourismtown.com/stores/cassowary-coast/travel-transfers.12/dunk-island-transfers.2217/
Get to Dunk Island in comfort in the custom designed 10 metre long vessel with seating for up 24 passengers. Dunk Island's lush rainforest, dense flora and fauna offers a variety of wildlife, the blue Ulysses butterfly, mammals and about 150 species of birds, including rare and vulnerable seabirds.
The spectacular island also offers a large variety of marine life in the reefs, including crabs, shellfish, sea turtles, fish, dugongs and colourful corals.
---
Dunk Island Transfers from Mission Beach Reviews
---
Dunk Island Transfers from Mission Beach
Meeting Point: 71 Banfield Parade, Wongaling Beach. Please arrive 15 minutes prior to departure at our beachfront office for check in and island information. Tours depart at 9.00am & 11:00am. Return Details: Returns to original departure point at 12.00pm & 3.30pm
---