About Bat House Cape Tribulation
OPEN 10.30am - 3.30pm Daily!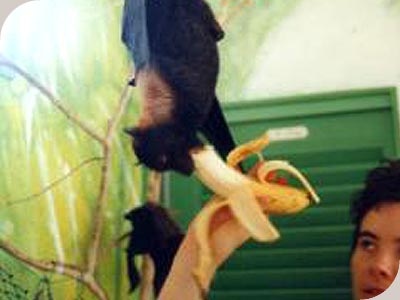 Many visitors to Cape Tribulation will leave shaking their heads in amazement after having met one of the more fascinating inhabitants of the rainforest - a flying fox. As rainforest ambassadors, they are unrivalled - friendly, intelligent and definitely with personality plus. They are great show-stoppers and crowd pleasers, and great for getting visitors to start asking questions about the rainforests (as well as losing their fear of bats).
Orphanage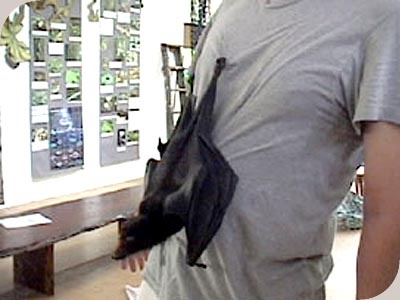 The Bat House is so named because there is always a flying fox in attendance. These primates are mostly orphans, which for one reason or another have been in captivity too long to be allowed to enter the wild, which must usually occur no later than 6 months after birth.
Proceeds fund research activities in Cape Tribulation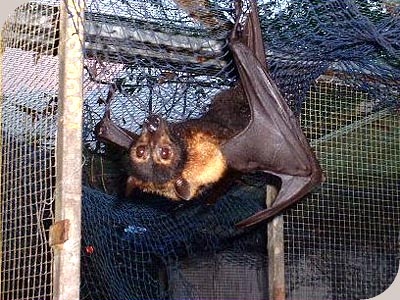 Entrance to the Bat House is by a $5.00 (AU) donation (cheaper than a beer and a lot more interesting!). Proceeds from the Bat House fund the research activities of the Cape Tribulation Tropical Research Station, feed the resident fox colony and help the yearly rescue of spectacled flying foxes, orphaned through tick paralysis, in areas of the Atherton Tableland to the west of Cairns. We also sell books, T-shirts, batty stuff and local memorabilia. All Bat House staff are volunteers.
Regional Tourist Information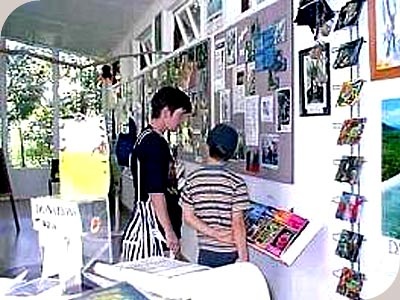 Besides giving visitors the opportunity to meet a flying fox, the Bat House provides environmental and tourist information on the region, and the research activities of the Station are highlighted.
Re-vegetation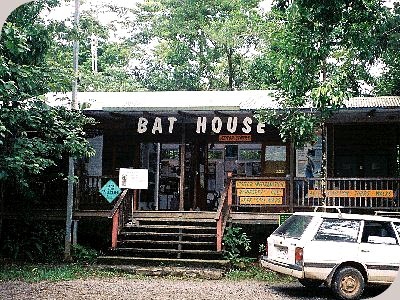 Prior to the Bat House being built in 1991, the land around it had been cleared for grazing and orchards by previous owners. An intensive re-vegetation and replanting effort was put in place and the land is vastly recovered.
Eco Friendly building
The building is a passive solar design, and operating power is provided by a bank of solar collectors on the roof. The toilets are compost systems (Maxi-Rotaloo), which get fairly heavy use as public toilets (no breakdowns) are non-odiferous and use no water.
---
News By Bat House Cape Tribulation
Bat House Open Again
By Bat House Cape Tribulation
27 Sep 2011
Visit the Bat House in Cape Tribulation and meet the Flying Foxes in attendance!
Open Tuesday - Sunday, 10.30am to 3.30pm.
The Bat House was closed for several weeks while Hugh and his team have been working on regeneration and weed control in the Daintree Rainforest. They completed about 2 1/2ha of regen planting have removed a number of very severe infestations of Arrow Vine and Singapore Daisy!
We appreciate their hard work in making Cape Tribulation as beautiful and weed free as possible.
Stinging Trees - and a NEW Treatment for stings
By Bat House Cape Tribulation
06 Jun 2011
Stinging trees (Gympie-Gympie) are the bane of people in the Australian tropical and sub-tropical coastal areas - especially after disturbances such as cyclones, which trigger the germination of seeds. It becomes quite an issue when children wander into small plants - and are really badly stung.There are four common types of Australian stinging trees. Two are large rainforest trees growing up to 30 to 35 m. The other two are really little more than bushes growing up to 3 or 4m tall but often seen as a shrub 0.1 to 1m tall. The sting inflicted by the smaller species are by far the most painful. The poison from the smaller species is the most virulent and because of their size people are more likely to blunder into them. All four are closely related and belong to the same family as the common stinging nettles.(Urticaceae). In Australia the common native nettle is Urtica inscisa.More online at http://austrop.org.au/content/new-stinging-tree-treatment
---
Bat House Cape Tribulation
---