About Shaolin Port Douglas
UNIQUE, VINTAGE TIMBER JUNK BOAT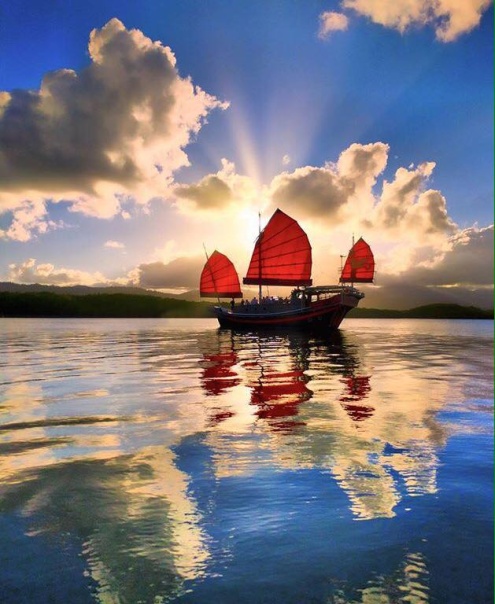 Experience a harbour cruise like no other, on the authentic sailing Junk boat 'Shaolin', learn the intriguing history of this unique and rare vessel as she takes you on a journey through the Cairns harbour, Trinity bay and wetland waterways.
Enjoy stunning views of the rainforest clad mountains and mangrove habitat while you relax on the teak deck or inside the comfortable saloon area.
The local Captain delivers informative commentary from the saloon seating or relax on the teak deck and soak up the tropical ambiance.
Included in your Junk cruise is a complimentary beverage and Yum Cha snacks, its a must do experience!
Pricing
Price $50 per seat
Children discounted to $30 on the 2:30pm tour
Tours 90 mins small groups (24 max)
Departure times
TOUR DETAILS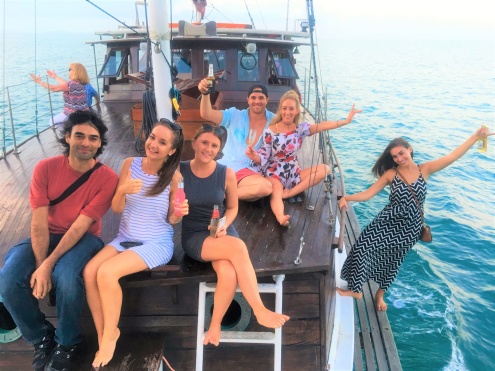 5:00pm Enchanting Sunset sail- The Shaolin's Iconic sunset sail is truly magical, enjoy the romance of sailing into the tropical sunset with views of the mountain ranges and local islands the perfect way to complete a day in North Queensland.
Boarding Time: Is 15 mins prior to departure times, from Berth 23 Crystalbrook Superyacht Marina 44, Wharf Street Port Douglas
Inclusions on all tours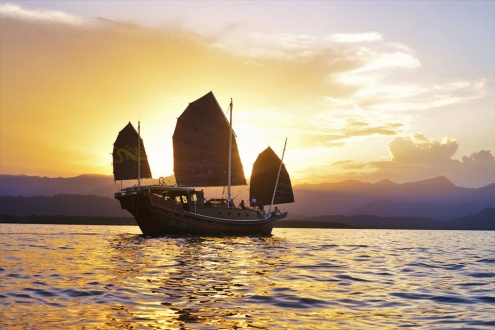 Welcome drink on arrival your choice of Alcoholic -Great Northern Beer, White wine and Bubbles. Non Alcoholic- Soft drinks, Bottled water, Juice. A second beverage is available for purchase for $7
Yum Cha type snacks, spring rolls, curry puffs and fortune cookies. Menu subject to change in summer months, alternative menu individual serves of cheese and crackers or mixed nuts.
Seating in covered saloon area and on the deck for up to 24 guests.
What to bring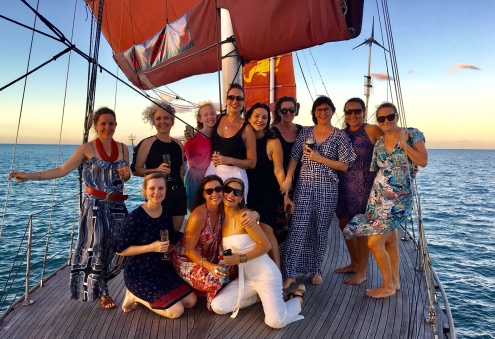 Shoes Suitable for boats, sturdy no heels.
Sunglasses, Hat, camera. and smile
EFTPOS facilities on board for payment and further purchases.
Sunset Sail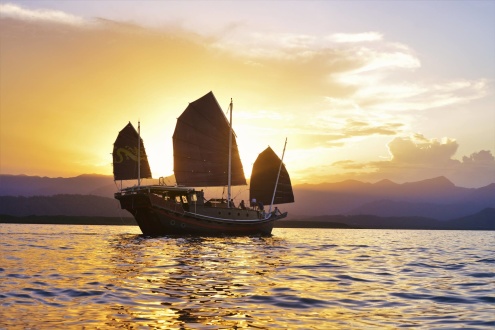 Join us on an amazing and unique Sunset Sail, departing daily from the Crystalbrook Superyacht Marina located right in the centre of Port Douglas. Shaolin will capture you with her beauty, charm and history as you relax and take in the spectacular scenic views of the local mountains, islands and coastline.
Receive complimentary canapé's and a beverage, then you have the option to purchase more on board. Our captain will provide an entertaining and informative, casual style commentary as you sail along the waterfront and out into the Coral Sea. This is a Sunset Sail you will never forget.
FROM $50 PER PERSON
---
News By Shaolin Port Douglas
CHINESE JUNK 'SHAOLIN' RETURNS HOME TO PORT DOUGLAS
By Shaolin Port Douglas
11 Apr 2019
A familiar set of sails has returned to the waters of the Crystalbrook Superyacht Marina with Chinese Junk 'Shaolin' returning home to Port Douglas.
The vintage timber ship has been docked in Cairns for the last 12 months but has today returned home under new stewardship.
Kate Agrums, sister to Flynn Bickford and now joint owner of the ship, said she is thrilled to have the Shaolin operating from Port Douglas again.
"Today is the start of our new partnership," Ms Agrums said.
"The Shaolin is one of the original Low Isles snorkelling boats and funnily enough, she was where I had my first job; when I was 16 worked on her in the school holidays."



Ms Agrums has owned and run the historic Lady Douglas, sister-ship to Shaolin, for the last five years with her husband Lucas.



Shaolin, along with Lady Douglas, has been ferrying locals and visitors over the pristine waters of the Far North for over 30 years.



Ms Agrums said it's great to bring the Shaolin home and hinted at exciting new projects for the ship in the future.
"I'm really excited, she is going to work really well alongside Lady Douglas, and I think people will put them in the same historical category because both have a lot of history and charm and have both been around a long time."



Mr Bickford said he is looking forward to working with his sister in their home town.



"It's great to welcome Kate to the crew and we can't wait to see all our old favourite guests back again; it's great to be back."
So we are back after a extended refit !
By Shaolin Port Douglas
22 Oct 2018
The Shaolin is shining ! With new engine and paint we can't wait to have you all aboard again. Lookout for us along the Cairns Harbour at sunset,

Locals prices $45 pp including complimentary beverage and snacks so put yourself here Cairns's only sunset sail.
---
Shaolin Port Douglas Reviews
---
Shaolin Port Douglas
Crystalbrook Superyacht Marina located right in the centre of Port Douglas
---
Direct Contact Info
Hours: 7 days a week 6am till 10pm
Address:
44 Wharf street
The Crystalbrook Superyacht Marina
Port Douglas
QLD 4877
Australia
---