About Harrisons by Spencer Patrick
Harrisons by Spencer Patrick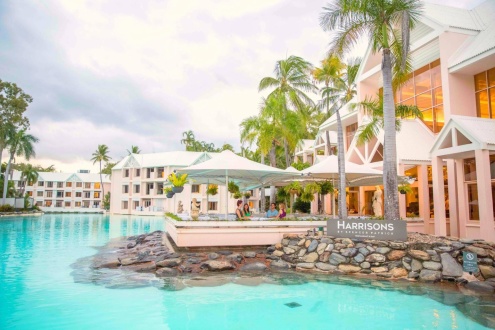 Started in 2007, Harrisons has been an award winning institution of good food in Port Dougla‍‍‍s for the past ten years. Now relaunched at the Sheraton Grand Mirage Resort, come and rediscover, Harrisons‍‍‍
Harrisons by Spencer Patrick has found it's new home at the newly refurbished, Sheraton Grand Mirage Resort. The restaurant has been restored to an elegant dining room with l‍‍‍ush carpets underfoot and orignical historic chandeliers over head.
The cocktail bar and lounge are the first areas to visit with a team of expert bar staff on hand to make your pre meal beverage a success. The restaurant's interior seats up to 116 guests in air-conditioned comfort, while it's iconic undercover Terrace seats up to 60.
Harrisons by Spencer Patrick is one of Port Douglas' only air conditioned spaces with lunch and dinner available daily from 12 pm with guests welcome for drinks, nibbles or just dessert at either of these times.
As an event space, Harrisons by Spencer Patrick offers numerous indoor/outdoor configurations from a semi private indoor table of 20 guests, 60 guests on the terrace or inside dining space and a total seated venue capacity of 176 guests.
Function Venue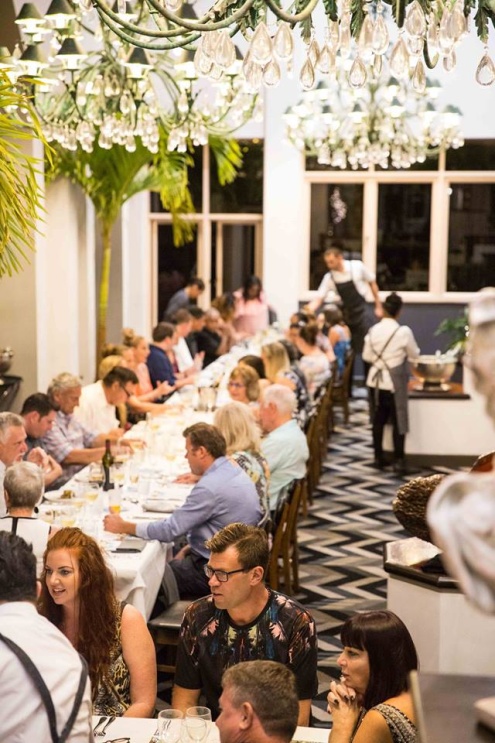 Stunning unique surrounds, award winning product and a personal, professional touch‍‍‍‍‍‍.
Harrisons is located within the Sheraton Grand Mirage Resort in a independent restaurant space that can cater for up to 300 guests in a standing cocktail scenario. The venue is divided into an interior split level lounge and dining space that is fully air conditioned and an outdoor covered Terrace.
The Terrace can seat up to 60 guests and makes a perfect private space for a group that can accommodate the remainder of the venue being open to the public.
Inside in the dining area, we can accommodate 62 guests across 6 tables or 48 guests on one long table. In the lounge area we can offer restaurant seating for up to 40 guests or cocktail style for 60 guests.
The entire venue can accommodate 176 seated or 300 standing guests utilising all areas in a sole use scenario.
---
News By Harrisons by Spencer Patrick
Thrilled to be included in today's "Queensland on a plate" feature in QWeekend (The Courier-Mail).
By Harrisons by Spencer Patrick
31 Jul 2018
10 chefs across the state were asked to reveal their quintessential Queensland menu.
Spencer's menu features, Cobia gravadlax, paperbark baked Snapper and coconut and pineapple crumble.
"...Tropical North Queensland has a unique food culture that can't be experienced or replicated anywhere in the world, and that's what makes it amazing."
Thank you @anooskate for the inclusion.
#harrisonsbyspencerpatrick

Sheraton Grand Mirage Resort, Port Douglas | Visit Port Douglas & Daintree| Australia
---
Harrisons by Spencer Patrick Reviews
---
Events By Harrisons by Spencer Patrick
Chefs in Paradise 2019 Dinner Series
30 Aug 2019 18:30:00 - 30 Aug 2019 23:00:00
Port Douglas' favourite dinner series is back in 2019! Harrisons by Spencer Patrick and the Sheraton Grand Mirage Resort present 12 chefs at 6 dinners over 6 months at 1 fabulous location!
---
Harrisons by Spencer Patrick
Sheraton Grand Mirage Resort Port Douglas Road, Port Douglas QLD 4877
---
Direct Contact Info
Hours: 7 days, 12:00 PM - 12:00 AM
Address:
Sheraton Grand Mirage Port Douglas Port Douglas
---