About Calypso Snorkel & Dive
Opal Reef - Calypso Snorkelling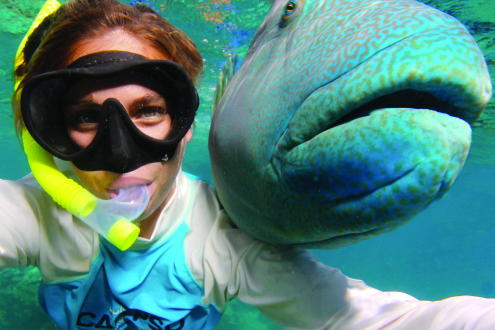 Enjoy the peace and serenity of the Great Barrier Reef with Calypso Snorkel, a dedicated snorkelling vessel departing Port Douglas daily.
Snorkelling on the Great Barrier Reef is one of the most incredible experiences a person can enjoy. With much of the reef's colour and marine life visible within a couple of metres of the water's surface, snorkelling offers all swimmers, regardless of their skill level, the opportunity to see this diverse eco-system up close.
Float effortlessly over rich, colourful coral gardens teeming with life from the cute and playful clownfish to the graceful beauty of the green turtle. Giant clams, stingrays, maori wrasse, cods and colourful parrotfish, are just some of the hundreds of species you will encounter during your visit to Opal Reef with Calypso.
This 21-metre vessel offers comfortable day bed style seating, spacious decks and professional experienced crew ensuring a unique and personalised Great Barrier Reef experience for every guest.
For more information please visit our Calypso Reef Cruises website.
Please note: On days with low passenger numbers or unsuitable weather conditions, it may be necessary to move people between Agincourt and Opal Reefs. On the rare occasions that this occurs we will pick the tour and locations that will provide the best possible outer reef experience. It may not be possible to provide notice prior to travelling.
COST: Adult $255.50, Child $185.50 (4-14yrs) (includes $6.50 Environmental Management Charge)
Visiting 3 sites daily, leaving from the Reef Marina, Port Douglas.
Departs 8.45 am
Returns 4.15 pm
Your day at Opal Reef includes: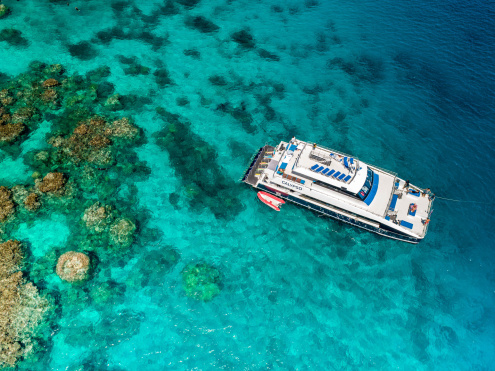 All snorkelling equipment including lycra suits, wetsuits, prescription masks and flotation devices. Diving is additional and can include or exclude gear hire
Guided snorkel tours & an interpretive reef talk
Morning tea, lunch and afternoon tea
Tea, coffee and filtered water are available all day
Wide stern decks and submersible platforms provide easy access for getting in and out of the water
All seating, inside and out, is upholstered for your comfort
Four toilets onboard, each containing a fresh water shower
---
News By Calypso Snorkel & Dive
Spotlight on Bash
By Calypso Snorkel & Dive
20 Apr 2018
Location: Bash is on Opal Reef, accessed from Port Douglas
Maximum Depth: 18m
Visibility: 15m
Highlights: Boulder coral gardens are the dominant feature of Bash which is short for Bashful Bommie. Recently turtles were seen eating moon jellies which are like jelly beans to them! Epaulette sharks frequent this site and frigate birds are regularly seen flying overhead.
Health: Some staghorn coral was affected by the 2016 bleaching event, but it is growing back as can been seen from the picture. The lower water temperatures during the past summer have given the corals a further reprieve which is helping them rejuvenate.
---
Calypso Snorkel & Dive Reviews
---