About Cape Trib Horse Rides
THE ONLY BEACH HORSE RIDE IN CAPE TRIBULATION

Cape Tribulation Horse rides have the distinction of being the longest tour operator in Cape Tribulation.
Cape Trib Horse Rides is by far the best way to explore the unique environment in Cape Tribulation, Australia. Experience the unique meeting of the the Daintree Rainforest, The Great Barrier Reef and Myall Beach.
Cape Tribulation is one of the very few places in the world where you still have the opportunity to safely canter your horse along the pristine ocean's edge of the beach. We will take the horses in the sea on most days depending on the weather conditions. This gives our horses the opportunity to cool off in the tropical heat.
Horse riding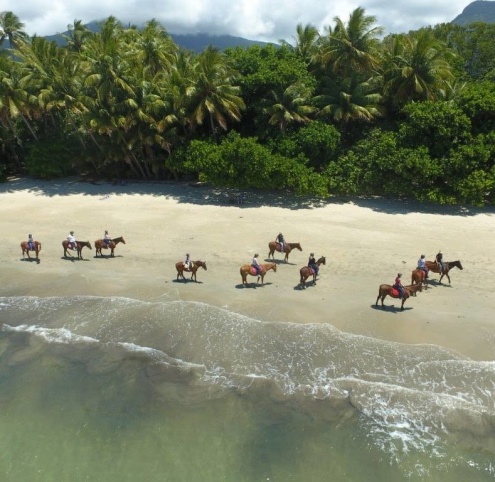 As you leisurely ride, sit back and enjoy the beautiful views. We will pass through luscious paddocks and along winding river beds until we reach the spectacular Myall Beach (rated one of the best 100 views in Australia and listed on 101 best beaches).
It is truly a magnificent horse ride, but don't take our word of it, book a ride today.
The horse riding tour caters for all types of riders and levels, though for the extreme horse rider be advised this is a trail ride with the appropriate insurances in place and an establishment that must conform to the rules laid out.
More experienced riders can obviously go faster and get to canter their horse.
The more beginner may want to walk or try a little trot.
Generally we like to get horse's and customers in the ocean , and in quite a few instances we have been asked about crocodile and stinger concerns, so to clear up any concerns, here is a brief summary.
Firstly staff are not to take horse's into the ocean unless they have clear visibility in the water.
Secondly there is protection from a reef that shelters us from the elements of nature, making it quite safe to enter ocean on horse back.
Starting from the stable with our friendly guide's customers will wind their way through the oldest rain forest in the world and be pleasantly surprised by the beauty of Myall beach.
Tour times : 8.00 am and 11.00 am
Before you enter the ocean we take the opportunity to get some great photos of customers in this relaxed environment.
We encourage riders to get the most of the 2 hour experience as it encompasses both rainforest, beach and open paddock, with a Jurassic park feel to the experience.
All equipment is supplied; Approved helmets, rain jackets, saddle bags with water bottle holders, dry bags for equipment, and a selection of rubber shoes.
All equipment is to Australian government codes of standard.
Prices: $110.00 per adult from 14 years of age and up.
---
News By Cape Trib Horse Rides
Summer is here
By Cape Trib Horse Rides
18 Dec 2017
Sunrise and so it begins , another day in paradise! Where two world's meet come on take the ride!
---
Cape Trib Horse Rides Reviews
---
Cape Trib Horse Rides
3831 Cape Tribulation Rd, Cape Tribulation, QLD 4873
---
Direct Contact Info
Hours: 8:00AM - 5:00PM
Address:
3831 Cape Tribulation Rd,
Cape Tribulation,
QLD 4873
---