About Wavelength Reef Cruises
Small group Reef Snorkel Tour owned & operated by local marine biologists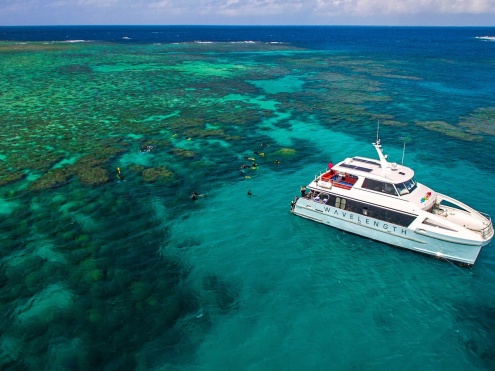 Wavelength provides small personalised snorkelling tours to the Great Barrier Reef with no more than 48 passengers. On average, many other Great Barrier Reef tour operators take group sizes of 85 passengers or more to the reef on one boat, and some of the larger boats that travel to reef pontoons can take as many as 400 passengers.
We have 16 exclusive use moorings on the Great Barrier Reef which have been selected by us exclusively for the requirements of snorkellers. There are normally no other vessels nearby in the areas we visit.
With Wavelength we don't have a large or diverse business and our full attention is just on our small group of passengers, so you can be assured of excellent care and service.
Full Day Outer Reef Snorkel Tour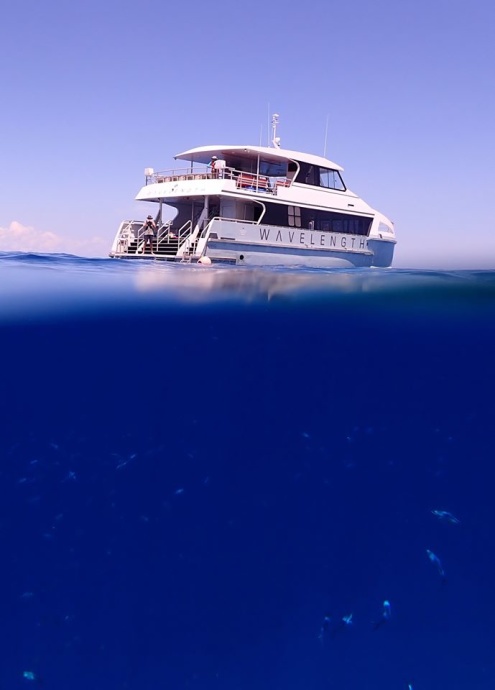 The Journey
Wavelength departs Port Douglas' Reef Marina taking you on a 90-minute trip to the edge of the continental shelf. Passing Low Isles en route, we often encounter dolphins and in winter may see dwarf minke or humpback whales. The journey is a good opportunity for our crew to get to know you and answer any questions you have about the day. During this time, you'll be fitted out with quality snorkelling gear.
Let's Snorkel
On arrival at the outer reef the snorkel advisor conducts a comprehensive gear and safety brief and, if it's your first time snorkelling, we have plenty of time to help you feel comfortable. Once in the water guests are free to explore the reef under the expert advice of our crew. A difference with Wavelength is that the crew spend more time in the water with you to help you get going and to point things out.
Second Site
After morning tea (and some time to reflect on the weirdness of invertebrate life) we move along to another one of our many sites, chosen to suit the conditions on the day. Here, with passengers having mastered their snorkelling skills, we conduct guided snorkel tours. Our marine biologists help snorkellers discover aspects of the new site that might otherwise be missed, and point out some of the multitude of life forms. On a guided snorkel tour it's possible to be handed a small number of different creatures, though we have strict guidelines on what can be touched so as to protect the integrity of the reef.
A Deli-style Lunch
The delicious deli-style lunch is vegetarian and includes a range of salads, arancini balls, char-grilled veggies, spinach and feta pastries and mini quiches, cheese, eggs and rolls. Water, soft drinks, coffee and tea are also available. Wavelength can cater for different dietary requirements including lactose and gluten free. We don't serve prawns due to the significant by-catch associated with them and we don't serve meat as reducing meat consumption is one of the easiest ways an individual can reduce personal carbon emissions.
Reef Talks
During lunch, our marine biologists conduct our interactive reef talk. This is where you can ask questions on anything that you've seen through the day or simply sit, relax and learn all about the ecosystem of the Great Barrier Reef.If you'd rather just chill out you don't have to listen to the talks.
Third Site
Once everyone's appetites have been satisfied and all questions answered we head to our final site of the day, where, with a better understanding of the reef, guests are free to adventure further.
Cruising
Following afternoon tea we head back with the wonderful view of the sun dropping towards the rainforest clad mountains. Wavelength arrives back in Port at approximately 4.30pm.
What Should You Bring With You?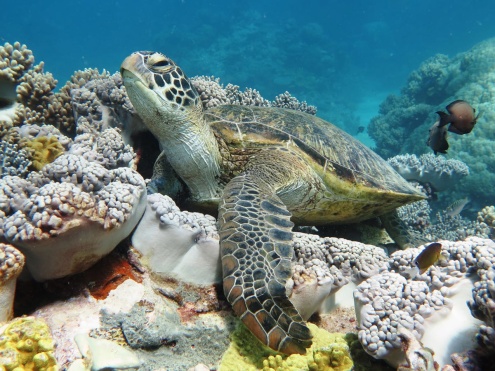 We will provide wetsuits, snorkelling equipment, food, water and all the things that you need to see the reef, however, we do recommend bringing along a small bag with some personal essentials. We suggest you bring:
Bathers
Hat and sunglasses
Change of clothes
Jacket or Jumper (in Winter)
Sea sickness medication or measures
Towel
---
News By Wavelength Reef Cruises
New Locals Rate for Wavelength Reef Cruises
By Wavelength Reef Cruises
20 Jan 2020
From the 11th January – 20th March 2020 Wavelength Port Douglas will have a local's rate for the Douglas Shire and Cairns. Local ID must be shown upon check in.
Wavelength provides small personalised snorkelling tours to the Great Barrier Reef with no more than 48 passengers. Our full attention is just on our small group of passengers, so you can be assured of excellent care and service.
A full day outer reef snorkel experience with Wavelength commences with check in by 8.00am, for an 8.15am departure and a scheduled return to Port Douglas of approximately 4.30pm.
Special is fully inclusive of:
tuition and use of high quality snorkelling gear

guided snorkel tour

reef ecology presentations with qualified marine biologist

gourmet vegetarian buffet lunch

morning and afternoon tea and plenty of fresh drinking water

lycra suits depending on the season

Environmental Management Charge (reef tax) of $6.50 per person
---
Wavelength Reef Cruises Reviews
---
Wavelength Reef Cruises
Your day with Wavelength begins with a courtesy transfer from your accommodation to our shop at the Reef Marina. You're greeted there for check-in at 8am, then board the vessel where tea or coffee is available. Our crew will then introduce the itinerary and provide a safety briefing.
---