About Atherton Tableland Information Centre
There's so much to explore!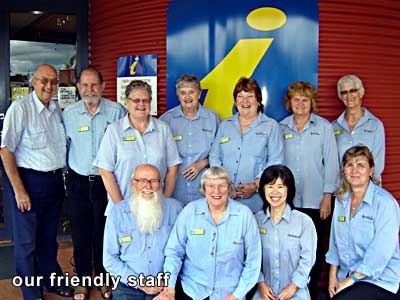 You're welcome to call into the Centre or contact for up to date information about:
Road conditions from the RACQ
Weather conditions from the Bureau of Meteorology
Transportation info - bus timetable, taxi details, and bus tours
Sporting information, venues and times
Church Services - venues, times and directions
Doctors, dentists and chemists information
Fact sheets on local subjects for school children
Arts and culture - details of art galleries and displays
Walking and cycling clubs - meetings and areas
Camping areas - National Parks, caravan parks and campgrounds
Accommodation including camping, cabins, hotels, motels, bed & breakfast, and luxury destinations
Maps- we have Hema maps covering all states of Australia plus UBD's, and motoring books for 4WD and truck drivers.
Bookings for all attractions and accommodation in and around the Atherton Tablelands, Cooktown, Daintree and Cape Tribulation.
Prices of all the major attractions, including Skyrail, the Kuranda Train, hot air ballooning, reef trip companies, horse riding, helicopter flights, microlight flights, scenic flights with light airplanes. Prices of Cape York, Daintree and Cape Tribulation tour companies.
---
News By Atherton Tableland Information Centre
ATHERTON TABLELANDS WELCOMES CYCLING ELITE
By Atherton Tableland Information Centre
18 Apr 2013
Thursday, 18th April - The Atherton Tablelands cycle tracks will soon be put to the test as more than 180 riders from across Australia begin to arrive in the region ahead of this weekend's 2013 Subaru Australian Marathon Championships.
Michael Trout, chairman of Tropical Tablelands Tourism (TTT) and Member for Barron River, said it was an exciting time for the region.
"The dream of establishing the Atherton Tablelands as a world class cycle destination began more than 10 years ago, today it becomes reality."
He said now the hard work would continue not only by the cycle organisations that were still developing a whole network of trails, but also for the tourism organisation as it developed this burgeoning niche market.
"Events such as this bring great benefits to the region and it is hoped not only the participants, but also the supporters and families who are coming will stay longer."
He said there was already strong interest in the region with the official Atherton Tablelands website, which was launched last year by TTT, receiving around 10,000 visits in the last five weeks.
"TTT has worked very hard with the organisers of this event to assist in marketing and promotion and we can now see the results. The dedicated 2013 Subaru Australian Marathon Championships web page has been very popular as well as links for where to stay and what to do."
Mark Knowles, president of Tableland Cycle Sports, said riders had begun arriving in the region, but he urged anyone still interested to register on Saturday.
In-person entries will be accepted without penalty between 2pm and 6pm on Saturday, April 20 at the registration office located at the Barron Valley Hotel in Main Street, Atherton.
Mr Knowles said the tracks, which feature approximately 18km of singletrack, including the freshly completed Trail Six, a fast flowing World Trail creation sure to get riders smiling, were in excellent condition.
With 1100 metres of climbing per lapk the course will challenge riders, though the rainforest scenery and flowing singletrack will provide ample reward for their efforts.
"The tracks received a lot of rain over the last week but the weather report has it looking really dry for the weekend, which means the tracks will be in top condition for riding.
"There is a lot of excitement in the air and riders have travelled from as far as Sydney and Melbourne to compete. Some of these are among Australia's elite."
Mr Knowles said the Atherton course embodied the true marathon mountain bike experience, while at the same time sharing the iconic rainforest, unique to the Atherton Tablelands, with riders.
For more information on the trails, visit www.tablelandtrails.com or contact Mark Knowles on 0402 340 549.
Millaa Millaa Christian Fellowship Relationship Encounter Weekend
By Atherton Tableland Information Centre
07 Jun 2012
Millaa Millaa Christian Fellowship is hosting a relationship encounter weekend on 22-24th June 2012.
Venue: CWQ Hall, Palm Avenue, Millaa Millaa.
Guest Speakers: John & Susan Paterson experienced Christian Counsellors from Lismore, North NSW
Theme: "My God is So Big"
Sessions: Friday Evening – featuring movie
Saturday & Sunday
Enquiries: Lyndon Hockey 0428 772902
Delwyn Hockey 0408 702367
---
Atherton Tableland Information Centre
---