About Whitsunday Islands Info
Welcome to the Whitsundays!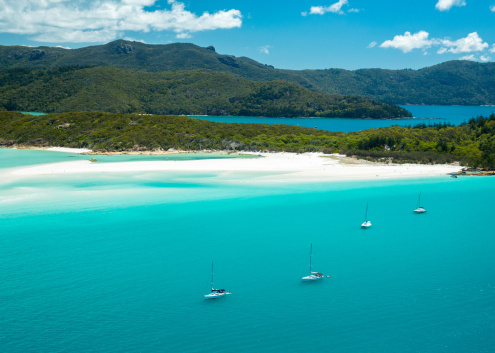 Think of Whitsunday Islands and immediately turquoise blue waters, squeaky white sand, sailing adventures and island beach resorts come to mind.Stretching off the Queensland Coast from Townsville to Mackay, the Whitsunday Islands form the largest offshore island chain on the Great Barrier Reef, comprising of 74 beautiful islands. Of the 74 islands, just eight of them are inhabited by 9 island resorts.
This is the place of rich experiences, adventure, discovery and more. Whether its eco-style, family friendly, all-inclusive, activity based, food & wine focused or pure luxury you are after, there is a Whitsunday Island experience to suit everyone.
Reef World | Whitsunday's Great Barrier Reef Tour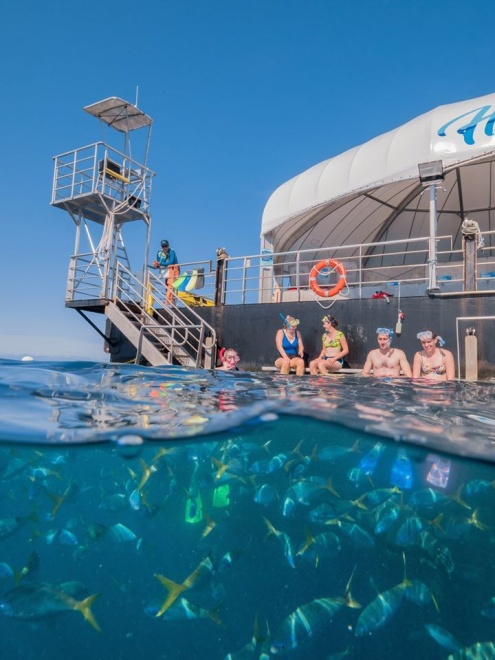 The Reefworld pontoon, off the coast of the Whitsunday Islands, provides spectacular viewing opportunities along the Great Barrier Reef. Departing either Airlie Beach, Hamilton Island or Daydream Island, spend a full day exploring the Great Barrier Reef, enjoy swimming and snorkeling amid colorful corals, spot marine life from the underwater observatory, and tuck into a delicious buffet lunch.
Key Features
4 hours at the Outer Barrier Reef
Buffet lunch, plus morning and afternoon tea/coffee
Snorkeling, submarine, underwater observatory
Family friendly. Optional activities suitable for all ages and abilities
Transfers from Airlie Beach, Hamilton Island & Daydream Island
Ocean Rafting Day Trip from Airlie Beach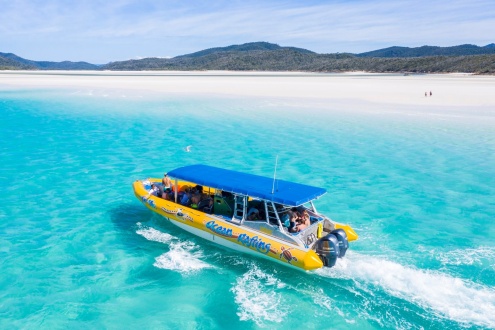 Ocean Rafting day trips offer an exhilarating ride to Whitehaven Beach and Hill Inlet, pristine Whitsundays snorkelling reefs and guided Whitsunday Island National Parks walks.
Experience Ocean Rafting's signature adrenalin fuelled action while exploring the islands, inlets and beaches on custom built vessels, travelling at speeds of up to 35 knots (65 km/hour). The vessels, originally designed and built as rescue crafts, are powered by 500hp engines, allowing you to experience a fun, high speed ride amongst the natural beauty of the Whitsundays.
Northern Exposure Trip
Northern Exposure departs at 8:45am (check in 7.45am) from Airlie Beach & returns at 3:30pm to Airlie Beach.
Southern Lights Trip
Southern Lights departs at 10.00am (check in 9am) from Airlie Beach & returns at 4:30pm to Airlie Beach.

Scenic Flights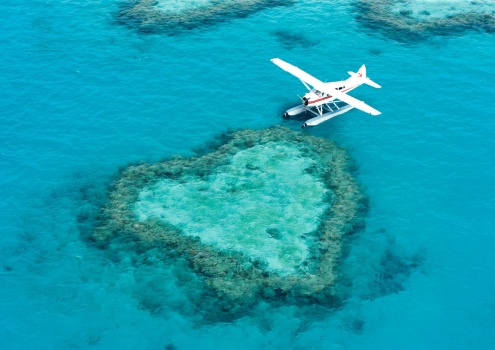 Fixed wing aircraft and helicopter flights are available from Airlie Beach to the Whitsunday Islands. Visit the Islands & Whitehaven Beach or combine you flight with a reef cruise or sunset sail. There are many options to choose from.
One Hour Scenic Flight from Airlie Beach
Enjoy a bird's eye view of many of the 74 Whitsunday Islands, fly over Whitehaven Beach and picture postcard Hill Inlet before flying out to the Great Barrier Reef and experiencing one of the most photographed reef locations, Heart Reef. The comfortable fixed wing aircraft offers big window viewing, pilot commentary and the best views of the Whitsundays.
Whitehaven Beach Heli Tour
Fly directly to the world-famous Whitehaven Beach with aerial views of the Whitsunday Islands on a 2-hour Whitehaven helicopter tour. Arriving on the beach in style, you'll have 1.5 hours to enjoy this pristine beach, voted the best in Australia.
Whitsundays Fly and Reef Cruise with Lunch
The Fly & Cruise package is an all-inclusive itinerary including the best sights of the Whitsunday Islands and Great Barrier Reef. Fly over the iconic Whitehaven Beach, Hill Inlet, Heart Reef, and then head out on the water for an adventure filled guided tour.
Whitsundays Fly and Sunset Sail Package
Enjoy a scenic afternoon in the Whitsundays including a Reef & Island scenic flight flying over the iconic sights in the Whitsundays, including Whitehaven Beach, Hill Inlet, Heart Reef, Airlie Beach and everything in-between. Followed by the flight, head out on the water for a beautiful sunset sail on classic tallship – Providence V. Your 2 hours Sunset Sail includes a glass of bubbles, cheese/dip & fruit platter.
The Whitsunday Coast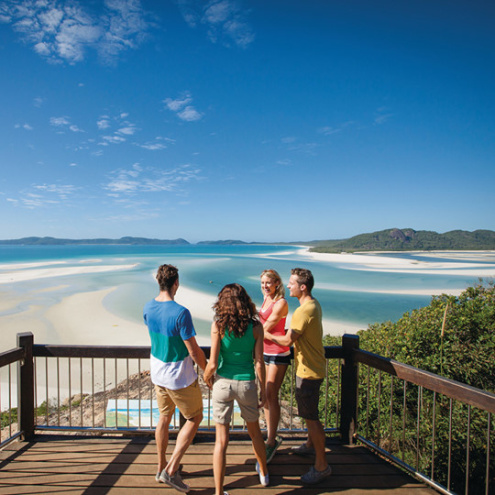 Airlie Beach is the mainland gateway to the Whitsundays, a colouful, cosmopolitan and inviting community. The main centre of Airlie Beach is situated on a picturesque peninsula that consists of one street with many [AIRLIE BEACH CLUB CROCODILE] little side-streets peppered with coffee shops, restaurants, cafes, nightclubs, fast food eateries, boutiques, banks, small supermarkets and accommodation alternatives.
Airlie Beach has a fantastic selection of accommodation including stylish resort hotels on the waters edge and apartments on the framing hills with stunning views that overlook the beach, bay and islands. There is also a host of centrally located backpacker accommodation options.
Much of the water-based activity in the Whitsundays departs from Abel Point Marina, just a five minute walk from the centre of Airlie Beach via a scenic boardwalk which winds along the water's edge.
Getting Here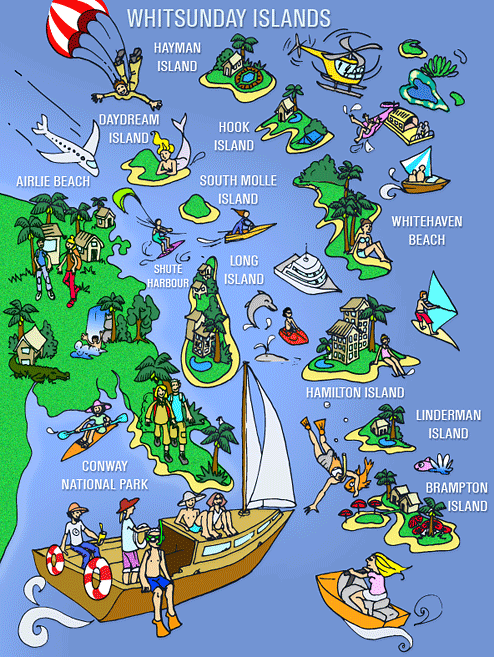 By Air
Getting to the Whitsunday Islands is easy with two serviced airports. Fly direct into Hamilton Island from Brisbane, Sydney, Melbourne and Cairns via Jetstar, Virgin Blue and Qantas Link. Or fly into Whitsunday Coast Airport, located in Proserpine, and connect with a comfortable air-conditioned public bus for a short 40 minute journey into Airlie Beach.
By Road
Airlie Beach is located approx 7 hours from Cairns, about 9 hours from Harvey Bay (Fraser Island) and about 12 hours from Brisbane. The Bruce Highway is Queensland's main route connecting Brisbane to Cairns. Turn off to the Whitsundays at Proserpine along the Bruce Highway.
Coach companies that service the Whitsundays are Greyhound Australia, Premier and Oz Experience.
By Rail
Queensland Rail services include the Sunlander and Tilt Train, linking Proserpine to all the major destinations from Cairns to Brisbane and beyond to Sydney and Melbourne. Whitsunday Transit meets every arriving train to provide transfers from Proserpine to Airlie Beach, Shute Harbour and the island resorts.
By Sea
The Whitsunday Islands are readily accessible by boat from Airlie Beach or Shute Harbour. Frequent, fast ferry services operate between most of the Whitsunday island resorts and the Whitsunday Coast for resort guests and day visitors. Cruise Whitsundays operates ferries and island connections between Hamilton Island Airport, Airlie Beach, Long Island, Daydream Island, South Molle Island and the Whitsunday Coast. Cruise Whitsundays operates ferries and island connections between Hamilton Island, Hamilton Island Airport, Club Med Lindeman Island and the Whitsunday Coast.
Shute Harbour is located about 10 minutes drive from Airlie Beach and is a major boarding point for ferries to the island resorts and many charter operations. Security parking facilities are available for those setting sail: www.shuteparking.com.au. Abel Point Marina is the Whitsunday Region's premier marina located in the town of Airlie Beach, just a five minute walk from the main street. It is the departure point for many day and overnight sailing cruises in the Whitsunday Islands.
Whitsunday Island Resorts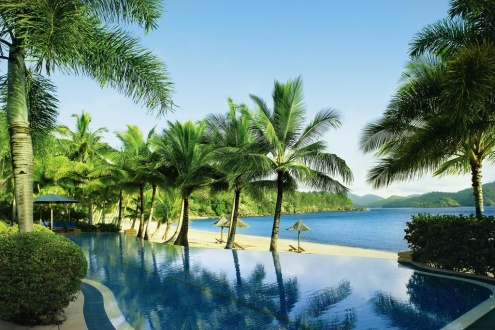 Hamilton Island is the largest inhabited island in the Whitsundays, a resort and vibrant community in one. With six styles of accommodation to match your holiday needs and budget; you can choose to indulge in the luxury of qualia the [DINE BY THE BEACH] island's exclusive resort, or enjoy more family-friendly hotels, self-catering apartments, holiday homes or affordable bungalows. Bushwalks, kayaking, windsurfing, snorkelling and sailing are just some of the 60 activities on offer at Hamilton Island. Getting around the island is easy, jump onboard the free shuttle bus or hire a buggy the most popular form of transport on the island. There is plenty to keep you entertained and your taste buds satisfied with over 20 restaurant & dining options, plus 6 bars and nightclubs. Fly direct into Hamilton Island from Brisbane, Sydney, Melbourne and Cairns.
Hayman Island is the northernmost resort island in the Whitsundays, this celebrated private island is recognised as a world leader in resort excellence [TROPICAL PERFECTION] receiving many prestigious accolades. If you're looking for a getaway of peace , adventure and indulgence, this is the place to be. With luxury resort accommodation, perfect for couples and families, the resort features superbly appointed rooms, suites, penthouses, beach villas and a beach house. Known as a food lovers paradise, dining will be a highlight of your stay with world-class restaurants offering contemporary Australian, Mediterranean and Oriental cuisine. Hayman also boasts some of the best fringing reef snorkelling in the region.
Daydream Island Resort & Spa encompasses the entire island at just [DAYDREAM ISLAND] 1 kilometre long, and is ideal for family vacations. Surrounded by beautiful fringing reef, there is an abundance of recreational activities on and off land that will entertain couples and families alike. Unique to the resort is a man0made outdoor aquarium containing over 40 marine fish species and 50 coral varieties. Recreational activities include water sports, mini golf, movies at the open-air scenic cinema and swimming in one of the island's tropical swimming pools.
Long Island is the closest island to the mainland, at 9km long and 400m wide. Filled with National Park walks and teeming with flora and fauna, you can choose to be as relaxed or adventurous as you please. If you are looking for a laid back, casual atmosphere with beautiful, natural surrounds, then you need look no further than Long Island Resort, it's the perfect place to connect with nature. Long Island Resort is located on Happy Bay, offering standard all-inclusive [WHITSUNDAYS LONG ISLAND] accommodation for the budget conscious. There are many resort activities, bush walks and more, ideal for couples, families and groups of friends. Alternatively Long Island is also the home of Paradise Bay Eco Escape, arriving by helicopter is just the beginning of the indulgence. With no TV, phones, children or day visitors this is the ultimate in relaxation and pampering. A friendly chef and hostess are on hand to care for your every need, while your private skipper awaits to set sail and explore the surrounding beaches and reefs. Paradise Bay offers an all-inclusive exclusive holiday for a maximum of 16 guests at any one time.
Lindeman Island is Australia's only Club Med Resort and is located to the south of the Whitsunday Islands. Club Med is famous for its all inclusive packages, where guests are encouraged to do nothing, or do it all. A friendly welcome, a family atmosphere, evening shows, water sports, a 9 hole golf course, a circus school complete with flying trapeze, a spa centre and a fun, lively environment is created by a team of international GO's (staff). With over six square kilometres of National Park, the island features many spectacular bush walks and plenty of secluded beaches to explore.
Hook Island is the second largest of the Whitsunday group, with 58 square kilometres of national park, ideal for those looking for a unique, close-up encounter with the Australian wilderness. Spectacular fringing reef is popular for scuba diving and snorkelling immediately offshore. Equally popular are the forest walks around the island, the secluded bays and inlets and the Aboriginal cave paintings in Nara inlet. Hook Island Wilderness Resort offers a range of budget accommodation from camping facilities, dorm style rooms, standard rooms and ensuite rooms.
South Molle Island features 4 square kilometres of National Park, a haven for birdlife. Adventure Island Resort offers budget accommodation catering to ages 18 and over. Guests can engage in snorkelling and paddle boarding, bushwalking, relaxing by the resort pool, exploring the 17 secluded island beaches, help feed the wild birds & fish or play a round on the 9 hole golf course.
Brampton Island sits to the south of the Whitsunday Islands and is almost entirely National Park with beautiful beaches, 1000 year old Melaleuca forest and plenty of secluded spots to explore. Brampton Island Resort has a rhythm of it's [IDEAL FOR COUPLES & ADVENTURERS] own. From relaxing by the ocean side pool, to fast and furious watersports, to wildlife spotting, this resort has it all. A popular activity is the jet ski safari which circumnavigates the island and explores the many beautiful hidden beaches. Ideal for couples, this intimate retreat offers a range of island accommodation from the Premium Ocean View rooms which afford magnificent views to the Carlisle rooms in a garden setting and best of all you don't have to share your piece of paradise with day trippers.
Climate & Weather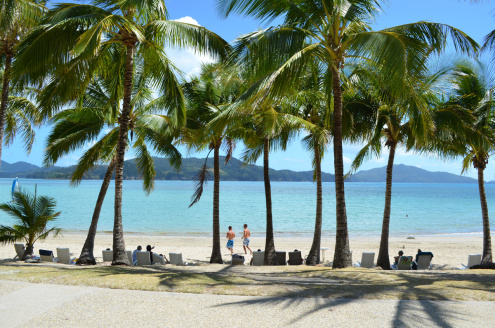 The Whitsundays enjoys a tropical climate of hot summers and warm winters. Average daily temperature range from just over 21 degrees in the winter months [HUGE VARIETY OF ACTIVITIES] (June/July) and up to 32 degrees during the height of summer (December/January). The average year round water temperature is a welcoming 25 degrees. Higher rainfall can be expected during the tropical wet season (February/March) when days can be steamy and the summer heat is broken by tropical showers.
---
Whitsunday Islands Info
Shute Harbour is located about 10 minutes drive from Airlie Beach and is a boarding point for some ferries to island resorts and some charter operations.
---
Whitsunday Islands Ferry Timetable from Port of Airlie, Hamilton Island & Daydream Island.