Airlie Beach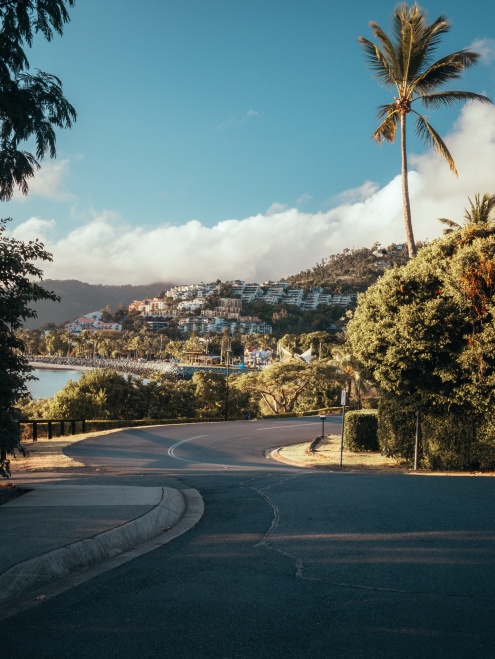 Airlie Beach is a small coastal village located 620 kilometres South of Cairns ( 7.5 hours' drive). Airlie is the gateway to the Whitsunday Islands on the Southern end of the Great Barrier Reef.
Airlie Beach offers visitors a range of tours, experiences and accommodation from resorts, holiday apartments and budget backpacker hostels.
Tours to the Great Barrier Reef and Islands depart daily from Airlie.
Airlie Beach Village
Airlie Beach Village is a colouful, cosmopolitan and inviting community. The main centre of Airlie Beach is situated on a picturesque peninsula that consists of one street with many little side-streets peppered with coffee shops, restaurants, cafes, nightclubs, fast food eateries, boutiques, banks, small supermarkets and accommodation alternatives.
Much of the water-based activity in the Whitsundays departs from Abel Point Marina, just a five minute walk from the centre of Airlie Beach via a scenic boardwalk which winds along the water's edge.
Accommodation
Airlie Beach has a fantastic selection of accommodation including stylish resort hotels on the waters edge and apartments on the framing hills with stunning views that overlook the beach, bay and islands. There is also a host of centrally located backpacker accommodation options.

Shute Harbour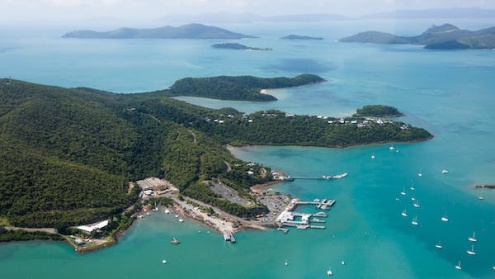 Shute Harbour is located about 10 minutes drive from Airlie Beach and is a major boarding point for ferries to the whitsunday island resorts. Shute Harbour is a natural harbour with easy access to the whitsunday Island destinations such as Whitehaven Beach & Hamilton Island.
Coral Sea Marina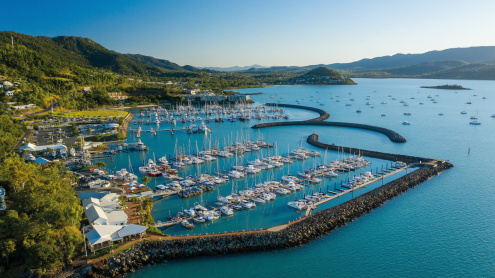 Coral Sea Marina is located just a short drive from Airlie Beach, The Marina features 520 wet berths, an oceanfront boutique resort and a vibrant marina village offering a range of experiences
Many day tours to the Whitsunday Islands and Great Barrier Reef depart from the Coral Sea Marina.
Address
Shingley Drive, Airlie Beach
1.2 Km from Airlie Beach CBD
Getting to Airlie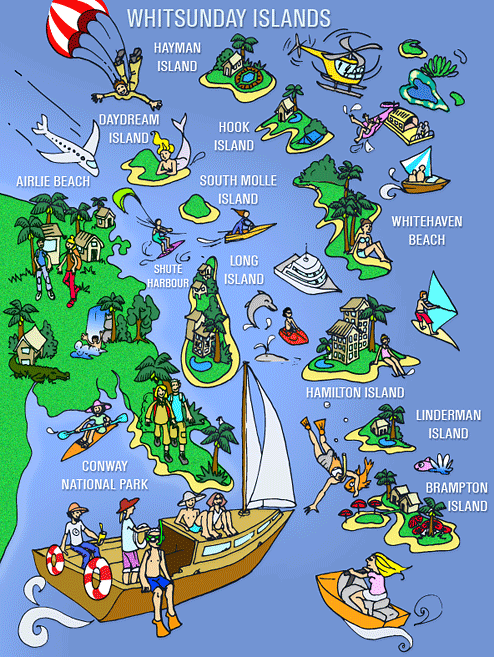 By Air
Getting to the Whitsunday Islands is easy with two serviced airports. Fly direct into Hamilton Island from Brisbane, Sydney, Melbourne and Cairns via Jetstar, Virgin Blue and Qantas Link. Or fly into Whitsunday Coast Airport, located in Proserpine, and connect with a comfortable air-conditioned public bus for a short 40 minute journey into Airlie Beach.
By Road
Airlie Beach is located approx 7 hours from Cairns, about 9 hours from Harvey Bay (Fraser Island) and about 12 hours from Brisbane. The Bruce Highway is Queensland's main route connecting Brisbane to Cairns. Turn off to the Whitsundays at Proserpine along the Bruce Highway.

By Rail
Queensland Rail services include the Sunlander and Tilt Train, linking Proserpine to all the major destinations from Cairns to Brisbane and beyond to Sydney and Melbourne. Whitsunday Transit meets every arriving train to provide transfers from Proserpine to Airlie Beach, Shute Harbour and the island resorts.
Climate & Weather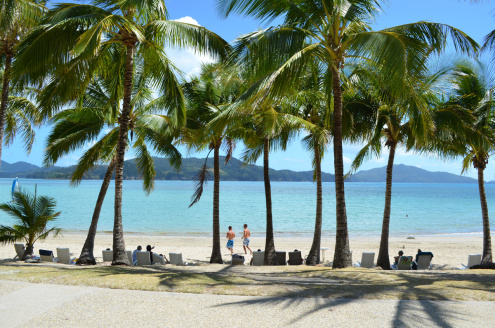 Airlie Beach enjoys a tropical climate of hot summers and warm winters. Average daily temperature range from just over 21 degrees in the cooler months (May - September) and up to 32 degrees during the height of summer. The average year round water temperature is a welcoming 25 degrees. Higher rainfall can be expected during the summer months.
Scenic Flights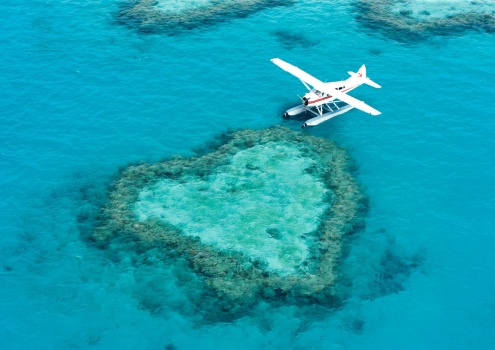 Fixed wing aircraft and helicopter flights are available from Airlie Beach to the Whitsunday Islands. Visit the Islands & Whitehaven Beach or combine you flight with a reef cruise or sunset sail. There are many options to choose from.
One Hour Scenic Flight from Airlie Beach
Enjoy a bird's eye view of many of the 74 Whitsunday Islands, fly over Whitehaven Beach and picture postcard Hill Inlet before flying out to the Great Barrier Reef and experiencing one of the most photographed reef locations, Heart Reef. The comfortable fixed wing aircraft offers big window viewing, pilot commentary and the best views of the Whitsundays.
Whitehaven Beach Heli Tour
Fly directly to the world-famous Whitehaven Beach with aerial views of the Whitsunday Islands on a 2-hour Whitehaven helicopter tour. Arriving on the beach in style, you'll have 1.5 hours to enjoy this pristine beach, voted the best in Australia.
Whitsundays Fly and Reef Cruise with Lunch
The Fly & Cruise package is an all-inclusive itinerary including the best sights of the Whitsunday Islands and Great Barrier Reef. Fly over the iconic Whitehaven Beach, Hill Inlet, Heart Reef, and then head out on the water for an adventure filled guided tour.
Whitsundays Fly and Sunset Sail Package
Enjoy a scenic afternoon in the Whitsundays including a Reef & Island scenic flight flying over the iconic sights in the Whitsundays, including Whitehaven Beach, Hill Inlet, Heart Reef, Airlie Beach and everything in-between. Followed by the flight, head out on the water for a beautiful sunset sail on classic tallship – Providence V. Your 2 hours Sunset Sail includes a glass of bubbles, cheese/dip & fruit platter.
Cedar Creek Falls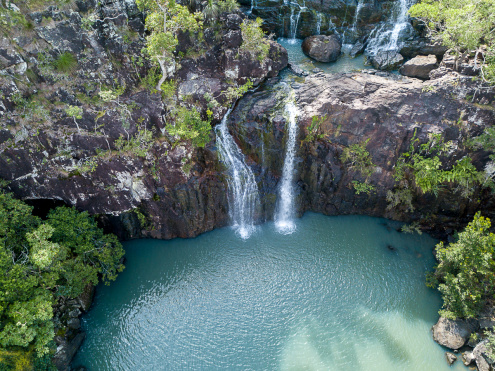 Cedar Creek Falls is a 40 miute drive from Airlie Beach. This is a great spot to visit for a swim in the warmer months. The swimming area and 12 metre waterfall is a short 5 minute walk from the car park. There are public toilets and changing rooms near the car park.
Getting There
Travel along Shute Harbour Road for 17 kilometres then turn left onto Conway Rd and follow it for the next 8 km. Turn left onto Saltwater Creek Rd and stay on it for the next 2.7 km then turn right onto Cedar Creek Falls Rd. Follow this road for the next 1.3 km until you reach the end of the road.
Walking Trails
Cedar Creek Falls track to lookout
Dificulty | Easy
Distance | 500m return
Time | Allow about 15min walking time.
Take a walk to Cedar Creek Falls lookout and admire views of the gorge and waterfalls. The track to the lookout is suitable for strollers and wheelchairs with assistance.
Cedar Creek Falls track to rock pools
Dificulty | Moderate
Distance | 1.1km return
Time | Allow about 30min walking time
From Cedar Creek Falls lookout, descend through eucalypt forest and dry rainforest to the rock pools below. There are many steps on this walk, so be prepared for an uphill climb on our return. The section of track from the lookout to the rock pools is not suitable for strollers or wheelchairs.
---
Airlie Tours
Airlie Beach is a small coastal village located 620 kilometers South of Cairns ( 7.5 hours' drive). Airlie is the gateway to the Whitsunday Islands on the Southern end of the Great Barrier Reef.
---
Whitsunday Islands Ferry Timetable from Port of Airlie, Hamilton Island & Daydream Island.