Cairns Pontoon Boat Hire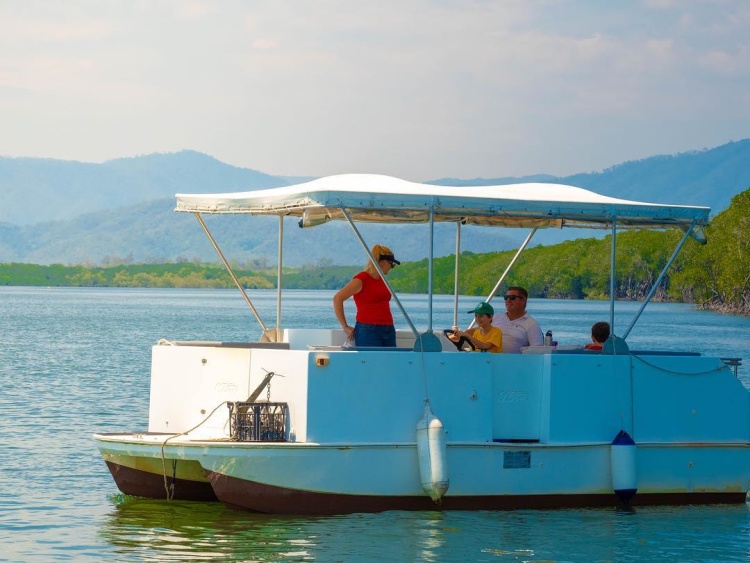 From AUD
$65.00
Cairns Boat Hire have boats suitable for those without a boat licence.

Hiring our self-drive boats is a popular pastime with locals and visitors to Cairns. Enjoy fishing, sightseeing and even crocodile spotting along stunning Trinity Inlet.

Relax on an all day adventure exploring the entire area around Admiralty Island or head out for a few hours to fish with some expert tips available on great areas for a catch from our crew.

Boats are shaded and designed with central console driving system.
Stunning Trinity Inlet area is perfect for sightseeing and fishing.
Suitable for all ages.
Comfortable padded seating on board.
Great for small groups and families.
Fuel included
Driver must be over 18.

Extras For Hire
BBQ, bait, rods, ice, eskys and crab pots

FAQ
Can I bring my own tackle/bait/fishing gear? Yes of course! If you do not have your own gear, we have a range of equipment available for hire (link to hire page)

Do I have to have a boat licence?
No, Cairns Boat Hire have boats suitable for those without a boat licence. If you do not have a boat licence, we will provide you with a suitable boat that does not exceed a speed of 10kts, in order to comply with Marine Law. We will give you some information on boat handling and the waterway prior to departure. If you prefer you can hire one of our Skippers to accompany you on your cruise at a rate of $50 per hour. This service must be pre-booked and is subject to availability.

Can I take the boat to the reef?
No, outside the Inlet is out of bounds. We do not hire boats suitable for heading out to the reef or Green Island region. Our boats are allowed anywhere within the very large and diverse Trinity Inlet.

Is a deposit required?
Yes, we take a $100.00 deposit via cash credit card (Visa, Mastercard and EFT). The purpose of this is to leave something of value that is a token of your integrity to comply with the rules of the hire and return of the boat in good condition.

What if the weather is awful, and I choose to cancel my booking?
If we deem the weather to be unsuitable for boating we will offer you the opportunity to reschedule or receive a refund. This decision will be made on the morning of your departure so please contact our office between 0800 and 0900 for an update. You must provide at least 24 hours notice to Cairns Boat Hire to cancel a booking or full payment will be due.

What sort of fish can I expect to catch?
A range of fish inhabit the inlet. Depending on the time of year and the weather and tidal conditions, you might expect to find Barramundi, Trevally, Queenfish, Threadfin Salmon, Bream, Estuary Cod, Grunter and large Mud Crabs. Just ask us at time of booking or just before you head out.

Will I get mobile reception?
At almost all points in the Inlet, you will get mobile service. We do encourage that you take at least one phone with you to ensure you can contact us if necessary.

How fast do the boats go?
If you do not have a boat licence the boats you can drive will not exceed a speed of 10 kts. For licensed drivers we do have some options too, so please contact us for a quote.

Can I bring food and drink on the boat?
Absolutely!

What will I need to bring?
Hat, sun block, insect repellent, snacks, drinks, mobile phone. We hire esky's, ice, crab pots, bait and fishing equipment if you do not have your own. Children under 12 are required to wear a life jacket, we supply these also. Be aware that you will not always be fully shaded from the sun so you may also need other sun protection as well.

Can we swim off the boat?
No, we don't recommend swimming. The Inlet is a very active crocodile environment and may have stingers present.

Is there shade or cover from the weather on board?
Yes but we do recommend you wear sun-safe clothing and protect yourself from the elements. book ahead so we can fully accommodate your needs. Please call or email us for a quote.