Colonial Club | Thursday Schnitzel special!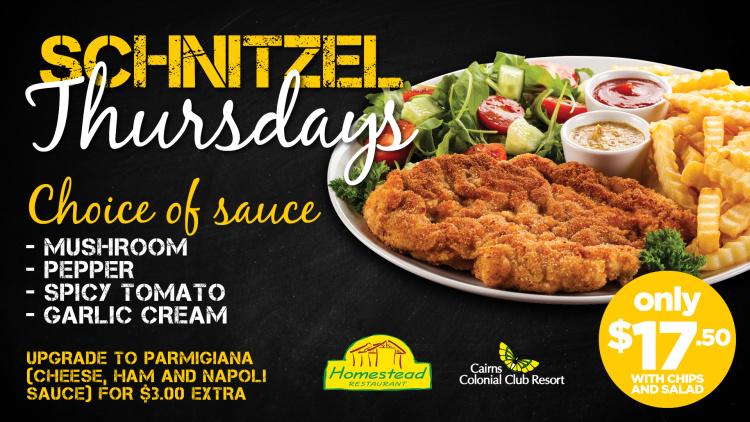 From AUD
$17.50
Save: $10.00
Nothing beats chicken... Except chicken schnitzel that is!
Sink your teeth into a fat and tasty schnitzel every Thursday at the Cairns Colonial Club.
Schnitzel, salad, and chips – only $17.50

Welcome to Homestead Restaurant & Bar
Established in 1985
Renowned for great food, variety and friendly service the Homestead Restaurant at the Cairns Colonial Club Resort is open 7 days a week for breakfast, lunch and dinner.

A family favourite for locals and travellers alike. The Homestead Restaurant offers you a relaxed dining experience overlooking the resorts tropical lagoon pool. Should you be dinning alone or with friends the team at the Homestead Restaurant is on hand to cater to your every need.

Head Chef Greig Lamont have developed this latest menu to reflect some of the regions finest produce. 'Our extensive menu offers fresh contemporary cuisine with a selection of dishes for everyone's palate and dietary requirements', says Head Chef Greig.