3 Day Reef, Rainforest and Skyrail Package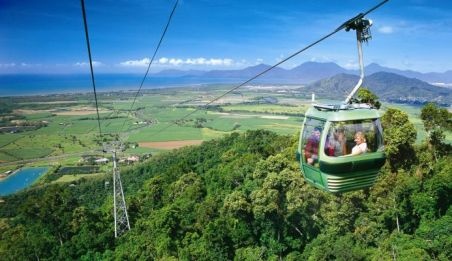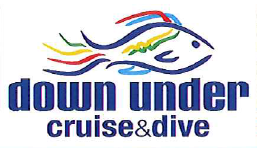 From AUD
$394.00
Save: $34.00
Cruise out to the Great Barrier Reef for 1 Day aboard EVOLUTION with Down Under Cruise & Dive, take an unforgettable journey over and through Australia's World Heritage listed Tropical Rainforests with Skyrail Cableway and relax and enjoy the scenic Railway back to Cairns, then head north for a day to Cape Tribulation and Daintree Rainforest.

Day 1: Full Day Reef Cruise on EVOLUTION
Ride on EVOLUTION to the Outer Great Barrier Reef for snorkelling with all gear and tuition included. Visit two exclusive reef sites, with plenty of time to enjoy relaxing and sun bathing on three deck levels. Dial up the adventure and choose from a variety of optional activities including an Introductory dive or Certified dive. From Hastings Reef you can take a 10-minute scenic helicopter flight from our exclusive helicopter pontoon or join our Semi-Submarine tour before cruising back to Cairns.

​For First Time Divers; after an in-depth briefing from our expert dive staff, we gear you up and jump in the water for the thrill of a lifetime as we guide you through this amazing wonderland.

For Certified Divers; either buddy up with a friend or join our guides as we plunge into the abundance of marine life and explore the amazing ecology of the reef.

​In the afternoon there's a choice of a ride on our Semi-Submersible tour (weather dependent), more snorkelling or diving, or just laze around on our massive sun-deck.

Finally cruise back to Cairns while enjoying our on-board entertainer for some live music together with a free glass of wine, cheese and biscuits.

Day 2: Cape Tribulation Day Trip
Join our professional, friendly and highly experienced guides in an unforgettable day of fun, discovery and adventure exploring the majestic rainforests, pristine rivers and white sandy beaches of the World Heritage Listed Cape Tribulation and Daintree National Parks. Cape Tribulation is the only place in the world where two-world heritage listed regions live alongside each other.

​Highlights of your day in the Daintree

Port Douglas – (Take in the spectacular scenic coastal drive north of Cairns, before you enjoy free time in Port Douglas to soak up the village atmosphere.
Wildlife Habitat – (Included in Deluxe Pak) We visit the award-winning Wildlife Habitat where you will venture through purpose built native habitats of some of Australia's rare, endangered and totally unique native animals.

Visit famous Mossman Gorge – Enjoy a guided rainforest walk and see the crystal-clear waters of the Mossman River cascade over spectacular boulder formations amongst the lush rainforest. National Park entrance fee included in tour price.

Lunch time – (Included in Deluxe Pak) Only metres from Cape Tribulation Beach you will be treated to a chef-prepared lunch. Meal options include: steak, fish, chicken, kangaroo and vegetarian options.

Cape Tribulation Beach – Kick back and relax under the fringing rainforest of the Daintree where the "Rainforest meets the Reef". Enjoy a leisurely walk and take in the picturesque views at this beautiful historic beach location.
Daintree River Wildlife Cruise – Our journey continues to the majestic Daintree River for a one-hour Wildlife and Crocodile exploration. This is a rare location to see wildlife at play in the natural habitat.
Cable Ferry crossing across the ancient Daintree River

Day 3: Kuranda Historic Train and Skyrail Rainforest Cableway

Kuranda Scenic Railway
Travel by historic train to Kuranda, the village in the rainforest, with free time to explore the markets and speak with the locals.

​Skyrail Rainforest Cableway
Skyrail then takes you on an amazing experience over Australia's World Heritage listed Tropical Rainforest canopy descending into the forest at two stations, Red Peak and Barron Falls Guests can enjoy spectacular views from three lookouts at Barron Falls station and learn more about the environment from ranger guided tours at Red Peak Station.

What's included?
Complimentary pick up and drop off from your accommodation
1 hour in the beautiful Port Douglas (Starter PAK) or Wildlife Habitat (Deluxe PAK)
World Heritage Listed Daintree National Park and a Guided walk through Mossman Gorge National Park
2 hours at Cape Tribulation Beach
Tropical Lunch at Cape Trib Beach House
(Deluxe PAK)
Daintree River Crocodile and Wildlife Cruise
Free parking at Skyrail's Smithfield Terminal (Transfer options also available)
1 ½ hour Skyrail Rainforest Cableway experience including the Red Peak and Barron Falls Stations
Ranger guided tour at Red Peak station
Entry to the CSIRO Interpretation Centre & historical displays at Barron Falls Station
3 spectacular lookouts taking in the Barron Falls and Barron Gorge National Park
Free time to explore Kuranda – the Village in the Rainforest
1 ½ hour Kuranda Scenic Railway experience including photo stops at Barron Falls.